Racer X Illustrated's "Interactive Issue" Hits Newsstands
Morgantown, W.Va. (August 31, 2010) – Filter Publications is pleased to announce that the first Interactive Issue of its industry-leading motocross publication Racer X Illustrated hits newsstands today.
The October 2010 issue of
Racer X
features more than thirty 2D barcodes, each of which can be scanned by camera-equipped smartphones to access exclusive content. The i-nigma app, which is free and works on hundreds of different handheld devices, can be installed by navigating the device to
www.i-nigma.com/mobi
.

Many of the issue's editorial features, as well as the cover, include bar codes that link readers to video, audio, photo outtakes, an interactive motocross quiz, and more.

Advertisers also took advantage of the issue's interactivity by including bar codes that bring up content directly related to their print ads, as well as links to their Facebook and Twitter profiles.
This groundbreaking issue, which features San Manuel Yamaha superstar
James Stewart
on the cover, can be found on newsstands worldwide for the normal cover price of $4.99. It's also available to new digital subscribers at
www.racerxonline.com
.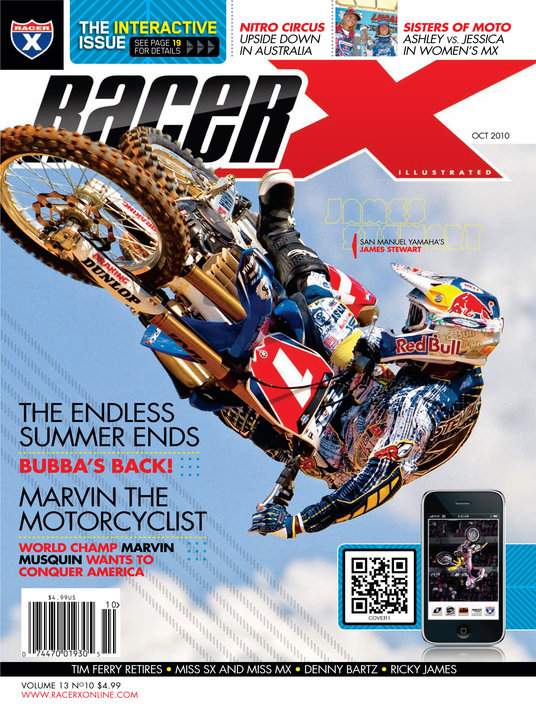 About Filter Publications Inc.
Filter Publications, Inc. is a leading motorcycle-related publishing company that publishes twenty-nine books per year, as well as various websites, including the industry-leading RacerXOnline.com. The company is based out of Morgantown, West Virginia, and has been publishing in the motorcycle industry for more than twenty years.