Monday Conversation: Ryan Dungey
What do you get when you combine Jeremy McGrath and Ricky Carmichael? Ryan Dungey. The Rockstar/Makita Suzuki racer just completed the most phenomenal rookie year in motocross history in the premier racing class, winning not only the supercross championship like Jeremy McGrath did as a rookie in 1993, but the outdoor title as well, like Ricky Carmichael did as a rookie in 2000. We caught up with him after his 9th AMA National win in a row at Southwick this past Saturday to get his take on it all.
Racer X:
In the press conference, you said, "It still hurts," but what was that you were talking about? Does racing still physically hurt you? Are you beat up right now?
Ryan Dungey
: No, I meant the championship I lost [in 2008 against
Jason Lawrence
]. That's what I meant.
Oh, that's what you were talking about! The '08 championship against J-Law...
Do we have to bring it up?
Okay, I won't...
I meant that it hurts deep down inside, not physically or anything...
Yeah, that's understandable, but it seems like you're using it as a weapon now!
Yeah, I mean, throughout the years there have been some touch championships, but I can take a lot from it. I've learned a lot from it. It hurt deep down inside, for sure, but for today and for the next championships, I can try to put that into perspective and use it to my advantage. I think there's a lot of stuff I can take from every championship, but that definitely helps to fuel the fire that much more. Failing is never an easy process.
No, of course not, but now that you have that experience, you know you don't want it to happen again, but you also know how to handle it if it does, right?
Yeah, I mean, you don't really control everything. You only have control of so much when you're riding your dirt bike. The rest, you just kind of have to let go and have faith in it. Being younger, I really wanted things so bad that I just forced things sometimes, and then things snowball. It's better to be patient and let things come to you. It's never going to be easy, though. Championships are hard, and there are going to be times that test you as a rider, but through those times that you're being tested, that's when it's the most important to keep grounded and put all of your knowledge and experience into it at that point to try and do the best you can.
I'm sure at the beginning of this season, at Anaheim 1, you went to the line thinking, "I just want to do the best I can do," right?
Right... What's important is focusing on yourself. You practice all week and focus on yourself, so why would you go to the race and worry about somebody else? And it's not easy, by any means. There are times when you don't have the best laptimes [in qualifying] and stuff, but that's when believing in yourself, making changes, trusting your team and your bike setup... That's when all of that comes into play. You have to realize that you have a lot to work with, and as a rider, that's what's tough. You go to the race one day, and practice may not go your way, and then pretty soon your head's pounding because it's so overwhelming to try and figure out what's wrong. It can be really hard. You really have to pay attention to bike setup and how you feel, and maybe adjusting your riding a little bit, too.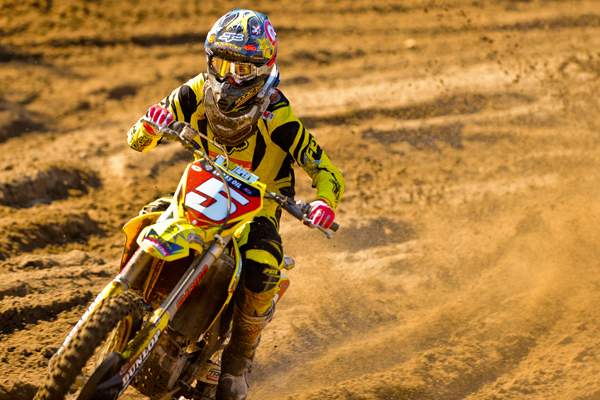 Ryan Dungey is the most successful rookie in premier-class MX history.
Photo: Steve Cox
That's interesting! So, it's not just about fitting the bike to you, but sometimes it's about fitting yourself to the bike, huh?
Yeah, sometimes you come in and you want to blame it on the bike, but then you just think, "Wait a minute, guys, that was kind of me." Maybe you're not riding to the best of your ability at the time or something like that, so it plays a big part, too.
That's hard to do, though, isn't it? It's just human nature to not want to be "at fault" for things that go wrong, but I would imagine it's even more hard when you're a racer, isn't it?
Right, but it's important to be honest with yourself. It's hard, but when you're honest with yourself, that's obviously when the truth comes out, and that's when everything starts to make more sense. You can lie and cheat about stuff, but in the end, you're only hurting yourself, so it's important to be smart in that direction, too, I believe.
You're like a philosopher all of a sudden! Some of those things you're saying you don't want to do probably fit most of the guys up front that you're beating!
Maybe, but I just think you can never give up, and you have to try to have a good attitude. That's important. But you never know what's going to happen. There's always going to be something to work around, but you learn from these things, and I know I'll be learning until the day I stop racing. Even [Kevin] Windham said that he learns something new every year, and he's been at it for how many years? It's pretty cool, just the learning curve of our sport.
Okay, so now we're going to change gears and talk about the championships. You've now won both championships this year; and this one, you dominated. You kept your foot on their throats from round two on. How does it feel now knowing that you will be running the number-one plate all year next year?
It's definitely a good feeling. It's everything we've worked for. I've been really fortunate to be able to win supercross and motocross championships in my rookie year, and it's special. It's definitely a big stepping-stone in my career, and it's big not just for me, but for my team, my family – everybody. So, I'm going to try to enjoy it, but there's always going to be another race, another championship, and more, so I think I need to make sure that I keep my focus and keep going for more, because no matter how many races or how many championships, it's never going to be enough.
You said in the press conference that you didn't want to win that first moto like that, with Brett Metcalfe running out of gas with a few turns left. It seemed like Metty had that one. In a way, did you almost actually feel bad for that to happen to him?
Yeah, definitely. We were battling the whole moto, and he was really putting on a hard charge and he hung in strong. It was really cool to see. But really, I do hate to win it like that. The guy was riding awesome!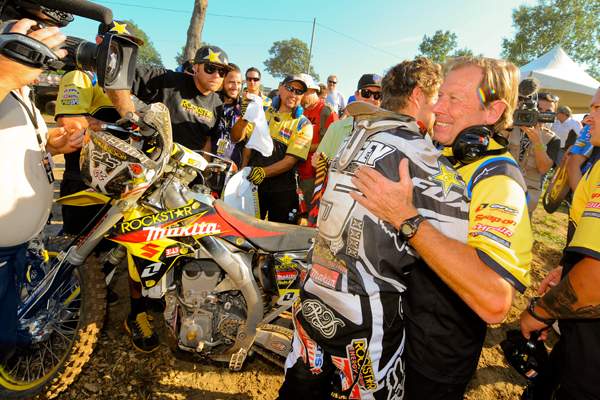 Roger Decoster (right) congratulates his racer after their second championship of the season.
Photo: Steve Cox
You would've loved to pass him in the last turn or something if you could...
Yeah, of course. I was really pushing hard, and he might have had that moto win; I don't know, but it's sad to see that happen like that. But we ran that race overtime! It was long. We're already cutting short on gas, but we were all close to running out. When you're on a sand track, you're pretty much wide-open everywhere. You don't ride trying to conserve gas. It's not car racing out there! I was bummed for him. I know he puts in his time and effort and hard work, and I know I can expect him to be back strong again next week.
Looking forward, in the press conference you talked about the standard Ricky Carmichael set. Is that what you're thinking about? Is that your goal, to reach for his 15 titles or whatever?
I don't know... Ricky just set the bar high, and obviously he's the greatest of all time, but you have to take it little by little. You can't start looking at accomplishing something five years from now, because it just doesn't work like that.
He didn't look that far ahead...
Right! He just took it one race at a time, and he was in it for a long time. Ten years is a long time to be at the top. So big props to Ricky on that...