Former AMA MX Nationals 125 & 250 champ, twice 125 AMA Supercross regional champion and FIM MXGP 125 champ calls it a (brilliant) career

ORANGE, Calif. – South Africa's most successful motocross racer of all time, and certainly one of the great MXers of his generation – Grant Langston – has decided to call it a career.

"For me, moving to America was a dream come true," said Langston. "I've started my family here and have made great friends. I am also fortunate enough to have enjoyed a great international career and an incredible world-wide fan base.

"While walking away was a very difficult decision, I do intend to remain in the United States and stay in the industry in some capacity."

The Zulu Warrior first arrived on U.S. shores in 2001 on the heels of a 125cc FIM MXGP World Championship with KTM. Sticking with the Austrian bike manufacturer Langston would parlay his European success into instant dividends, winning the Dallas 125 Supercross main event and adding two more podium finishes in his first year racing AMA Supercross. That summer Langston would step it up even more, recording an impressive five 125 Outdoor National overall victories. But the '01 MX Nationals season would be Langston's – and motocross fans in general – most memorable season in recent history, albeit in defeat for Langston.

As it read in Cycle News: There, on a sunny afternoon just outside Pittsburgh, one man's dream came true – while another's was shattered. And on the shattered end of things was KTM's Grant Langston, a broken hub and dangling spokes told the then sad story of a young South African motocross racer who'd lost the fight to become the champion of the most prestigious motocross series in the world – the Outdoor Nationals.

Said Langston, the '01 MX Nationals' 125cc runner-up, in a later Cycle News interview: "Well, at that point it did almost kill me," he said of the Steel City race. "I thought about it a lot. I wanted that title I felt I deserved before I went to the 250s. If I didn't win that title it probably would have followed me the rest of my life."

Following an injury-laden sophomore year in the States, Langston came roaring back with a vengeance – not only endearing him to a legion of fans both here and abroad, but also gaining his first of numerous AMA titles – the 2003 125cc MX Nationals crown – the title that had eluded him in '01. Noteworthy: The title would be KTM's first (and only) American motocross championship.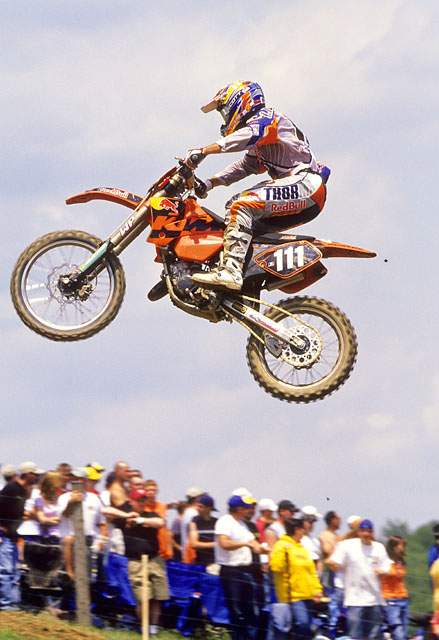 Grant Langston was on a KTM 125 in 2003.
Photo: Simon Cudby


The gutty racer would soldier on through a painful 2004 supercross season, placing 11th, only to suffer a late-season injury that would keep him on the sidelines for the outdoor national season - dashing the hopes of defending his '03 title.

But when things looks like they were about over for Langston after parting ways after seven years with KTM (1998-'04), Pro Circuit/Kawasaki's Mitch Payton took a flyer on Langston – and it ended up being another in a long line of great decisions for the Corona, Calif.-based company. Langston came back fit and hungry and lit up the '05 ESX tour, winning three races and locking down two more podiums to score his first AMA Supercross No. 1 plate.
The '05 outdoor MX season would be solid for Langston as well, locking down 125 class wins with Pro Circuit/Kawasaki at the Hangtown (Calif.) opener, Southwick (Mass.), RedBud (Mich.) and the season's last contest at Glen Helen (Calif.). Despite the wins, injuries and inconsistencies would relegate Langston to 4th overall.
Moving west for the WSX rounds, Langston successfully defended his '05 125cc (now called SX Lites) championship with three wins and three podium finishes. His limited MX Lites racing that summer would be the last time Langston booted up in the support class.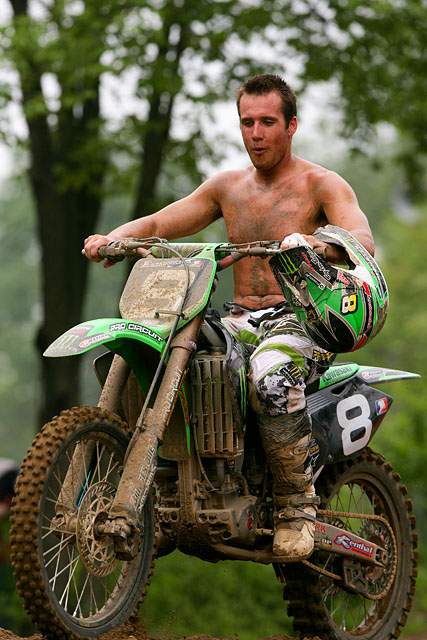 Grant Langston was on Pro Circuit Kawasaki in 2005.
Photo: Simon Cudby


Changing brands in 2007 to Factory Yamaha and moving up to the premier SX (formerly 250cc) class, Langston struggled during the supercross season, but made one of the decade's most amazing comebacks when he won his most cherished title – the '07 AMA MX Nationals MX championship – the granddaddy of all motocross crowns. And just for good measure Langston would back the Nationals up with the '07 Las Vegas U.S. Open of Supercross title.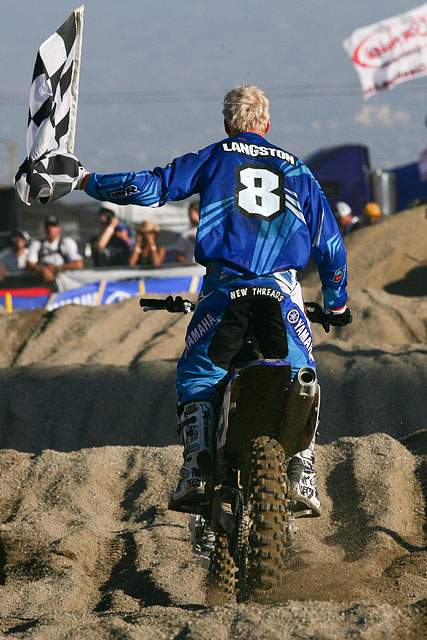 Grant won the 2007 AMA Outdoor Motocross title.
Photo: Simon Cudby

Through the past several race seasons Langston has battled several injuries, specifically a medical condition where a melanoma tumor that developed in the left eye caused loss of vision. And that, Langston says, was the clincher. "Dealing with recurring injuries takes the joy out of racing," he said. "I can't hang it out like I used to. And if I'm not able to compete at my best – I do not want to race."

Throughout his career, along with his wife, Chelsey, the constant in Langston's life had been his father, Gerald. Good-natured and always a champion for his son's efforts, Gerald, along with Grant, formed a father/son race team that's a model for young up-and-coming racers and their dads. They remain true to their cause to this day with Grant being the majority share-holder in Langston Motorsports, owned and operated by Gerald.

"My dad's been a big part of my career, I love him a lot and look forward to working with him and the rest of my family at Langston Motorsports," said Grant.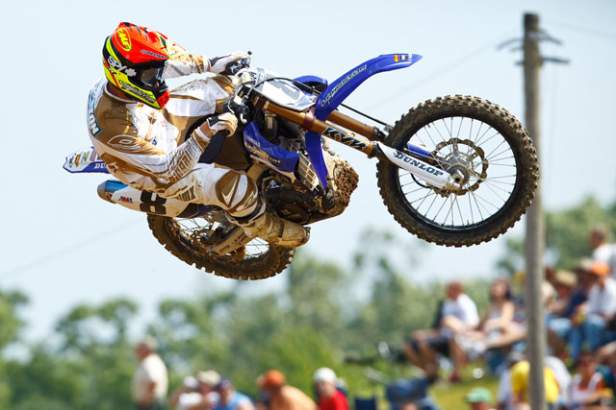 Langston headed up his own race team for the 2010 Lucas Oil AMA Pro Motocross series.
Photo: Simon Cudby


Note: Langston is entertaining opportunities to remain in the motorcycle industry. Inquires can be made to OMS Sports' West Coast operations, (714) 538-1803 or sharon.richards@omssports.com

OMS Sports is a global, full-service sport marketing agency specializing in athlete representation, strategic marketing partnerships, industry relations, licensing and merchandising opportunities in the world of Extreme Personal Powersports. For more information, contact OMS Sports' Sharon Richards at the West Coast office, (714) 538-1803 and sharon.richards@omssports.com