Sometimes, when things are going your way, they're just going your way. Freight trains are hard to stop simply because they're moving. It's momentum. We got samples of this in both classes today at Southwick, round 10 of the 12-round Lucas Oil/AMA Pro Motocross Championships.
450
The first example of momentum came in the form of Rockstar/Makita Suzuki's Ryan Dungey. To start the day, it was already unlikely that anyone was going to stop him from clinching the 450cc National title by the end of the day – his second national title in his rookie season. But things continued to go this juggernaut's way throughout the day.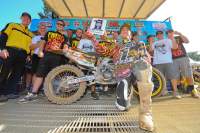 Ryan Dungey won his second national championship of his rookie 450cc season officially today at Southwick.
Photo: Steve Cox
The first thing to roll Dungey's way happened right away in the first practice session of the day, when Honda Red Bull Racing's Andrew Short suffered a mechanical and dropped out of the session, which turned out to be, by far, the fastest qualifying session due to the smoothness of the track. Short ended up not qualifying on time and had to take a top-10 provisional, as he sat second in points to Dungey and was the only guy who stood a real chance of extending the championship chase at least until Steel City next weekend. Short took the 40th gate pick, which was a very big help to Dungey.
The next thing to roll Dungey's way would have been impossible to predict prior to the race. GEICO Powersports Honda's Brett Metcalfe pulled the holeshot, taking over where Short left off in that regard. Metcalfe had two holeshots at the Texas National eight rounds ago, but this time he wasn't going to let it go.
Dungey moved his way into second early on after TLD/Lucas Oil Honda's Ben Townley crashed out of the position. But try as he might, he couldn't do anything with Metcalfe out front. For over minutes, Dungey chased Metcalfe, and at the two-lap board, Metcalfe put the hammer down to try and put the nail in Dungey's coffin. Metcalfe pulled away slightly, but a little over halfway through the final lap, Metcalfe inexplicably waved Dungey by. One turn later, he came rolling to a stop.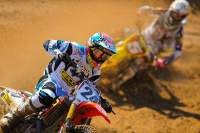 Brett Metcalfe (24) led all of the first moto except for the important part, running out of gas with a few turns left.
Photo: Steve Cox
Metcalfe climbed off of his stalled machine and tore off his goggles before thinking maybe he could push the bike across the finish line. He pushed the bike to the top of the hill it stopped on and then saw there was a whole lot of track left, rolled down the hill, then fell, pulled off his helmet, and walked back to the pits, dejected.
He had run out of gas. So did Short and Townley in the same moto, although Short was the last guy on the lead lap when it happened, on the last lap, so he lost no positions.
Again, things rolled Dungey's way.
Rockstar Energy Suzuki's Tommy Hahn inherited second after a strong ride in third all moto, while Jagermeister/FMF KTM's Mike Alessi inherited third after starting at the tail end of the top 10 and moving forward. Fourth went to MCRMX's Kyle Chisholm, while privateer Kyle Regal was fifth in front of last year's winner Matt Goerke, Honda Red Bull Racing's replacement rider Kevin Windham, Monster Energy Kawasaki's replacement rider Nick Wey, privateer local Robbie Marshall and New York's Bobby Kiniry.
Kevin Windham
, but the two collided and Metcalfe hit the deck. Metcalfe remounted at the back of the pack. But the guy he is battling for second in the points, Short, got an even worse start, going down in the middle of the start straightaway and getting up dead-last.
Townley was eventually passed by Dungey in a sweeping move to the inside up the hill after the start as the track headed to the back section, and from there, Dungey was in a league of his own, taking the moto win and the overall. Townley held on for second in the moto, holding off Goerke for the spot. Alessi was fourth in the moto in front of Windham and Chisholm, and then an amazing ride from Metcalfe, who caught all the way up to seventh even though he suffered two more falls in the moto getting caught up with slower riders. Eighth was Ryan Sipes over Wey and Justin Brayton. Hahn went out with a reported clutch problem while running up front and did not finish the moto.
Overall, Dungey won again, clinching the title actually after the first moto of the day, while Alessi's 3-4 was good for second overall and Goerke's 6-3 landed him on the podium overall in his first race back from injury.
250
In the 250cc class, GEICO Powersports Honda's Trey Canard was the unstoppable force, as he had won the previous four AMA National overalls and pulled to within 16 points of the leader Chris Pourcel of the Monster Energy/Pro Circuit Kawasaki team.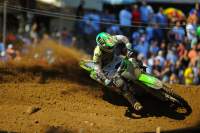 Tyla Rattray scored his second overall of the season, both of which came with 2-2 scores.
Photo: Steve Cox
In the first moto, despite not feeling all that comfortable on his bike in his first visit (as a pro) to Southwick, Canard worked his way by holeshot artist Wil Hahn, of the TLD/Lucas Oil Honda team, and into the lead while Pourcel found himself mired just outside the top 10 and unable to move forward. Pourcel eventually moved up to seventh, but that was as far as he could make it, while Canard held off Pourcel's teammate Tyla Rattray to win the first moto. After the moto, the two racers were only five points apart.
Behind Rattray came Hahn, Canard's teammate Justin Barcia (last year's winner of this event), Rattray's teammate Dean Wilson, Barcia and Canard's teammate Eli Tomac, the aforementioned Pourcel, DNA Shred Stix/Star Racing Yamaha's Broc Tickle, Hahn's teammate Cole Seely, and then Tickle's end-of-season teammate Gareth Swanepoel in 10th.
Martin Davalos
, eventually finishing ninth, just in front of
Ian Trettel
of the Rockstar Energy Suzuki team in his maiden AMA National voyage.
Overall, Tyla Rattray took his second win of the year, both of which came with 2-2 scores, while Barcia was second with his 4-1 and Canard was third with his 1-9 over Hahn (3-5) and Pourcel (7-3).
Despite the poor second moto, Canard still managed to pick up three points on Pourcel as the series heads to Steel City next weekend. That's what happens when things are going your way – even on your bad days, good things happen.
WMX
Despite a first-turn crash in the first moto, DNA Shred Stix/Star Racing Yamaha's Jessica Patterson still managed not only to finish second to championship rival Ashley Fiolek, of the Honda Red Bull Racing team, but she finished right on Fiolek's tail. The second moto seemed to be a foregone conclusion that, if Patterson stayed up, she would beat Fiolek, and that's exactly what happened, as Patterson put an exclamation point on her first-moto ride to grab the overall win and hang on to her 22-point lead in the standings. TLD/Lucas Oil Honda's Tarah Gieger once again went 3-3 on the day.
Lucas Oil AMA Pro Motocross Championship?
Rockstar Energy Southwick National
Moto-X 338
August 28, 2010
Round 10 of 12
450 Class (Moto Finish)
1. Ryan Dungey, Belle Plaine, Minn., Suzuki (1-1)
2. Mike Alessi, Victorville, Calif., KTM (3-4)
3. Matt Goerke, Lake Helen, Fla., Yamaha (6-3)
4. Kyle Chisholm, Valrico, Fla., Yamaha (4-6)
5. Kevin Windham, Centreville, Miss., Honda (7-5)
6. Nick Wey, DeWitt, Mich., Kawasaki (8-9)
7. Ben Townley, New Zealand, Honda (34-2)
8. Tommy Hahn, Decatur, Texas, Suzuki (2-32)
9. Brett Metcalfe, Australia, Honda (14-7)
10. Dan Reardon, Australia, Yamaha (13-11)
450 Class Championship Standings
1. Ryan Dungey, Belle Plaine, Minn., Suzuki, 468
2. Andrew Short, Smithville, Texas, Honda, 317
3. Brett Metcalfe, Australia, Honda, 314
4. Mike Alessi, Victorville, Calif., KTM, 273
5. Ben Townley, New Zealand, Honda, 271
6. Josh Grant, Riverside, Calif., Yamaha, 260
7. Kyle Chisholm, Valrico, Fla., Yamaha, 216
8. Chad Reed, Australia, Kawasaki, 204
9. Kyle Regal, Kemp, Texas, Honda, 201
10. Ryan Sipes, Vine Grove, Ky., Yamaha, 194
250 Class (Moto Finish)
1. Tyla Rattray, South Africa, Kawasaki (2-2)
2. Justin Barcia, Ochlocknee, Ga., Honda (4-1)
3. Trey Canard, Shawnee, Okla., Honda (1-9)
4. Wil Hahn, Decatur, Texas, Honda (3-5)
5. Christophe Pourcel, France, Kawasaki (7-3)
6. Dean Wilson, Scotland, Kawasaki (5-4)
7. Eli Tomac, Cortez, Colo., Honda (6-7)
8. Gareth Swenapoel, South Africa, Yamaha (10-6)
9. Martin Davalos, Ecuador, Yamaha (11-8)
10. Broc Tickle, Holly, Mich., Yamaha (8-11)
250 Class Championship Standings
1. Christophe Pourcel, France, Kawasaki, 399
2. Trey Canard, Shawnee, Okla., Honda, 386
3. Tyla Rattray, South Africa, Kawasaki, 364
4. Dean Wilson, Scotland, Kawasaki, 363
5. Justin Barcia, Ochlocknee, Ga., Honda, 291
6. Eli Tomac, Cortez, Colo., Honda, 262
7. Blake Wharton, Pilot Point, Texas, Honda, 259
8. Broc Tickle, Holly, Mich., Yamaha, 232
9. Martin Davalos, Ecuador, Yamaha, 210
10. Jake Weimer, Rupert, Idaho, Kawasaki, 195
WMX Class (Moto Finish)
1. Jessica Patterson, Tallahassee, Fla., Yamaha (2-1)
2. Ashley Fiolek, St. Augustine, Fla., Honda (1-2)
3. Tarah Gieger, Winter Gardens, Fla., Honda (3-3)
4. Sara Price, Canyon Lake, Calif., Kawasaki (4-7)
5. Vicki Golden, El Cajon, Calif., Yamaha (6-5)
6. Mariana Balbi, Brazil, Yamaha (5-6)
7. Sarah Whitmore, Cheboygan, Mich., KTM (11-4)
8. Tatum Sik, Temecula, Calif., Yamaha (8-8)
9. Alexah Pearson, Rocklin, Calif., Yamaha (9-9)
10. Julie Anne Parizek, Willington, Conn., Kawasaki (10-10)
WMX Class Championship Standings (After 6 of 8 Rounds)
1. Jessica Patterson, Tallahassee, Fla., Yamaha, 288
2. Ashley Fiolek, St. Augustine, Fla., Honda, 266
3. Tarah Gieger, Winter Gardens, Fla., Honda, 229
4. Vicki Golden, El Cajon, Calif., Yamaha, 190
5. Sara Price, Canyon Lake, Calif., Kawasaki, 180
6. Sarah Whitmore, Cheboygan, Mich., KTM, 176
7. Mariana Balbi, Brazil, Yamaha, 169
8. Alexah Pearson, Rocklin, Calif., Yamaha, 138
9. Tatum Sik, Temecula, Calif., Yamaha, 135
10. Erica Cook, Natalia, Texas, Yamaha, 113