Welcome to Racerhead—thanks for stopping by. Lots going on this weekend: the Rockstar Southwick National, presented by Traxxas, goes off tomorrow at 1 p.m. (Eastern) and will be featured live on www.allisports.com, and then you can watch the second set of motos from 9 p.m. to 11 p.m. on SPEED. It marks the tenth round of the 2010 Lucas Oil AMA Pro Motocross Championship, and we could actually see a champion crowned in Ryan Dungey.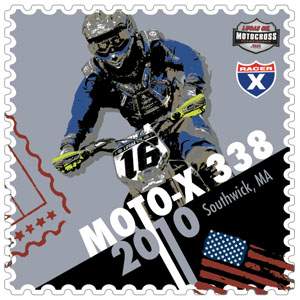 If you are lucky enough to be at Southwick this weekend, stop by the Racer X booth for your free event sticker featuring JYD!

And then on Sunday it's the Red Bull U.S. MotoGP at Indianapolis Motor Speedway, as Nicky Hayden and Ben Spies enjoy a homecoming race on the fabled bricks. That race will begin at noon, live on SPEED.
Here are a couple of things to get you pumped for Southwick: GuyB posted a helmet-cam video by Jimmy Decotis riding around MX-338, with Robby Marshall riding shotgun:
Southwick-Preview-Ridealong,1631/GuyB,64">
Southwick Preview: Ridealong - More Motocross Videos
And HERE are ten things to watch for tomorrow.
It was a busy week in American motocross, even though last weekend was an off-weekend. The lineups for the Red Bull Motocross of Nations were posted by the FIM here on Racer X earlier this afternoon, and you can see who is riding for whom right HERE.
Unfortunately, Team Italia still doesn't have that logos-on-the-jerseys issue worked out, so no Tony Cairoli or David Philippaerts, which sucks because they were going to be fun to watch at Thunder Valley.
Also, as expected, no Chad Reed, after Reedy announced that he would not be ready to ride after all as he continues to work through his health issues.
In case you were somewhere else—like the Middle East or the moon—you probably heard that James Stewart has decided to sit out the rest of the summer's races. According to the press release the San Manuel team put out, he did not feel he was going to be able to get up to speed or to get the bike set up to the point where he would not be risking another injury.
"The reality is, though my wrist is feeling great, I'm not ready to race at this level," Stewart said in the release. "As much as I'd like to be out there, I need more time to prepare so that I don't put my entire career at risk by getting injured again. A younger James might not have been mature enough to make this decision, but I've learned a lot in recent years and sometimes you have to do what's right, despite what's in your heart. I'd like to apologize to my fans, the Outdoor National series and my sponsors. You've been incredibly supportive of me throughout these recent months. I am sorry if what I've said or done has disappointed anyone in any way, but I'll be back on the track at Anaheim 1 and ready to race."
Like I said last week, the tracks have changed since he left motocross in 2008, and I believe it caught James and the team off guard. I respect his decision to do what he and the team feel is best for his career, including staying at home for Southwick, Steel City, and Pala. Like a lot of fans, I am disappointed I won't get to see him challenge Dungey and friends, but I also look forward to seeing him at Anaheim in January. And everyone involved in the Lucas Oil AMA Pro Motocross Championship will keep working hard to make the series so compelling and worthwhile that someday supercross-only deals will hopefully be a thing of the past.
Stewart obviously isn't the first supercross-only rider—Jeremy McGrath was, and this week he was inducted into the Motorsports Hall of Fame of America in Detroit. So along with Feld Motor Sports' Dave Prater and several folks from the AMA and AMA Pro Racing, my mom and I decided to drive on up to check it out. Jeremy himself unfortunately could not attend, as he had a truck racing deal in Chicago that night, but he came to Detroit the night before the ceremony for the honorees' dinner and then taped a nice acceptance speech. He was inducted, along with the late NASCAR Champion Alan Kulwicki, who died in a plane crash just five months after winning the '92 title; racing/stunt driving legend Joie Chitwood; drag racing's Dale Armstrong; sports car driver/journalist Jerry Titus; and broadcast legend Ken Squier.
It was an awesome event, and we were blown away by two things. The first was how much respect Jeremy had among the motorsports racing set—and that includes people like guest speaker Chip Ganassi, longtime race announcers Squier and Marty Reid, and just about everyone in the room at The Fillmore Theater that night.
The second thing was just how downtrodden parts of Detroit have become. I used to go there a lot for the Pontiac and Detroit SX races, but the amount of empty and abandoned buildings and skyscrapers is just downright sad. The times are tougher in Detroit than probably anywhere else in America right now.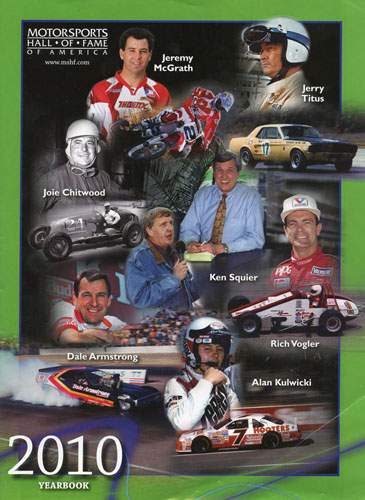 So Stewart's exit wasn't a surprise to some, but it was definitely more of a shock than this: Jason Lawrence is out for Southwick. Why? We have no idea. Something about his bike was supposed to be rebuilt, but then he and his ... oh, forget it. He ain't coming. But Kyle Regal is there, riding from under the J-Law tent, with lots of ARMA stickers on his bike and helmet.
Now, let's turn it over to Jason Weigandt:
Is it fate? Southwick is one of the few races that I can get a short, direct flight to from the Pittsburgh airport, which means I get here early. And it's the only track in American motocross that I know of that has a full-on bar at the track. Not a beer tent. Not a beer vendor. But a B-A-R. This track is hosted by American Legion Post 338 (hence MX-338), and the post includes a cool little place where you can literally go inside and forget there's any motocross racing going on at all. And then, after enough time, probably forget almost everything else if you want to.
So I'm going to have to go check that out for, um, research, on today's Racer X Motocross Pre Show. We're bringing Jason Thomas up from Florida to co-host, and we'll give you some in-depth info on the track here. Look for the show tonight or tomorrow morning (depending on how the segment in the Legion post goes) on AlliSports.com.
And as DC mentioned, on Saturday we will have same-day coverage of both the 450 and 250 Class on SPEED, back-to-back at 9 and 10 p.m. Eastern.
Southwick owner Ralph Pitello tells me that an AMA National title has never been wrapped up here at this track, because this race used to be held very early in the season. But this year it looks like Ryan Dungey may clinch, so they've built a whole new podium in the infield so fans can get a front-row look at some history. Should be cool. Also, Ricky Carmichael holds the record for most rookie wins in the 250 (now 450) Class with nine victories in 2000; Dungey is looking for win number eight this weekend and the chance to break it if he wins again at Steel CIty or Pala. He will also become the first rookie to win both SX and MX titles in the same year. This is crazy stuff!
Something interesting to note in the 250 title battle: Trey Canard has never raced a national here (he was injured in '08 and '09). But I believe he did actually race a local race here last year while he was getting back up to speed after his wrist injury. We also don't know much about Pourcel's skills here, since he didn't get much of a chance to show them last year, but you have to assume anyone who won a GP title can handle sand. And Canard has been doing some sand-riding boot camp in Florida with Tim Ferry. So he has that going for him.
Could teammates play a role here? Tyla Rattray won a moto here last year but Justin Barcia won the overall, even beating out Dungey. So on this track, we could see something unexpected. Or do we just come to expect upsets here, meaning that's expected.
Speaking of the unexpected, last year's shocking 450 winner, Matt "Beef" Goerke, is back this weekend after a year of injuries.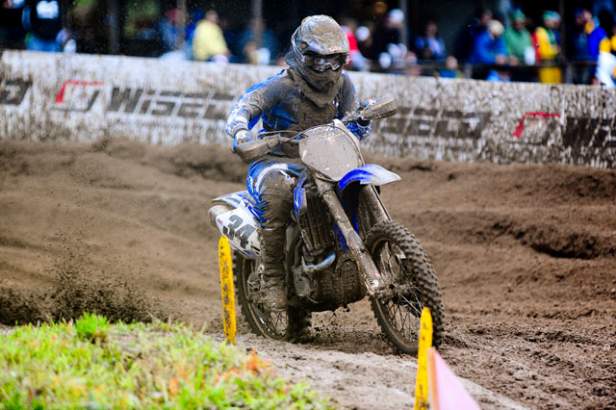 Photo: Steve Cox


And Broc Tickle is back in the 250 Class after breaking his collarbone at Washougal. With the recent dominance of GEICO Honda and Monster/PC Kawasaki, a lot of people are wondering if anyone can break up those teams inside the top five. Tickle was usually the closest before he got hurt, so he could be a factor if this title fight gets really crazy.
Okay, time to go check on the American Legion post!

Over to Steve Cox:
Does it seem like John Dowd is going to keep the #16 until he's 70? He probably could, if he really wanted to. I heard he wanted to keep 16 until he's 50, though. He just turned 45 a couple weeks ago. If you remember, last year he grabbed yet another podium at Southwick, so the ageless one still has a long way to drop back in order to finish out of the points two motos in a row, which is what it would take for him to relinquish his national number. It's going to be nice and cool there this weekend, so is there anyone who thinks Dowd won't be up in the top ten, at least? Maybe even top five?
That's the thing about Southwick: It's a track where being a local and having knowledge of how the lines develop and things like that is invaluable. And you can say the same for photography there. Just ask Paul Buckley. I know I'll be asking him plenty this weekend!
It sounds like Monster Energy/Pro Circuit Kawasaki's Jake Weimer is out for the last three nationals with his back issue we reported on before Unadilla. It's probably a smart move by Weimer to just let himself heal up, but don't think he wasn't tempted to get back out there to prove to his potential employers for the 2011 season and beyond what kind of racer he is.

Dowd, this guy knows Southwick.
Photo: Steve Cox

It's a funny thing in this sport, but I've heard more than one smart industry person try and talk Weimer down, as if he's not a proven commodity, when talking about 450cc rides for next year. This whole "You're only as fast as your last race" nonsense just has to stop. Were these people not at Las Vegas to watch Weimer beat Chris Pourcel straight-up to win the East-West Shootout? And Pourcel is number one among the 250cc guys who are moving up, in terms of how the teams see him.
This means, of course, that the Pro Circuit team is going to be all foreigners for the rest of the season, with Dean Wilson (sort of a foreigner) and Tyla Rattray battling it out for third in the points, and obviously Chris Pourcel leading the standings right now. One rider few people seem to be talking about going into Southwick this year, though, is Rattray. He has already won a national this year, and last year he won a moto at the 'Wick. The dude used to live in sandy Holland (or is it Belgium? Does it matter, as far as sand is concerned? I don't think so…). He can ride sand. He will definitely be a problem for everyone.
The Chad Reed train has gone a bit quiet lately, hasn't it? What's going on with him? Anyone know? Can you email me? (steve@racerxonline.com) I've heard rumors ranging from him trying to land a spot on Honda in 2011 all the way to him retiring and just about everything in between. All I know for sure is that there are some announcements coming soon, but everyone who would know what they entail are being very tight-lipped about the whole thing.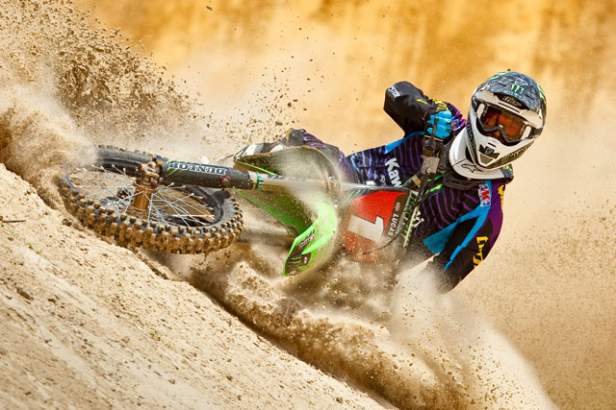 Reed blasts through the sand in.... Florida.
Photo: Simon Cudby

See you guys in the sand this weekend! It should be a doozy.

Ping:
I remember the first time I raced at Southwick. It was 1995 and I was excited because I used to race at a dumpy little track in Arizona called Thrasherland that was all sand and I loved it. I was expecting to do some serious damage that weekend in Massachusetts. And then guys like Mike Treadwell, Wally Silva, and a dozen other locals I had never heard of started flying by me like I was tied to the massive pine that hovers over the Buckley Berm. To this day I've never been to a place where locals have such an advantage. It's like we're riding around blindfolded and they have a map with all the good lines, places to pass, alternate lines when the track gets rough, and even the proper pronunciation of the town Worcester. I think that same year I stopped at a gas station and asked the attendant where the Ramada Inn was in Wor-chest-er. She set down her cigarette, tilted her head a little bit to the side, and replied, "It's Woosta, ya D-bag." Lesson learned.
What I'm really psyched for is the 250 race this weekend. The championship race in that class is really getting good, and Southwick has been known as a big momentum changer. Usually the change comes by way of a blown-up engine and last year that melted down power plant came courtesy of Mr. Christophe Pourcel. If Mitch is reading this, he just sighed and ran his fingers through his hair—that's his poker tell, if you ever play with him. Of course I hate to see anyone blow up a bike, but what I really do want to see is the title come down to the last moto at Pala. That would be cool.
Speaking of Pourcel, I'm now hearing that he might be riding KTMs next year. I know that flies in the face of what DC reported last week, but that's what I'm hearing. It makes sense, as KTM typically likes having some European riders on their squad. The men in orange are really making a push here in the States in 2011, and he would be a great guy to lead the charge. And I think he would be stupid-fast on that 350 in a stadium. Just my opinion.
Two Frenchmen on Austrian bikes on the American circuit? Why not?
KTM will have a support team in the JDR Motorsports crew. The Australian team that won the 250 MX title in Oz is coming to the U.S. and bringing PJ Larsen back with them. They purchased one of the MDK KTM rigs from last year, as well as the entire MDK workshop for next year. I chatted with PJ a little bit at the X Games and he is very happy with the team and looking forward to the chance to race back here at home. While no official word has gone out, I've heard Nathan Ramsey will be managing that group. That would be a great fit for Nathan, in my opinion.

Okay, some random stuff:
Here's a good YouTube find: A 125cc Grand Prix from Lierop, possibly the roughest sand track in the motocross world:
And check this out: On Wednesday, Lindsay Lohan stepped out for the first time since leaving rehab. In her hand as she walked through a Beverly Hills parking garage: Rockstar, described on the company's website as "the world's most powerful energy drink."
http://www.usmagazine.com/celebritynews/news/lindsay-lohan-what-shes-drinking-now-that-shes-out-of-rehab-2010268
What's Ezra Lusk up to these days? He's helping kids "race into reading." http://bainbridgega.com/news/publish/article_7378.shtml
Travis Pastrana joined his friends Davi Millsaps and Grant Langston on Long Island for an autism benefit ride. Matt Wozney from MXPTV was there to shoot this cool video of Travis being Travis:
http://www.mxptv.com/2010/08/video-mxptv-rider-session-travis-pastrana-long-island-motocross/
Take our 2010 Racer X Reader survey for your chance to win a Leatt Pro Brace worth $695! Click HERE.

While you're at it, check this out for you chance to win a helmet from our friends at Pirelli: GETPIRELLI.COM is giving two lucky motocross fans the opportunity to win the helmets right off the heads of moto legend John Dowd or up-and-coming champ Kyle Regal – the very same helmets that will be sported by the riders in this weekend's Rockstar Energy Southwick National. Registration for the promotion is free and will begin at www.getpirelli.com starting today and ending September 3, 2010, at 5 p.m. Eastern.
So that's it for this week. I'm skipping Southwick to stay home and help out at Steel City, but I'll be watching and listening all day long. I hope they have a great race and a great big crowd too. Thanks for reading Racerhead, see you at the races (next weekend).