Thursday Rev Up: Southwick
Hello, everyone, and welcome to the Rev Up. The 2010 Lucas Oil/AMA Pro Motocross Championship is down to the short and curlies. Ryan Dungey will become your 450 outdoor national champion, but he still has the record book to race for. Dungey can become the most prolific rookie in the history of the sport, and possibly earn the new moniker, "The G.R.O.A.T." Okay, that sounds awful, but if he wins the final three rounds, he can write a page in the books that may never be touched. His season has been simply astonishing, and I want to congratulate him and his team on their domination of 2010.

Ryan Dungey may be trading that #5 in for another #1 by Saturday afternoon.
Photo: Steve Cox
Now for the good stuff: As predicted, the battle for the 250 crown is probably going to go down to the last moto of the season. History has proven that when a rider is charging the way that Trey Canard has been, the rider he is chasing is in trouble. A rider can do his best to block out said charge and be confident with his points lead, but no matter what level of Zen he reaches, things just happen. For Christophe Pourcel, trouble arrived in a high-speed yard sale and a zero-point score in moto one at Unadilla. Still, he proved that he wants this crown badly and put on a show in moto two that left everyone's mouth agape. Canard should be riding into Southwick with a 10-point deficit, but he couldn't hold off #377, and as it stands, the magic number is 16 with six motos remaining.
More trouble arrives in Monster Energy/Pro Circuit Kawasaki's weird luck at the infamous American sand facility. What's more, this round cost Christophe the 2009 title, and he'll have some serious demons to fight this Saturday afternoon. Canard and last year's 'wick winner Justin Barcia have nothing to worry about but winning motos.
Let's go ahead and get Revved Up for the home stretch, and what is always a great spectacle at Motocross 338!
450
The Ryan Dungey wrecking ball will be hard to stop, but if it does, it looks like it'll be a Belgian who makes it happen. There is something to be said for the energy that Clement Desalle had at Unadilla. A lot of guys can put together one good race. Can "The Motocross Panda" carry the mail two races in a row? All of this stuff would be true if Desalle were racing at Southwick. But, he isn't.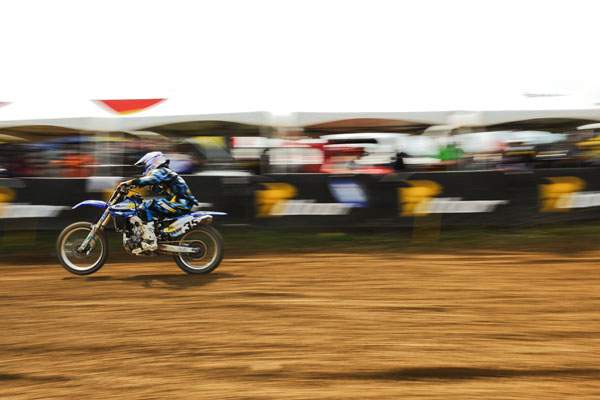 Matt Goerke won Southwick last year, and he's coming back from injury this weekend.
Photo: Steve Cox
Remember who won this race last year? It was Matt Goerke on a factory YZ450F, and he'll be making his return to the track. He won't win it this year, but I wouldn't be surprised to see him get on the box in one of the motos. That's the trick of Southwick; many times we see new names and faces at the front of the pack.
Andrew Short will get at least one holeshot and he'll be strong, so will Kevin Windham, Bret Metcalfe, and Josh Grant. I'd also look for a Tommy Hahn or a Ben Townley to jump into the fight and be heard.
The title may be over here, but there will be some great racing all the way down the stretch.
250
It's "go-time" here, folks. Trey Canard can almost taste the point lead, but I wouldn't say that he has Pourcel on the ropes just yet. Southwick creates a lot of variables, with motor failures, bad starts, and the always-present local speedsters all getting in the mix. Justin Barcia rides this place better than anywhere, and he's my favorite for the O/A. But, what will happen from there is a vast open space of uncertainty. The title is on the line, and the pressure is on.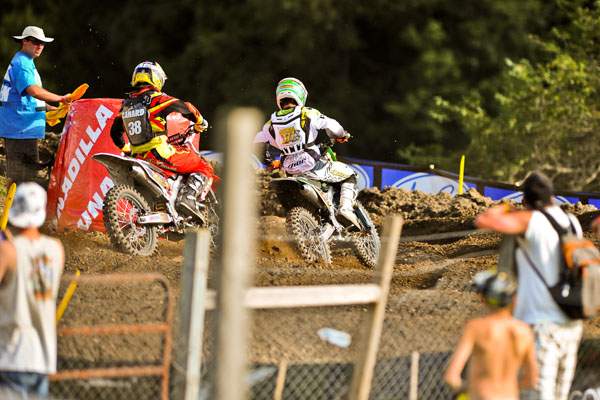 Trey Canard (38) and Chris Pourcel (377) will battle down to the wire for the title.
Photo: Steve Cox
As mentioned, there are still six motos remaining. A lot can and will happen until the final flag flies at Pala, so the title contenders still have to ride smart. If Canard or Pourcel go down in the first turn, they have to realize that every single position matters. They have to push all the way to the finish, and there is no doubt in my mind they will.
The weatherman is calling for gorgeous, sunny skies all weekend, and all championship drama aside, it will be another great day for American Motocross. It's been a whale of a series thus far, and as we reach the final stretch, the best racing and battles may still be to come. Let's all get it jacked up and see what this dance will bring!
Thanks for reading, see you next week.