Privateer Profile: Drew Yenerich
Rock River Powersports rider Drew Yenerich is a few weeks away from closing out his first full year as a professional racer. In his rookie year, the 18-year-old has raced a 250F against 450s in supercross and has broken into the top twenty in the 250 Class outdoors. We got in touch with Yenerich to talk about his season, and this is what he had to say.


Racer X: Give us a background on your racing career for fans who may not be familiar with you.

Drew Yenerich
: I started racing locally when I was 6, and pretty much did the whole amateur national thing all the way up through Loretta's. The best I did there was fourth. This is my first full rookie year in the outdoor nationals. I got my pro license as soon as I turned 16, but I never really raced the outdoor nationals until last year after Loretta's.
How has your season gone so far?
Good. I'm sitting 35th in points right now. I've had some problems with bikes blowing up and whatnot, but I think we got that all figured out and we should be able to pull off some top 15s.
I heard something about you riding a 250F against the 450s in supercross. What's up with that?
Yeah, it was my first time ever doing supercross. I had never raced supercross, so we thought it would be a good idea to just get my feet wet and see what it's all about. So I went over to the West Coast and did some of the 450 races on my 250F, because that's allowed, just so I didn't go into the East Coast (Lites) not knowing what the hell is going on. I qualified for both the night shows, but I didn't make the mains.
What's the hardest part about being a privateer?
Being on the road and traveling.
What has your biggest hurdle been this season?
Just trying to keep the bike together. We've had electrical problems and pistons detonating. I can't keep a bike together to save my life! I think we got it figured out now though. That's basically the biggest thing. I can go both motos hard the entire time, so basically it's just keeping the bike together.
What would you say has been your highest achievement so far in 2010?
Probably my moto one finish at
Washougal
, which was 19th.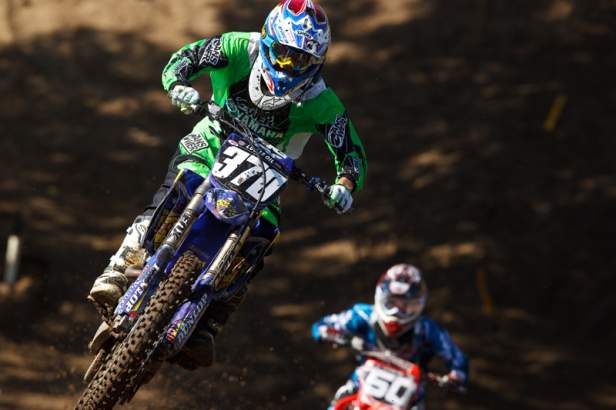 Where do you want to be in the remaining rounds?
Top fifteen, for sure. I've been having less than satisfactory starts the entire season. I've been pounding out starts. I went through an entire clutch yesterday just doing starts, just trying to get to the front of the pack so I don't have to work my way up.

Do you have anything lined up for 2011?
I'll probably be on the Rock River Powersports team again. I haven't really been putting myself out there or talking to any other teams yet.

Is there anything we missed?
I'd like to thank Rock River Powersports, Answer, Von Zipper, Fox Suspension, FMF, Tamer, Yeti Bikes, Mellow Johnny's, Roost MX, 2A Management, Coach Seiji, Fuel Clothing, and Novik Gloves.

Thanks Drew, and good luck at Southwick!
Thanks.