Cosworth Cylinder Head for Honda 450's
Now Available: Cosworth Pro-Max CNC Performance Cylinder Head for the 2009 Honda CRF450R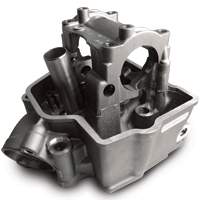 Increase the CRF450R's Engine Performance With Cosworth Pro-Max CNC Cylinder Heads.

Part Number: 20019396

Performance with standard size valves:
Intake: 13.2% Increase (CFM) @ .400" lift
Exhaust: 11.9% Increase (CFM) @ .400" Lift

Over 40 years ago, Cosworth began its legacy as a leading designer of multi-valve cylinder heads for the highest level of motorsports. Through its successful professional engine programs for motorsports such as Formula One, Cosworth has gained an intimate knowledge of cylinder head flow and fuel atomization characteristics in ultra-high RPM environments. Today, Cosworth has extended this knowledge to the motocross stage and is proud to announce the release of Cosworth Pro-Max cylinder heads for the 2009 Honda CRF450R.

Through a combination of hands-on testing and extensive engineering, Cosworth's Pro-Max cylinder head team developed precise intake and exhaust ports with specific, enlarged dimensions to maximize gas velocity. Knife edged port dividers, ultra-fine port walls, and CNC multi-angle valve seats channel air and fuel without obstruction resulting in enhanced flow. Combustion chamber volume is left unchanged to maintain consistent compression ratio.

Compatibility, reliability, and stringent quality control are paramount concerns at Cosworth. That's why every Pro-Max CRF450R cylinder head begins its life as a brand new OE casting. Each casting is 100% CNC ported, ensuring every cylinder head is identical. All Pro-Max cylinder heads utilize standard seats and guides ensuring compatibility with your valvetrain of choice. Additionally, the cylinder head fire face is lapped to free the gasket-mounting surface of any defects or gaps, which could lead to lifting. Each Cosworth Pro-Max Cylinder Head is delivered ready for assembly using your own preferred components and is also available with reduced guides for race applications.

About Cosworth
Cosworth leverages its performance technology expertise and globally recognized brand to provide high quality solutions for a growing customer base across diverse industries. Over the years Cosworth have developed in-depth knowledge of engines, electronics and a range of high performance technologies. This has been successfully used to supply some of the most successful motorsport teams and vehicle manufacturers. Our unprecedented success has fueled customer demand globally from diverse market sectors designing and developing technologies and components for aerospace, defense, energy, marine and automotive applications.
For media inquiries regarding
Cosworth performance aftermarket products and activities:
David Rahemi
9891 Hamilton Avenue
Huntington Beach, CA 92646
714/378-1660
davidr@ktcmediagroup.com

For general media inquiries:
Pio Szyjanowicz
The Octagon, St. James Mill Road
Northampton, UK
pio.szyjanowicz@cosworth.com

For further information:
Ken Anderson
3031 Fujita Street
Torrance, CA 90505
310/534-1390