Privateer Profile: AJ Catanzaro
A.J. Catanzaro is a privateer from Connecticut that competed in his first pro race last weekend at Unadilla. This weekend is in his backyard at Southwick, but he is really looking forward to the Supercross season. We caught up with him while he was pounding out motos at Southwick for a quick interview.
Racer X:
After a long amateur career, you finally made the step up to pro! How has your year been so far?
A.J. Catanzaro: It's been a long time coming, for sure. This year has been great as far as getting my name out there. I think the Arenacross Championship helped me out a lot, and also gave me the confidence to do well in the A class at Loretta's.
You won a championship in Arenacross this year, so tell us how about that experience.
It was a last-minute deal I made with Josh Woods. I had no intention at all to do Arenacross. He saw me ride on a supercross track and liked what he saw. I had a lot of fun racing it, and got some much-needed exposure and experience. I would definitely do it again if the opportunity arises.
Unadilla was your first outdoor pro race, so how did that go?
My moto scores were 29-25. I honestly was really excited to just qualify. I had some bad luck in the motos, but I know that I have the speed to run top-15. I had a good time and can't wait to prove my self at Southwick and Steel City.
Tell us a little about your program and what you do during the week.
My program is not where I want it to be, but I do my best to stay in shape. I try to get to the track Tuesday, Wednesday, and Thursday and do some motos. I usually go to the gym about three or four times a week and do some weight training and cardio. I'm trying my hardest to self-motivate but am ready to step up to the next fitness level with a trainer.
Tell us about your family support.
My family helps me out so much, and they truly are the biggest part of my program right now. I wouldn't have gotten anywhere if it weren't for my dad bringing me to the races since I was three. My uncle helps me out so much, and I can't thank him enough. Without him, I think my racing would have stopped a long time ago.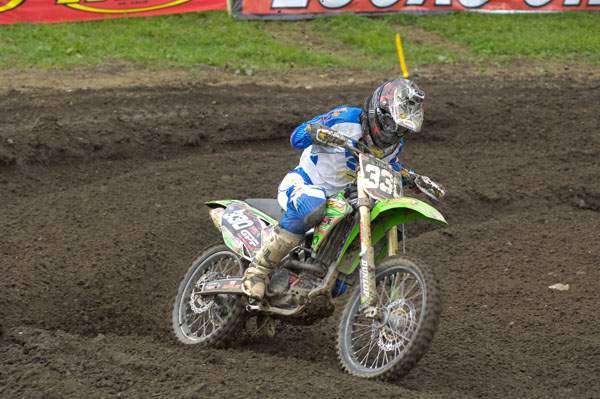 AJ Catanzaro should be good this Saturday at Southwick.
Photo: Tara Gibson
This week's National is practically in your backyard; how have you been preparing for the race?
Southwick is a brutal track. I have been stepping my motos up to try and prepare for it. I know that track like the back of my hand, so I just need to make sure that I can push through the whole 30-minute moto.
What are your goals for this weekend?
My goal is to be top 20 in both motos. It's only my second national but I feel confident that I can run with those guys.
What is the plan for the rest of the year?
I'm going to race Southwick and Steel City. After that, I will head down south and start training on Supercross and Arenacross tracks. I don't have any deals yet for Supercross, but I'm really hoping something will come along. I believe that's where I can be a true contender.
So you feel better riding Supercross over Nationals?
Yeah, without a doubt! I feel I can run top five in Supercross. It fits my smooth, in-control riding style perfectly. I can't wait for Supercross!
A lot of fans like to know what the privateers travel in, so how do you get to the races?
We probably have the most ghetto setup there is. We used to get around in a van (not those cool tricked out white vans with the rims), pulling a snowmobile trailer. But we recently upgraded to a slightly better looking little trailer. I wish I had a picture! But we make it work and make it to the races so that's all that matters.
Do you have a mechanic?
My dad is always the mechanic at my races. He was even on the line at my first national at
Unadilla
. He was too busy trying to take pictures of Pourcel and Barcia that he almost forgot about me! I think I have someone to help out as my mechanic at
Southwick
though, so that will be cool.
That would be good to take some stress off your Dad! What did he think about your weekend at Unadilla?
He was so pumped! When I went out for qualifying, he was a nervous wreck! Once I qualified, there really was no pressure and we just had fun with it. I don't think a race has ever been that stress-free for him.
What's the plan after the Nationals end? Supercross or Arenacross?
I would love to do Supercross. It really all depends on where I find a better deal. We are taking it one day at a time and hoping something comes up. If I have to race Arenacross and then East Coast Supercross as a full-blown privateer, that is what I'm going to do.
Well, good luck the rest of the year. Is there anyone you'd like to thank?
I have to thank my whole family, NRi for helping me out for the last few nationals, No Fear, Factory Connection, Von Zipper, GPF, TLR performance, Tag Metals, EVS, Engine Ice, Bell Helmets, Boyesen, Winchester Speedpark, Twin Air, Hellion Designs, Dunlop, www.privateermxtv.com, and thank you for doing the interview!