Monday Conversation: Brett Metcalfe
For this edition of the Alpinestars Monday Conversation, we decided to do something different: We had Brett Metcalfe's mechanic Brian Kranz interview him about his race at Unadilla a week ago. So here is how the conversation between the GEICO Powersports Honda racer and his mechanic went.
Brian Kranz:
We're out here at Unadilla and you had a pretty good day. Give me an overview of how the day started and how it progressed...
Brett Metcalfe
: We're here at the 'dilla [laughs]. First practice this morning I was feeling pretty good, but then we came in and the times weren't really that good. You informed me that my times weren't that good so I was kind of bummed out. Then we were kind of fired up for the second practice to do better and I felt like I rode better on the track, but then I came in and you told me my times were worse; so our practice sessions didn't go very good. We qualified eighth.
So, that was practice. What about the first moto?
The first moto, I got a horrible start: wheel-spun off the gate. I came out probably around the top eight, then made a few passes. Early on in the race, the track was really slick and pretty one-lined, so I was just kind of sitting there waiting. Then the track came around a little bit and I decided to make some moves; put the hammer down. I was in fifth and had a gap to Short for fourth. I pulled him in and was trying to set up the pass and blew it at the bottom of Screw U. I did a 360 instead of a 180, so I blew it there and should have had fourth. I ended up fifth that moto and was very pissed off at myself for that one mistake. I felt like that was a position that we needed.
So, the first moto you finished fifth. As we were back here getting the bike ready and you're cooling down, our Lites guys go 1, 2, 3, 4, so obviously that gets you pretty fired up going into the second moto, wanting to keep that going for the team. Give me a recap of how that second moto went for you.
Well, after watching the Lites guys go top-four, I was very inspired. I mean, the guys were just killing it. Trey killed it, Blake-star killed it, Justin was going fast... So we went out there and me and you were G'd up on the line [laughs]. I got a better start, but it still wasn't all that good. I was top eight again; somewhere in there. This time, I just kind of made some passes a little bit earlier and I worked my way up to fifth. I closed the gap onto Short for fourth again. It took me a little bit to get by him and finally was able to make the move and then I threw the hammer down for a few laps and pulled a gap. I looked up at third and Ryan [Dungey] and [Clement] Desalle really checked out and the gap was pretty big, so we just rode out the moto in third.
And your finish overall for the day was?
Third...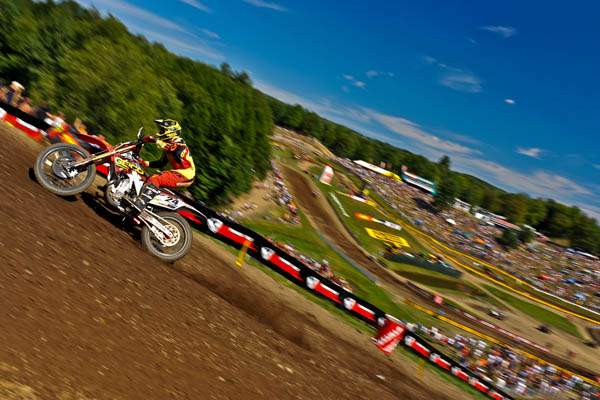 Brett Metcalfe grabbed another podium at Unadilla.
Photo: Steve Cox
So, overall, are you happy with the day and how it went?
Yep. I love coming here and to get top three today knowing that a few extra competitors were coming in, I think it's pretty cool to come away with a top three and get some good points for the championship. I think I might have closed in too on Shorty. Thank you, Kevin [Windham, for his pass in the last turn of the second moto on Short for fourth, which gave Metcalfe two points against Short in their battle for second in the championship].
So, you've had four overall podiums now and they've all been thirds. Are you feeling like maybe you want to step it up and maybe get on that second position or maybe even get a moto win by the time this thing is over?
I would definitely love to. I think I need better starts and might just need a little bit of sand at Southwick! It might be our type of climate and our type of terrain. I love that track, so I'm feeling good for there. We're shooting for a top-two, at least.
Top two at Southwick. We'll see you there... So, you've been asked to ride for Team Australia for the Motocross of Nations, which is going to be held in Denver. Are you excited about this and who are your teammates going to be?
I'm stoked about getting another opportunity to race the des Nations, riding the 450. Teammates as of now [on the Saturday of
Unadilla
] are going to be
Chad Reed
and Dean Ferris on the Lites bike [although this lineup has since changed]. For me, it's a cool opportunity. It'll be my first one on the 450 and me and Kranz are going to roll down to Denver and rip it...
Speaking of Kranz, can you tell me a little bit about him and how important he is to your success?
Kranz grew up SoCal. He spent his whole life there and did some racing and stuff. For all the ladies out there, he's 27, and a very handsome-looking man. He kind of reminds me of Brad Pitt a little bit. On the working side, Kranz does an awesome job prepping the bike. Knock on wood, I've never had a fault happen to any of my race bikes. He's an awesome dude. He's always on time, the bike is always perfect, and nobody has a better prepared rut in the starting gate than me, so I'm very blessed to have Kranz stomping that...
That kind of makes him sound really bad that you keep getting bad starts then.
It has nothing to do with his footwork!
Well, maybe just slightly sub-par starts...
That's the thing, two-three years ago I would have been stoked with like fifth, sixth place start. Now it's just not good enough...