Thursday Rev Up: Fall Season
Hello, everyone, and welcome to the Rev Up. As we enter the last off-week of the 2010 regular season, there is a lot to talk about. Ryan Dungey will be your 2010 450 Outdoor National Champion, but the return of James Stewart and the arrival of Clement Desalle has brought some real fire to the final three rounds. Meanwhile, we are going to have yet another dogfight to the final lap in the 250 class.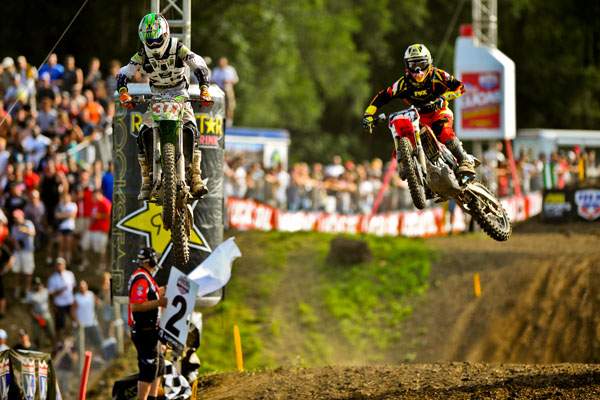 Trey Canard (38) is closing in quick on Chris Pourcel (377), but can he actually catch him in points?
Photo: Steve Cox
Oddly enough, the journey to the tiddler title always seems to work out like this. In 1992, Mike LaRocco was all but clearing out a place on his mantle for the trophy when Jeff Emig clipped him at the very last moment. In 2000, Stephane Roncada had a huge points lead when Travis Pastrana went on a charge and overcame him in the waning moments of the championship. The following year, a young Grant Langston fought tooth and nail with Mike Brown, until his rear wheel broke at Steel City, handing the crown to Brownie. A couple of years later, Langston would win his title after Ryan Hughes was rained out at Troy, Ohio. Then, in 2005, Mike Alessi and Ivan Tedesco went down on the first lap at Glen Helen.
There have been more titles such as those that mirror what the 2010 250 championship is becoming. A fight to the last lap. We'll get back into that next week before Southwick.
For now, I wanted to put some words down about the Stewart debacle. For starters, "The Return of the Jedi" ended up just about like I predicted. After not racing outdoor nationals for almost two years, he set the fastest lap time in practice. In my opinion, that settles the score for "The World's Fastest Motorcycle Rider." He was rusty, under-prepared, and he still went faster than everyone. More than that, he brought a lot to the race and the series. Who cares if he wasn't ready to go a full moto at race pace? He sure as hell had folks chomping at the bit to watch Unadilla.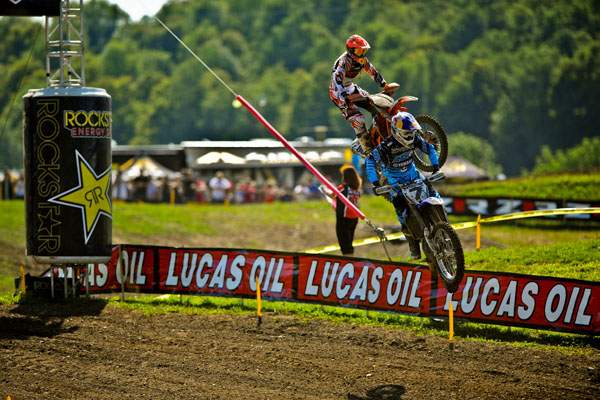 James Stewart battling Mike Alessi for 11th? Ouch... For both of them.
Photo: Steve Cox
Yes, he pulled off in the second moto and refused comment to the reporters. He was tired and pissed off; so what? Last week, Dale Earnhardt Jr. climbed out of his racecar at Michigan after a poor run that likely took him out of The Chase. When asked about it, he said, "I don't give a sh*t about The Chase. I'm tired, and I want to go home." For his mega-million-dollar sponsors, and legions of fans, this was extraordinarily bad. What if Erin made her way to James and he said, "I don't give a crap about the MXoN; I got passed by Mike Alessi, and I just want to go home." He would have gotten ruined even worse than he is now.
I'm not sticking up for Bubba, but for 11 weeks I haven't even mentioned his name, yet he became a topic in my comment section. Usually, getting blasted. He has made the media bed he lies in, but I wouldn't want to talk to a reporter either if I were him. He has an obligation to his sponsors and his fans, but sometimes silence is best. All things considered, I think it was a good call to drop back and punt, then send out an open letter. Dale Jr. wishes he would've done the same.
And how about Stewart's play for being a part of Team USA? It's a tough call, and I don't want to make too much of a weird comparison between Stewart and Tiger Woods, but look at the situation Woods faces as the 2010 Ryder Cup team is being formed. Team captain Corey Pavin isn't giving Tiger a guaranteed spot on the team if he fails to make it on points. Tiger is still the #1 ranked player in the world, but like James he doesn't have his best stuff right now. Should Tiger be on our 12-man team? Should Stewart be on our three-rider team? Both athletes face a similar debacle, and I see the argument on both sides.
But, since this is my once-a-week shot to offer my opinion, I say hell yes Tiger should play and James should ride. The MXoN? One race for all of the glory? You're damned right I'd want Stewart to be on my team. If somebody had a gun to my head and said I was going to get shot if my team loses... I'd count on Bubba to save my hide. Yes, Colorado is Shorty's home race, but remember what Stewart did to the competition on that track in 2008? It was a bloodbath. He'd kill 'em all at the MXoN this year. But, does he deserve to? Heavy debate.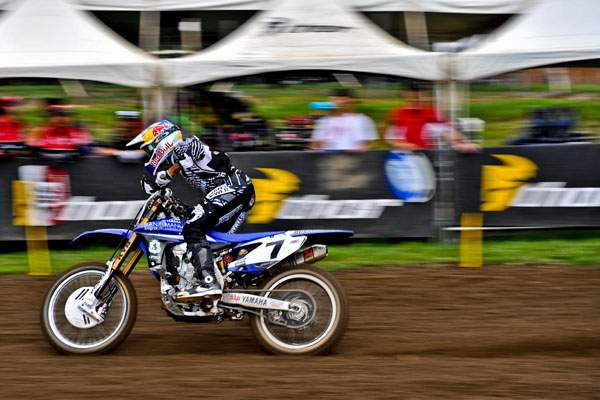 James Stewart on the MXoN team? No-brainer...
Photo: Steve Cox
But enough of that, we have other good stuff coming down the pike...
The new bikes will be hitting the showroom floor anytime now, and that is always a fun time. I just like to go to the dealership and see the shiny new bikes all lined up. The 2011 riding gear is coming out and with the awesome Fall season coming up, it's time to get some new duds. What is kind of cool about the "recession" is that there are a lot of good used bikes out there as well. I've been back on the local scene a bit, and it seems like the four-strokes are lasting longer than they did when they came out a few years ago. I rode the piss out of a 2009 YZ450 from April 'til July and the only thing I've had to do to it was put in a piston and a clutch. I kept the filter clean and changed the oil. It cost me $700 to keep my bike going through four hard, hard months of riding. The bike still rips and you can own it right now for $3750. Haha!
What are you guys pumped about in the 2011 line-up of race bikes? You vet guys looking at that KTM 350? I've heard a lot of smack about folks lined up to try one out. Is the Kawasaki looking like the 450 to have? It sure seemed like I saw a lot of 2010 Yamahas this year, but how can you argue that the Suzuki 450 isn't the bike of the decade? Yet, the people's choice for new bikes is still the ever-reliable Honda. They're all awesome bikes.
Like I said, the best time of year is coming up, so try and position yourself to do some riding this Fall. It's a great time to be a fan and a participant!
Thanks for reading, see you next week.