It was supposed to be the Clash of the Titans. The Rookie, Ryan Dungey, was supposed to face off against one of the greatest motocross racers of all time in James Stewart. What happens when an unstoppable force meets an immovable object?
It was going to be great!
Well, in Fantasy Motocross world, anyway. The reality is that no one really actually knew what James Stewart's status was. I mean, we all knew Ryan Dungey's status. His status was "winning". But Stewart's? We knew he had been off the bike for quite a while, and that he'd been riding for a bit, but we didn't know his fitness.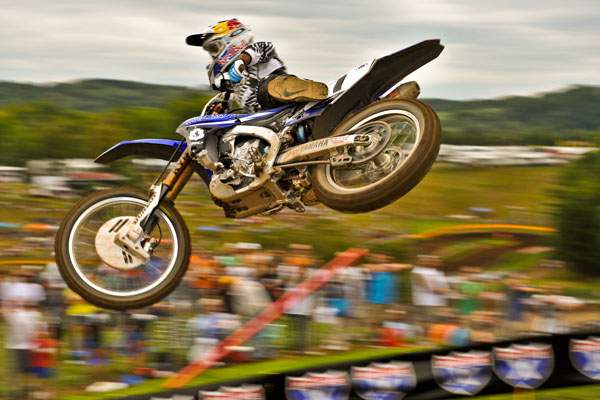 James Stewart returned to action, an he was fast, but he wasn't his usual MX self. He'll be back at Southwick.
Photo: Steve Cox
If you want an idea how hard it is to come off the couch and be at winning speed right away, ask
Chad Reed
, who tried to do it earlier this year in supercross.
On one side, we had the last man ever to go 24-0 in an outdoor motocross season, but his fitness was questionable, and on the other side, we had
Ryan Dungey
, who must have been completely and totally confident right now, having won the previous seven AMA National overalls, along with the supercross title.
But absolutely no one counted on the third side to this race, which was provided by GP star Clement Desalle. As a one-weekend teammate to
Ryan Dungey
on the Rockstar/Makita Suzuki squad, Desalle wasn't just fast, he was flat-out flabbergasting. He spent most of moto one duking it out with
James Stewart
for second – a battle which he won – and then spent moto two duking it out for the lead with first
Andrew Short
, and then Dungey.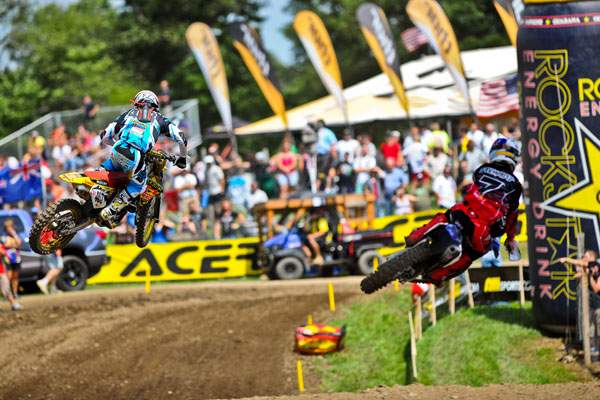 Clement Desalle (463) held off Stewart (7) to grab second in moto one.
Photo: Steve Cox
And while Desalle is obviously fast, he's also obviously very smart. If you think about it, he has now raced two AMA Nationals. The first came last year at
Washougal
, which despite the dark dirt is actually quite slick. He got a podium in one moto there. Then, this year he chose
Unadilla
, which is very similar. In short, he has picked the two tracks that have a surface the most like what he's used to in Europe. And he has been impressive both times. If he were still around for
Southwick
, chances are pretty good that he'd be really impressive there, too. He's from Belgium, after all.
In the end, the argument seems always to be made that any dominant racer "isn't facing so-and-so or so-and-so, and that's why they're winning everything." You can say that about literally any championship.
Ryan Dungey
won last year because
Ryan Villopoto
moved up.
Chris Pourcel
is winning this year because
Ryan Dungey
moved up. But the one thing this race proved is that all a racer can or should have to do to win a championship is to beat the guys who line up against him. Because really, the hypotheticals are likely frequently wrong.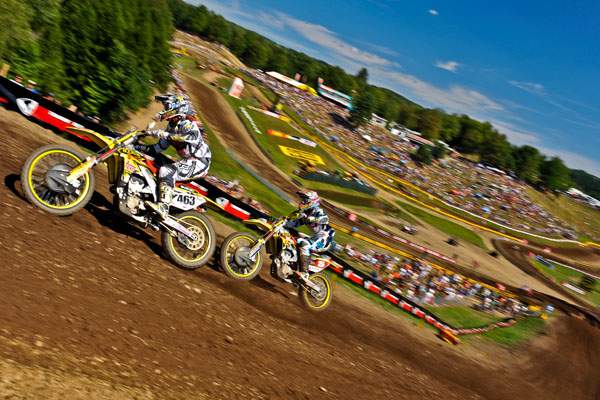 In moto two, Desalle (463) held off Dungey (5) for a while, but he had to settle for second.
Photo: Steve Cox