McGrath Wins First PRO 2WD Race
On Wednesday, August 25, Jeremy McGrath will be inducted into the Motorsports Hall of Fame of America while at Chicagoland Speedway with the Traxxas TORC Series Presented by AMSOIL. This Saturday afternoon at Bark River International Raceway, the former 7-time Supercross Champion added another accolade to his brilliant motor racing career by winning his first-ever PRO 2WD race, MC placed ahead of class points leader Rob MacCachren (second) and Ricky Johnson (third).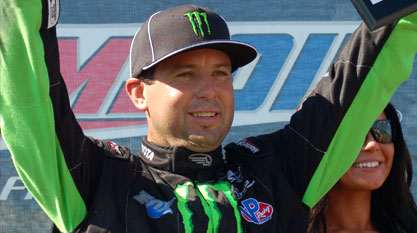 "What do you say about this Bark River track?" questioned McGrath from atop the winner's podium. "I think it's one year to the day that Rob got me on the last lap and ended up winning that race. We finally got to seal the deal.

"I gotta say thanks to the whole Greaves team, Kurt and Johnny and Brad and the whole crew. I mean, all you guys have put in a lot of work for me and have been patient and I appreciate that. This is a weekend I've been waiting on for a long time, so what better place to have it than Bark River!"