Coming into Unadilla, all anyone could talk about was the battle between James Stewart and Ryan Dungey. At the end of the day, though, they were never all that close together, and the certainly never battled. The battle, instead, came from a GP fill-in, Clement Desalle, who battled both Stewart and Dungey on occasions.
In the first moto, Rockstar/Makita Suzuki's Ryan Dungey got an uncharacteristic holeshot (his second of the season) and immediately began to check out while Stewart battled Desalle for second. Eventually, Stewart had some pretty big mistakes, which allowed Desalle to re-take second place and then pull away.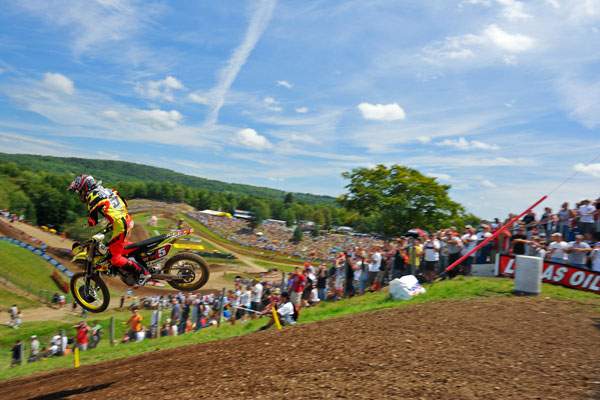 Ryan Dungey went 1-1 on the day yet again and now leads the points by over 100. He can clinch at Southwick.
Photo: Steve Cox
In the end, Dungey showed that he is the new boss (until someone can take it away from him), and Stewart was actually pretty impressive for basically coming off the couch to finish on the podium, but it was Desalle who got the most attention for his very strong runner-up performance.
Honda Red Bull Racing's Andrew Short held off GEICO Powersports Honda's Brett Metcalfe for fourth, and Short's temporary teammate Kevin Windham went down early in the race and destroyed his bike, although he would come back in moto two.
At the front, Dungey had to put in a considerable effort to not only catch but pass Desalle, but he made it happen, much to Desalle's chagrin. Dungey took the moto win over Desalle and Metcalfe, and that was how the overall podium looked as well. Behind them, though, Windham had caught Short and was working on him for the final portion of the race before, in the last turn, Windham made what witnesses say was a very aggressive pass for fourth on the new member of Team USA.
Still, Short finished fourth overall on the day, just in front of Kyle Regal and Ben Townley.
Dungey now leads the 450cc points standings by well over 100 points over Short. If things continue like this, Dungey should clinch the title at Southwick – two full rounds early.
250
Can anyone stop Trey Canard? The GEICO Powersports Honda rider had won three consecutive overalls coming into Unadilla, but he trailed Monster Energy/Pro Circuit Kawasaki's Chris Pourcel for the championship lead by 38 points.
In the first moto, though, all of that would change. After taking the lead from his teammate Dean Wilson on the first lap, Pourcel went down on his own out front and twisted up himself and his bike, eventually dropping out of the race.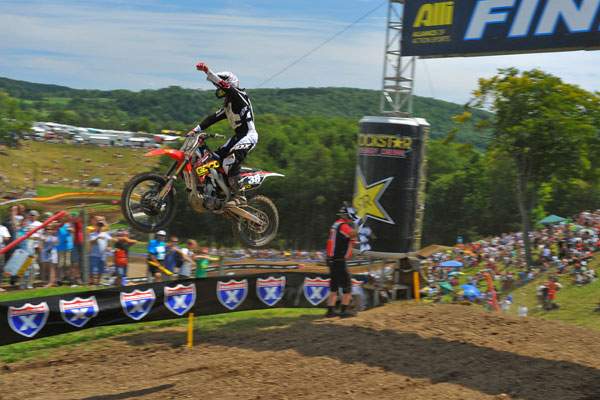 Trey Canard celebrated his fourth overall win in a row and moved to within 16 points of Chris Pourcel.
Photo: Steve Cox
Wilson got the lead back and then had his hands full with Justin Barcia. The two got together, and Wilson went down, handing second to Canard. Only a few laps later, Canard caught and passed Barcia for the lead (before Barcia fell and ended up third). Canard had to fight off yet another teammate until the end of the first moto in Blake Wharton, and Canard held on.
In moto two, Canard got the holeshot and just plain checked out. By the time his championship rival Pourcel got into second, Canard had nearly 10 seconds on him. However, Pourcel began cutting into Canard's lead until, with only a couple of laps left, he made the pass.
Canard seemed bewildered and fought back, but he couldn't get around again.
Pourcel took the second-moto win and now leads Canard by 16 points with six motos left to run.
Wilson hung on for third in the moto, and finished in the same spot overall behind Justin Barcia (second) and Canard (first). Tyla Rattray was fourth ahead of Wharton, Tomac, Pourcel, Davalos, Lemoine, and Wil Hahn. Even with Pourcel's DNF, the op seven positions all belonged to either Pro Circuit or Factory Connection riders.
Lucas Oil AMA Pro Motocross Championship
Rockstar Energy Unadilla National
Unadilla Valley Sports Center
August 14, 2010
Round 9 of 12

450 Class (Moto Finish)
Ryan Dungey, Belle Plaine, Minn., Suzuki (1-1)
Clement Desalle, Belgium, Suzuki (2-2)
Brett Metcalfe, Australia, Honda (5-3)
Andrew Short, Smithville, Texas, Honda (4-5)
Kyle Regal, Kemp, Texas, Honda (8-6)
Ben Townley, New Zealand, Honda (7-9)
Kyle Chisholm, Valrico, Fla., Yamaha (9-8)
Justin Brayton, Fort Dodge, Iowa, Yamaha (11-7)
Josh Grant, Riverside, Fla., Yamaha (6-14)
Tommy Hahn, Decatur, Texas, Suzuki (10-11)
450 Class Championship Standings
Ryan Dungey, Belle Plaine, Minn., Suzuki, 418
Andrew Short, Smithville, Texas, Honda, 307
Brett Metcalfe, Australia, Honda, 293
Josh Grant, Riverside, Calif., Yamaha, 260
Ben Townley, New Zealand, Honda, 249
Mike Alessi, Victorville, Calif., KTM, 235
Chad Reed, Australia, Kawasaki, 204
Kyle Regal, Kemp, Texas, Honda, 185
Kyle Chisholm, Valrico, Fla., Yamaha, 183
Ryan Sipes, Flaherty, Kentucky, Yamaha, 181
250 Class (Moto Finish)
250 Class Championship Standings