Thursday Rev Up: Return of the Jedi
Hello, everyone, and welcome to the Rev Up. Growing up, I was always enamored with the Star Wars Trilogy. The idea of a Jedi having these super-human, but somewhat believable powers appealed to me because everyone deep down has moments when they think they can harness "The Force." In Star Wars theory, every living organism is filled with Mideclorians, which are nanoparticles that spawn life. I think. That said, those with the highest mideclorian count have a closer connection with The Force and therefore can become a more powerful Jedi if trained correctly.
I was a pretty fast amateur back in the day, but there were some guys that could do things on their bikes that seemed beyond normal human ability. It seemed like I was going wide open in the tallest gear I could ride, but guys like Robbie Reynard, Ricky Carmichael, and Kevin Windham were out of sight in about two laps. I would just ride back to my trailer and think, "They must be Jedi."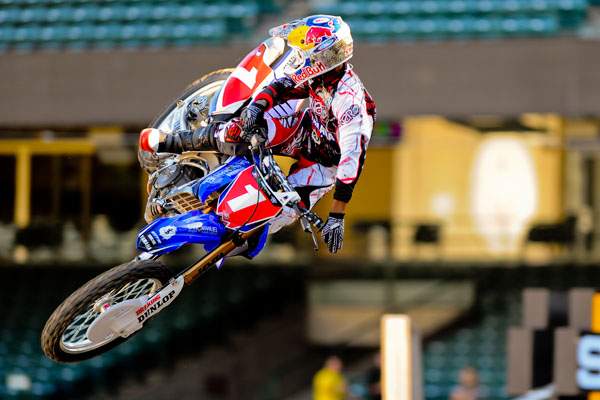 James Stewart is back in action this weekend at Unadilla.
Photo: Steve Cox
Making a return to the racetrack is the motocross rider that may have the highest mideclorian count ever, James "Bubba" Stewart. Bubba's world has been one of controversy and scorn in recent times, and it's your right as a fan to think what you want of him. But, if you consider yourself a true fan you must respect the man's prowess on a dirt bike. The "Bubba Scrub" has revolutionized modern motocross, and James was the first rider to really do it. While you can see kids in the 65cc class at Loretta's scrubbing today, nobody does it like JS7. And now, (cue Star Wars theme music) he's baaaaaaaack.
Meanwhile, the fight rolls on to legendary Unadilla Valley Sports Center...
250
Like millions of fireworks combusting throughout the United States on the Fourth of July, Trey Canard blew up at RedBud and began a charge that I have predicted could carry all the way to Pala. Transversely, his nemesis Christophe Pourcel has held a commanding points lead and while he has had a couple mediocre moto-two performances, he still boasts a 38-point lead. With four rounds to go, Canard has to gain an average of 10 points a weekend if he is to bring balance to The Force and become champion. (Disclaimer: I say balance because I'm a flag-waving American.)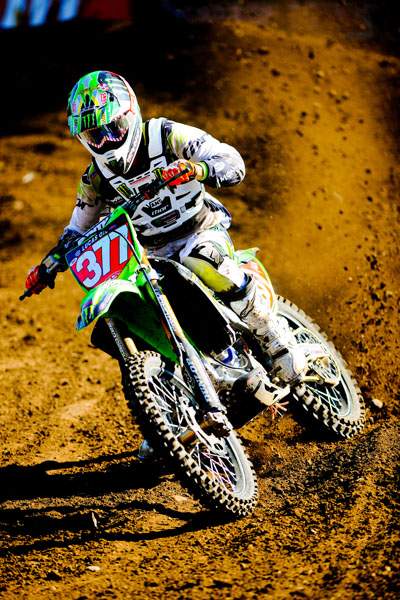 Christophe Pourcel holds a big lead, but can he keep it?
Photo: Steve Cox
Ice Trey faces a tough road. Last year, Pourcel dismantled the competition and rode the Euro-friendly 'dilla course brilliantly. His whip he threw off the gargantuan tabletop on the last lap still reverberates strongly in my "pan and point" library.
What about the other warriors in the fight? Young padawan Dean Wilson is close to completing his Jedi training, and he has shown he can run with the bulls any day of the week – and twice on Saturday. Blake Wharton has ridden the second half of the series very well, and if he can shake the memory of his 2009 Unadilla face plant, he should run up front. Unadilla is one of Justin Barcia's better tracks, too, and we could see #17 cause some championship fits to Canard by winning a moto.
We're going to see a show with this group, this is for certain.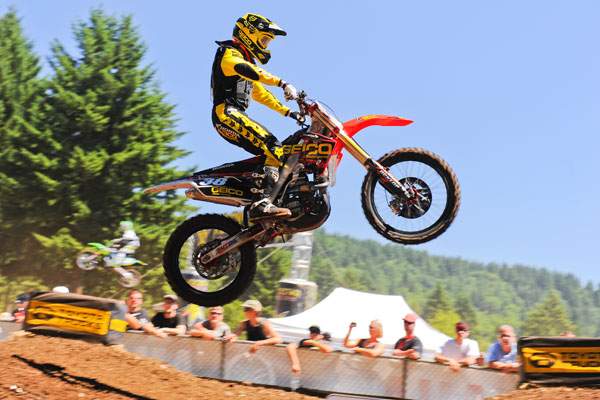 Trey Canard is on a streak. Can he be stopped?
Photo: Steve Cox
450
We've asked for it and, well, here it comes. Every time a rider jumps out and starts a winning streak, which is almost every year, pundits start spitting things like, "He is the fastest thing ever," and, "I wonder if 'so-and-so' was around, could they beat him?" As Ryan Dungey has ridden the most dominant rookie season ever, (that's right, his 2010 beats even Ricky Carmichael's 2000 outdoor run... so far) there have been two names that have softened the glow on his lightsaber; Ryan Villopoto and the aforementioned James Stewart.
As two guys that have beaten RD5 in 2010, they have missed the outdoor season due to injuries. We can now scratch one name off the list as the "fastest rider on the planet" will make his return to the fight. Unadilla hasn't been kind to Mr. Stewart throughout his dramatic career. Big crashes have haunted the Jedi Master, and he must clear his thoughts and avoid the lure of The Dark Side if he is to defeat Darth Dungideous.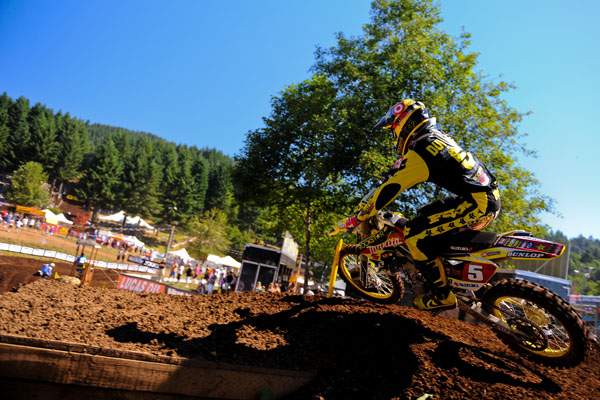 Ryan Dungey... Can he be stopped by the Return of the Jedi?
Photo: Steve Cox
All dorky sci-fi shtick aside, Ryan is rolling on a program that is super-powerful. That entire team is an effort that Carmichael began back in 2005 and everything from that RM-Z450 to his mechanic is born again; hard. His suspension has been fine-tuned and his body is stronger than the elastic on Coco's g-string. My personal opinion is that he can beat Stewart straight up in a 30-minute-plus-two-lap moto – especially in the first week of Bubba's return. James will win the lap-time battle, but he'll be hard-pressed to go the distance at Dungey's pace. The series has been good, but it has needed a spark, and with JS7 finally pushing to the starting line, we have an antimatter explosion on our hands.
So, we're going to party at Una'effing'dilla this time around! It isn't what it used to be, but The Hill People are alive, and if you squint your eyes hard enough, you can still see the ghost of Bob "Hurricane" Hannah launching into Gravity Cavity, lightning bolts and all. It's in the middle of nowhere, so your cell phone will be in "paper weight" status, but that's kind of what makes "The Thrilla at Unadilla" what it is.
In closing, I'll just add that every rider on the gate is somewhat of a Jedi. As an example, Robbie Reynard was blowing people's minds last week at Loretta's. Well, in 2009 he couldn't even earn a national point; that's why Barcia is #17. My point is, the outdoor-national contingent is salty – all the way back to 30th place. They are the best of the best. After two weeks off, it's high time to watch 'em fly again!
Thanks for reading, see you next week.