Ricky Carmichael Tests 2011 RM-Z
Brea, CA, August 9, 2010
— Ricky Carmichael was on-hand at the 29th annual AMA Amateur National Motocross Championships at the legendary Loretta Lynn Ranch in Tennessee this past weekend. RC was excited to sign autographs for the young amateur motocross riders and future racing heroes. While he was there, Carmichael also took an opportunity to be the first rider to throw his leg around the recently announced 2011 line-up of Suzuki motocross machines. "The bikes are fantastic and the engineers did a great job building winning motocross machines with the RM-Z250 and RM-Z450," Carmichael stated. Ricky immediately noticed the engine updates and excellent handling—two key features that help make the new RM-Z's a perfect weapon for amateur and pro racers everywhere. "They feel light, compact and very strong." He added. "I had a great time riding the new bikes at Loretta's."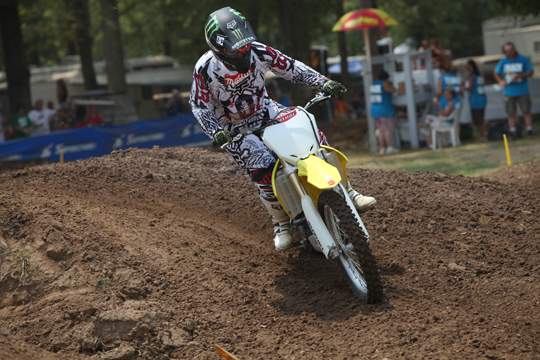 The 2011 Suzuki RM-Z450 (left) and RM-Z250 (right) motocross bikes are race-bred descendents of championship-winning motorcycles and American Suzuki is excited that Ricky, arguably the greatest rider of all-time, has endorsed the new 2011 machines.
And there's no doubt that the Suzuki RM-Z motocross machines are forces to be reckoned with…Rockstar/Makita/Suzuki rider Ryan Dungey proved that earlier this year with his Yoshimura-prepped RM-Z450 by winning the Supercross championship in his rookie year. Dungey is also currently dominating the competition in the Lucas Oil Motocross Championship this summer. With 7 straight wins to his credit, Dungey is showing the world that the RM-Z is the best bike on the track. He currently holds a commanding points lead in the series with only four rounds of competition remaining.
About Suzuki: Suzuki Motor Corporation founded The Motorcycle/ATV Division of American Suzuki Motor Corporation (ASMC), Brea, Calif., in 1963. ASMC markets motorcycles and ATVs via an extensive dealer network throughout 49 states. ASMC's parent company, Suzuki Motor Corporation (SMC), based in Hamamatsu, Japan, is a diversified worldwide manufacturer of motorcycles, ATVs, scooters, automobiles and marine engines. Founded in 1909 and incorporated in 1920, it has 120 distributors in 191 countries. For more information, visit

www.suzukicycles.com