Thursday Rev Up: Evolution
Hello, everyone, and welcome to the Rev Up. With the Loretta Lynn's Amateur National Championship Finals set to begin crowning champions soon, the Lucas Oils AMA Pro Motocross Championship has one more off-week until they have at it at Unadilla. That said, I wanted to write about some of the changes we've seen in the sport and how it has evolved into what we see on live television today. I came up with three main entities that have shaped and molded Supercross, Outdoor Nationals, and amateur competition.
The Internet
Wow. The Internet is much too vast a topic to fit in here, so I'll just dabble. Remember when "Motonews" hit the web back in, what, 1995? It spawned the wild and wacky world of moto message boards, that in my opinion have helped as much as they have hurt. The instant networking was a tool that really helped teams, sponsors, and riders. Pretty much everything after that is a mess, in my opinion. It's given a "voice" to some folks that need a brick sandwich. I'm sure someone at the bottom of the column will tell me I need one! Haha! But, the web in general has been this way. I mean, the chief proprietor since the advent of the worldwide web has been porn. That's a billion-dollar business. With a "B." Which is kind of sad, depending on who you ask. At least we have www.racerxonline.com and "Lougle."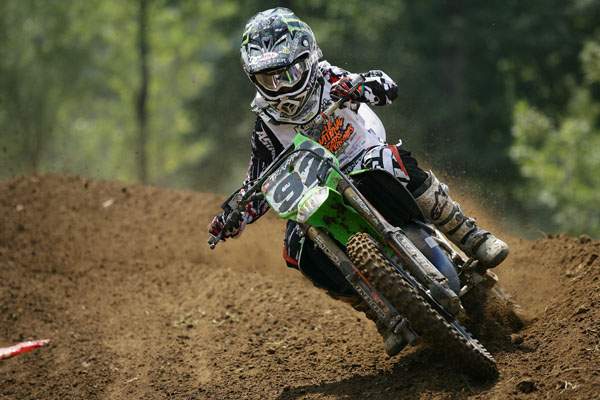 Even Adam Cianciarulo is making fans on Twitter: @AdamCianciarulo
Photo: Matt Ware
Look at what Facebook and Twitter have done. Between the two, you can find out what your favorite rider is doing 24/7. Whether he just completed a training session, or if he's hungover, or if he likes coffee and a dip in the morning. Hell, you can find out that I just mowed the lawn if you follow me @Hattica77. Again, it's pretty tight on the good/bad meter overall.
But, forget the message boards and that other fodder. How about the fact that we can watch outdoor nationals live via the web? I'm not going to make it to Loretta's this year, but I've been watching live laptimes, and MX Sports Center. If you can somehow crank up the heater in your house to 105 degrees, you can virtually be at The Ranch! I've watched all the live web broadcasts of the outdoor nats and it just blows me away that we can do that. Surfing has been doing it for over 10 years and I'm glad we finally caught on.
Think about what the net will be doing for motocross within the next five years? I can tell you that @bryanstealey has a fair idea...
The X Games
It cracks me up when I hear someone question what have the X Games done for motocross. When FMX first launched off a ramp on pier 32 for the first time back in 1999, it set off a chain of events that shot motocross up several notches across the world. Not just here, but the world. The big, blue mud-ball. I'd say over a 200 crazies across the planet are making a real living in freestyle motocross because of the X Games. That may not sound like a lot, but hey, motocross isn't that big and it's 200 guys that would be roofing houses and digging ditches instead of driving Range Rovers and dating ass models. Then, look at the companies that created jobs for hundreds more folks because of the big X.
How about this name: Brian Deegan? He and his much-ballyhooed Metal Mulisha will sell a lot of toys in 2010. I'm not sure exactly how much, but shoot let's use a number like $25 million worth. That is solely because of the X Games, and bravo to Mr. Deegan and his tribe for creating something that Corporate America genuinely respects.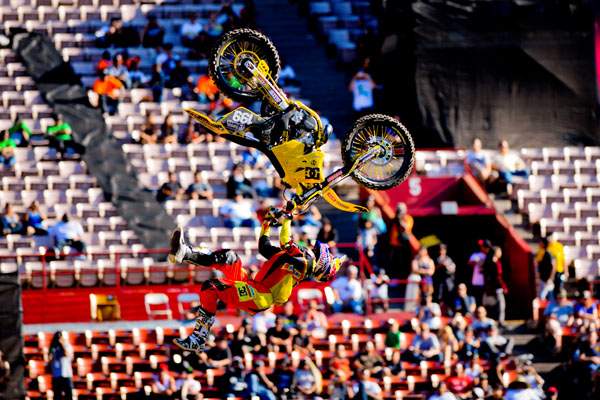 Travis Pastrana may be the most popular motorcyclist ever.
Photo: Steve Cox
Here's another name that has used the X Games for mega stardom and wealth: Travis Pastrana. It will be years before we realize how special he is and just how lucky we all are to have been alive during his reign of amazement. Tens of millions of people know who TP is and for that they buy t-shirts, shoes, and products. Motocross products. Evil Knievel, Bob Hannah, and Ricky Carmichael combined can't touch how much he has done for global awareness of "the sport." Carmichael won 15 titles and sold a lot of video games and toys of his own, so he's done a lot. He has also helped motocross as he has segued into the next topic...
NASCAR
I'll begin with a disclaimer that I'm biased on this topic for obvious reasons, but I digress. I saw it coming about five years ago when my family became affiliated with the good ole boys of Tobacco Road. The Daytona Supercross has always been around, but when three-time superbowl-winning coach Joe Gibbs and his family became involved, things really began to gel. Look at what that team has done since its inception. They've won the Anaheim supercross and become a championship caliber team in less than four seasons.
Throw in the synergy that Toyota and Red Bull have thrown into motocross and you cannot argue that the NASCAR crossover has been paramount in helping us become a better product. I saw it coming, but when I saw Brian Vickers spinning doughnuts on the Anaheim starting line, I just kind of thought, "Well, there it is."
And as you read, JGR is at Loretta Lynn's adjusting the suspension on Cooper Webb's CRF150. They'll be doing a lot more bikes when the week is over.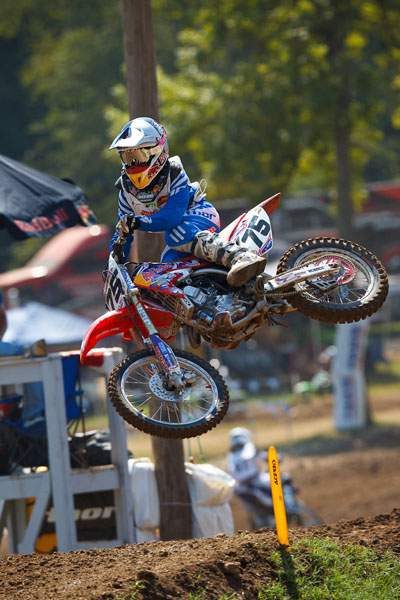 Cooper Webb is killing it at Loretta's thanks in part to Joe Gibbs Racing.
Photo: Simon Cudby
As mentioned, Ricky Carmichael, our benchmark icon, is now one of the boys. He is the benchmark instead of TP because he's our racer. Carmichael's loyal motocross following helped him become the most popular driver in the Camping World Truck Series. He, along with the ever-menacing Monster Claw, serves as a catalyst between the 50 million NASCAR fans and our bunch. And in doing so, he has grown his own product immensely. Ricky will race in the Daytona 500 someday soon, and I think that will be the high-water mark for the cross over that began five years ago. The GOAT is our greatest ambassador. It's arguable if he's as popular as TP, but he could be bigger someday soon.
SPEED channel puts our stuff on the tube and we're making the SPEED Report and The Wind Tunnel with Dave Despain largely, if not entirely, because of the NASCAR synergy.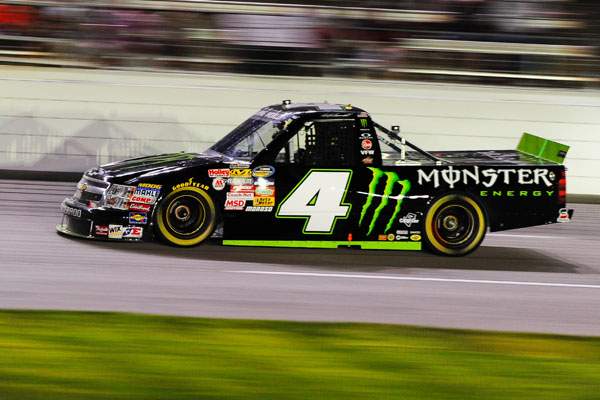 Ricky Carmichael is getting help from the MX side, and helping the MX side, at the same time.
Photo: Steve Cox
There is so much more, but I don't want to out-kick my coverage anymore than I already have. The people holding the light at the end of the tunnel are way smarter than I am, and they'll continue to do a good job for us. I'm just happy that most of what I have written has helped me keep the Rev Up alive and well. I love motocross and writing to you guys every week has been my life achievement. It isn't much, but it's big to me. To quote the great Dr. Seuss: "A person is a person, no matter how small."
So, let's all keep riding this tsunami of technology and networking and watch motocross continue to grow and prosper. That's about all we can ask ourselves to do on our own. Grow and prosper. Spiral out, keep going. Click here to blow your mind.
Thanks for reading, see you next week.