Bolthouse Farms Protein Plus Partners with Local Pro Sherri Cruse for the X Games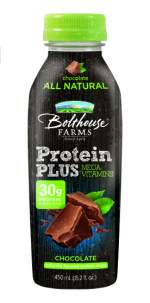 Bakersfield, CA. – Bolthouse Farms is pleased to announce their partnership with top Women's National Pro Motocross racer and Bakersfield resident Sherri Cruse for ESPN's X Games 16 this Thursday, July 29th.
21-year-old Sherri Cruse is a top name in women's motocross and in action sports. She is a former X Games Silver Medalist, WORCS off road Champion and the current AMA WMX National #3. After recovering from an injury sustained while practicing at a National back in May, she will return to racing in the Women's Super X event in X Games 16, the biggest and most prestigious action sports competition on the planet. Women's Super X will include ten of the top women supercross racers in the world competing for the gold medal and the largest ever women's racing prize purse.

Cruse will be showcasing the new line of Protein PLUS drinks from Bolthouse Farms wearing a custom designed Protein PLUS helmet. Bolthouse Farms® Protein PLUS shakes are packed with 30 grams of sustained release protein and are 100% natural. Try chocolate with a 21 vitamin and mineral pack and real cocoa or Mango with 3 servings of fruits and veggies per 15.2 oz bottle. The rich and smooth flavor is the perfect reward for your body after tough physical activity.

Fans will also get to try the drinks for themselves at the Bolthouse display within the Suzuki City Nitro Circus pits.
The competition will take place on Thursday, July 29th, and Saturday, at the Los Angeles Coliseum. Seeding will take place on Wednesday with the main event at 6:15 on Thursday. The main event will be carried live on ESPN Thursday, July 29th along with Men's Super X, Skateboard Big Air and the Moto X Freestyle finals.

"I am thrilled to represent a company like Bolthouse Farms, especially since they are based in my hometown of Bakersfield, at such a big event as the X Games" said Cruse "I love their protein drinks, juices and carrots and they are a part of my training diet".

"Bolthouse Farms is dedicated to fueling healthy vibrant lifestyles, we are proud to be part of Sherri's hard training and run for Gold in Super X" stated Chris Cook, Marketing Director, Bolthouse Farms.

In addition to Bolthouse Farms Cruse will be representing a stellar line up of sponsors including : Suzuki City Nitro Circus, Thor MX, NTS-inc, Firestop, Fuel Doctor, Roxy, Dunlop, Von Zipper, RG3 Suspension, Motion Pro, Two Brothers, KG Clutches, ODI Grips, Rk Chains/Excel Rims, Rekluse, Works Connection, Vortex, Leatt, Renthal, Ethika, Bravo, Skull Candy, K and N Filters, Motul and Asterisk.

Established in 1915, Bolthouse Farms is a fourth-generation farm located in California's fertile San Joaquin Valley. Known for quality and innovation, Bolthouse Farms is a market share leader in carrot growing and processing. In addition to growing and harvesting premium produce, Bolthouse Farms produces a leading brand of super-premium refrigerated juices and smoothies. To learn about the entire line of current Bolthouse Farms products, visit www.bolthouse.com.