Zach Osborne continues to lead the Maxxis British Championship on his Bike it Cosworth Yamaha YZ250F despite a morning practice crash at Foxhill for round five that saw the American lose consciousness and then have to fight the effects of a concussion to obtain his fourth podium trophy in the competition.
The 20 year old from Virginia sustained his head malaise after a heavy tumble caused by a greasy and rocky jump take-off. The fifth round of eight in the competitive British series took place in front of a decent crowd who witnessed Osborne not only ignoring pain in his head, neck and thumb to compete but also pull off a gutsy performance to take 3rd overall.
The owner of three FIM World Championship podium trophies had to start from the 40th and final gate pick but rode to 4th in the first 20 minute and 2 lap outing. He then tracked-back from last to 10th after being cleaned-out in the first corners of Moto2 and finally – and incredibly – won his eighth moto from a possible fifteen in 2010 in the final race.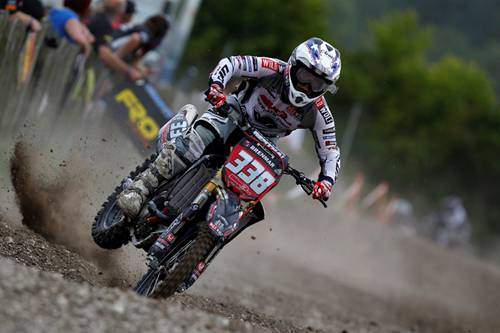 Zach Osborne
Photo: Ray Archer
Osborne heads main title threat Jake Nicholls by 7 points with three rounds still to run. '338' will travel to Lommel in Belgium this week in preparation for the GP Limburg and round eleven of fifteen in the FIM competition.
"I'm really not too sure what happened," he said. "I think I might have hit a rock on the face of the jump because it pitched me too far. I must have been out for twenty seconds or so; I'm not sure really but I had a concussion, felt like throwing up and also yanked my thumb. So the day really was about damage limitation. I took a fourth and then the second moto went really well and to come back to tenth from dead-last was pretty good. I think it is pretty crazy that I actually managed to win a moto today but I started well and just settled into the race. It went by quite quickly. I'll just take it easy now until Tuesday when we drive over to Lommel."
For more information about Zach and to keep up with his racing and travels check out his blog: www.osborneoracle.blogspot.com