Monday Conversation: Andrew Short
Honda Red Bull Racing's Andrew Short isn't the same rider he has been in years past. In the past, Short was the consistent guy who was never really the fastest, but was always somewhere near the front at the end of the race. Now, he's working on becoming the fastest guy, instead of the most consistent, and it shows. He went 2-2 at Washougal, and we caught up with him for an interview yesterday.
Racer X:
Your starts have been gnarly lately, and you got both holeshots again at Washougal. What did you change about your starts?
Andrew Short
: It has all kind of come together and now I just have the confidence; I'm not thinking about it, I just execute it. It's all kind of coming together and it's on point right now. It's awesome because I've always kind of struggled with starts and speed and all these things. Now I'm really good at that; those are my strong points. My old strong points are kind of my weaknesses, so have to balance it out a little bit. My starts are just awesome and when you put yourself in a great position like that, it sets you up for the whole race and sets the tone for the race, and that's a big help.
You said your old strong points are now your weaknesses. I know your old strong point used to be how fit you were and how you could go whole motos at the same basic speed. Is that what you're talking about?
Yeah, I used to get a decent start and charge through the pack and finish strong. Now I'm going backward. It's not bad, because obviously this weekend was pretty good with 2-2, but I would like to bridge that gap between me and [Ryan] Dungey. I wasn't even close this weekend and it seems like that gap is getting bigger, not smaller, and that's depressing for me. I would like to turn it around and now we have the time to do it, so I have to figure out a few things and I'm excited about the opportunity with that.
How much of that has to do with just the fact that you're going faster? You're definitely going faster, and that's going to take more energy, so is that why your fitness is now your weakness?
Yeah, I think my speed is good like you said. Because of that I'm sprinting and going wide-open and trying to maintain that throughout the whole moto. So I have to contain that and maybe strategize a little better and learn how to race a little smarter and slow it down in my head. When you're going fast, everything kind of seems rushed and then you start making mistakes and you can't hold that concentration for that long. That's what I'm trying to learn. Eventually, when you keep going that fast, it's going to become second-nature, and that's how you get to the next level. I've kind of struggled with that in the past, so I'm really excited about the speed part of it coming around. Now, I just need to learn to maintain it and let that level of speed become normal for me. I think I'll be able to do it for 30 minutes and that's what it's going to take to win, because Dungey does it the for whole moto; he may even get faster. That's what I need to do.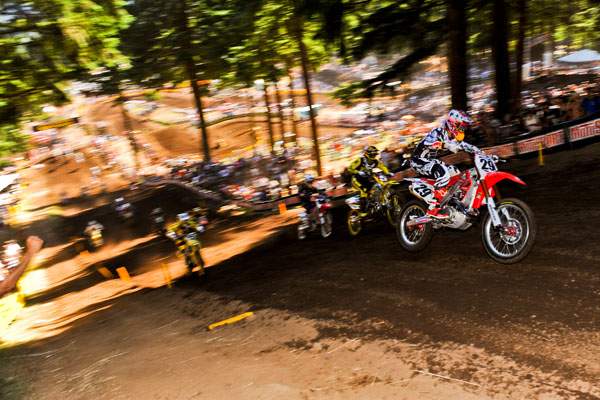 Andrew Short (29) grabs yet another holeshot to start the second 450cc moto at Washougal.
Photo: Steve Cox
Like you said, it seems like in watching him, it looks like nothing seems rushed. He's going fast but he's not trying to rush into turns or rush out of turns. Everything is just that speed.
His races are like my starts right now. I know I'm going to get a start. I know I'm going to pull a holeshot. I have the confidence up there, and I just execute it. It's the same thing with him in the moto. He gets behind us and follows me for a couple laps then strikes and he can check out. He does two fast laps, gets a gap, and then he just maintains it. It's nothing crazy and he's not being challenged. He's not going to make mistakes unless somebody is challenging him or pushing him, so that's where I need to be in order to beat him. Obviously, I'm not there yet, but I have some of the elements it's going to take. He's really on form right now; pretty impressive. I wasn't even that close to him this week and, like I said, I need to bridge that gap while we have some time off.
For years now, you've talked about how you were trying to step up your speed, but then it seemed like you would almost settle in again to the "safe" or "comfortable" speed you had, and that doesn't seem like what's happening now. Have you done something to change how you go about all this stuff?

I think it's just all finally coming together. I think you can be really fast and then take some chances, then you throw it down and then start all over again. That's never really been my style or attitude, and that's always done really well for me in points; I've always been there and been really consistent. I wouldn't say I was scared to hang it out, but I'm not one of those guys who's going to do something stupid and just close my eyes and pin it and take a chance. I could go down, and that's not my style or my personality. Like, you get
Bubba
, and he doesn't care; he'll do anything to win and I think that's what makes him so unbelievable. He'll do something gnarly that just blows peoples' minds. Sometimes, he crashes and he's not afraid to flirt with that. But I do that, or try to do that, and if I flirt with it and it goes the wrong way, it's scary for me mentally. Like Supercross for instance, if you're going to hit the whoops as fast as he does, he doesn't even care where he puts the front wheel down, because it just carries back up. When you think about it, it's just not going to happen. It's just something you have to do and feel comfortable with, like second-nature. As soon as you think about it, it's too late. That's the problem I've had in the past, and I still deal with it, but now my technique and all that is really coming up a level. I wouldn't say that like with
Bubba
, but I'm getting faster and better and learning how to find the happy balance on speed and technique.
You've also been really popular with the fans and that seems to be continuing. It's hard to find a fan that says, "Andrew Short? I hate that guy." How much would you actually say that that contributes to your longevity as a factory rider?
I appreciate that. Obviously, fans are a huge part of the races, and I think they can relate to the fact that I work hard and I may not have the talent or the gift that some guys do, but I work hard and I'll do whatever I can to be my best and to get to the next level and keep working and never quit. I think people can relate to that. I'm just kind of a real guy that loves to ride dirtbikes and fans at the motocross races all ride, too. They all love to ride and I don't care if I'm racing Supercross, motocross, trail-riding or hanging out with my buddies riding. I think that comes across. I definitely appreciate it. The sport of motocross is awesome. I love it. It's my life, and it's cool just to be a part of it.
Well, good job this weekend.
Thanks. See you at Unadilla!