Last week, we talked a bit about momentum. This week, all we can say is "ditto". Right now, anyone in the way of the Ryan Dungey or Trey Canard freight trains are getting run over. This pattern continued at the retro national at Washougal today, where Dungey again went 1-1 on the day, and Canard for the first time did the same, winning both motos going away.
450
The first motos of the day again went to the 450cc class, and Honda Red Bull Racing teammates Andrew Short and Kevin Windham started 1-2, with a third rider, Windham's other teammate from his regular team, Brett Metcalfe, running third on his GEICO Powersports Honda. Fourth on lap one was points leader Ryan Dungey over Josh Grant, Tommy Hahn, Mike Alessi, Kyle Cunningham, Nick Wey, Kyle Chisholm, and the rest of the field.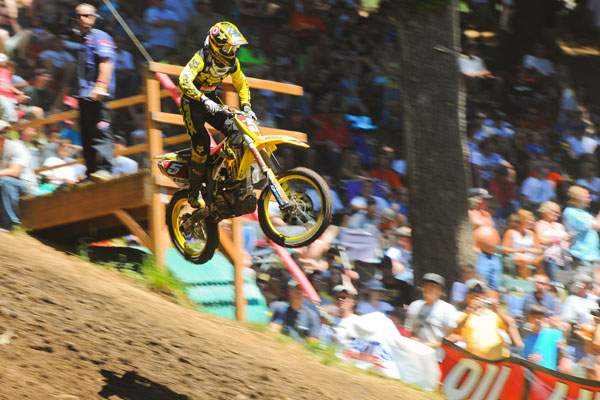 Ryan Dungey leads the championship by nearly 100 points now.
Photo: Steve Cox
Short held strong out front for the first few laps before it seemed like Dungey kicked it up a notch. First, he passed Metcalfe, then after a few laps passed Windham for second, then immediately went after Short for the lead. Short led a total of four laps before Dungey powered by the Honda rider on the big uphill and completed his pass at the top before immediately beginning to pull away for the win.
Short held on for a strong second over Metcalfe, Grant, Ryan Sipes (who started 11th), Alessi, Hahn, Chisholm, Windham and Wey.
Short led for a total of seven laps before Dungey again found his way by. This time, Short again hung on for second over Tommy Hahn, who was giving Short all he could handle. Then came Justin Brayton and Brett Metcalfe, who was feeling the effects of the heat again but hung on for fifth. Then came Wey in his best ride of the season so far over Dan Reardon, Cunningham, Windham and Chisholm.
At the end of the day, it was Dungey with his seventh overall win in a row over Short and Metcalfe. Dungey now leads the championship by 95 points over Short, Metcalfe, Grant, Ben Townley and the rest.
And speaking of Townley, he went down early in the first moto and reportedly injured his shoulder somewhat, although it's not clear the damage just yet, or how much time – if any – he will need to take off to let it heal.
250
So far this year, Chris Pourcel has been Mr. First Moto, but at Washougal, it was Trey Canard with the holeshot to start the first moto over Dean Wilson, Jake Weimer, Justin Barcia, Blake Wharton, Darryn Durham, Nico Izzi, Tyla Rattray, Matt Lemoine, Chris Pourcel and the rest of the field.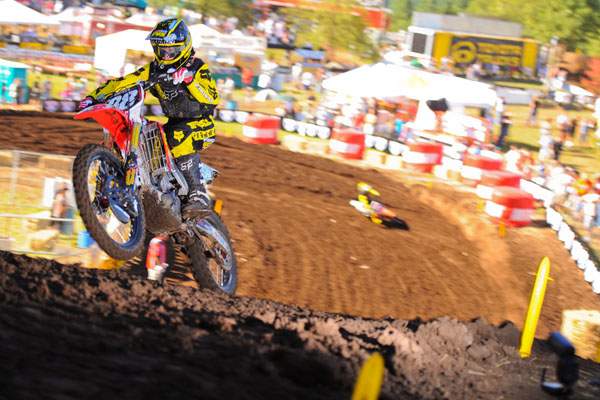 Trey Canard scored his third victory in a row and now sits third in points with the most overall wins of anyone.
Photo: Steve Cox
While Canard pushed to establish a lead, Pourcel did the same to try and make up time on the leaders. By lap eight, Pourcel was fifth, and he kept moving forward – past Rattray, then Wharton, and then eventually by Weimer for second with four laps remaining in the moto.
Eli Tomac
.
Wilson attempted to force Canard wide in the first turn for moto two, but Canard refused to let him do so and held on to the holeshot over Wilson, Pourcel, Rattray, Weimer, Barcia, Martin Davalos, Wharton, Tommy Searle, and the rest of the field. An early fall by Wilson moved Pourcel up to second, but he never got close to Canard, who was setting a blistering pace up front.
At the finish it was Canard celebrating yet another moto and overall win over Pourcel, Rattray, Wharton, Davalos, Wilson, Searle, Durham, Tomac, Barcia and Weimer, who fell late in the race out of fourth place.
The 1-1 score moves Canard into second in the points, although he is still 38 points behind Pourcel. Canard now has more overall wins than anyone in the class this year, and has four moto wins to Pourcel's eight. Everyone else who has won a moto has only won one on the season.
Washougal MX Park - Washougal, Wash.
July 24, 2010
Round 8 of 12
450 Class (Moto Finish)
450 Class Championship Standings
Ryan Dungey, Belle Plaine, Minn., Suzuki, 368
Andrew Short, Smithville, Texas, Honda, 273
Brett Metcalfe, Australia, Honda, 257
Josh Grant, Riverside, Calif., Yamaha, 238
Ben Townley, New Zealand, Honda, 223
Mike Alessi, Victorville, Calif., KTM, 219
Chad Reed, Australia, Kawasaki, 204
Ryan Sipes, Flaherty, Texas, Yamaha, 166
Kyle Chisholm, Valrico, Fla., Yamaha, 158
Kyle Regal, Kemp, Texas, Honda, 157
250 Class (Moto Finish)
250 Class Championship Standings