What a long, strange week. First, Kevin Windham returns to Lucas Oil AMA Motocross with a fantastic holeshot, leads Millville for a while, and adds to his own status as legend. Ryan Dungey and Trey Canard win again, followed by a Jessica Patterson win in the WMX, and a massive Millville crowd goes home happy...
But then Chad Reed, who pulled out of the first moto at Millville and never came out for the second due to come kind of mysterious neck injury, announces that he's really got Epstein-Barr's and will be on the sidelines indefinitely, which sucks for the reigning AMA Motocross Champion because it's already been a bad year.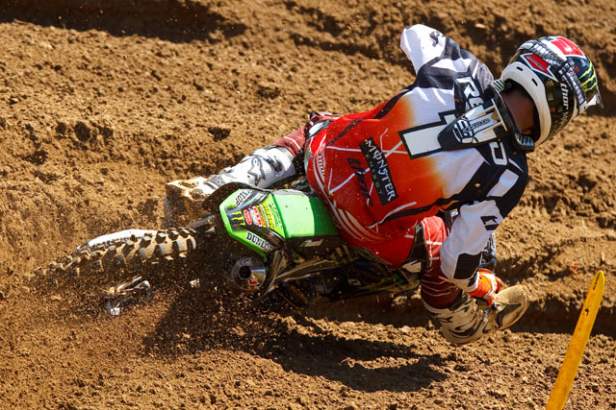 Chad Reed announced today that he has Epstein Barr virus and will not comete in the remainder of the MX season
Photo: Simon Cudby
Suddenly joining Chad there on the sidelines, albeit in a wheelchair, is Josh Hill, who was trying to learn how to backflip for the Speed & Style event at the X Games. He ended up breaking a femur, and busting up his shoulder and his hip. He will be out for some time to come. And then Zoli Berenyi Sr., one of the greatest pioneers of Canadian motocross, lost his battle to pancreatic cancer. He was 78 years old.
Like I said, what a long, strange week.
This one will hopefully be better. For instance, American motocross fans are in for a treat tomorrow when the "retro" race at Washougal goes off live on the internet, and then live on TV. In a first for AMA Motocross, the first set of motos will stream live and free on www.allisports.com (4 p.m. EST, 1 p.m. local)
And then the second set of motos (beginning at 7 p.m. EST, 4 p.m. In the West) will air live on SPEED TV. That's right: Both classes, back-to-back, two hours of live AMA Motocross on SPEED tomorrow!
If you can't wait that long, the Racer X Pre-Race Show from Washougal will be up this afternoon, and you can catch up on some old motos with the Alli Sports archive (and sorry for the select group of West Coasters for whom the archive hasn't worked properly, we are trying to figure it out, but it appears to be a local issue). Visit here.
Tomorrow is the retro race, and the Washougal track looks absolutely superb. I walked the whole thing this morning for a Racer X Virtual iLap, which you can check out right here.
We also did a preview for the Alli Sports site called "Ten Things to Watch for at Washougal" and you can check it out right here.
Like Spring Creek last week, the weather is supposed to be fantastic and hot tomorrow – 92 said the local radio station – and they are expecting a massive crowd here as well. My longshot to win? Jake Weimer. He's way, waaaayyy overdue.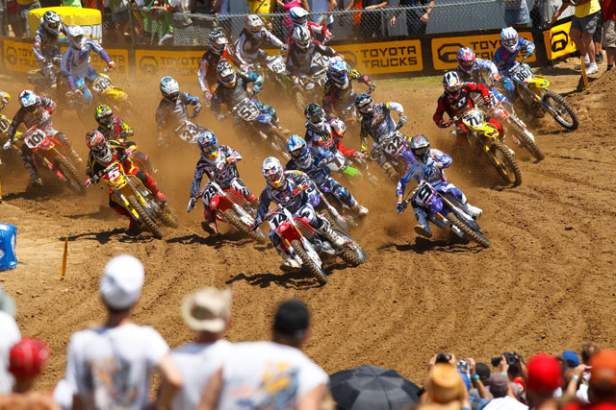 Can Kevin Windham get another great start this weekend at Washougal?
Photo: Simon Cudby
Kevin Windham is back, as we mentioned above, and it sounds like he is very soon to be joined by none other than James Stewart, if we're reading his Twitters correctly. Stewart announced that he was not racing in the X Games after all, electing to focus on a return to the outdoors. We're guessing it's going to happen at Unadilla, which will air live on NBC in three weeks, giving him plenty of time to get in shape now that he's riding again.
Jason Lawrence (remember him?) is also kicking around a return as soon as Unadilla, which means that with Hill out for the next six months, the only Supercross-only man left will be Josh Hansen.... And he's busy throwing out the first pitch at the Dodgers' game tomorrow, dating a reality TV star, and getting ready for a possible Super-X Games Three-peat.
So now let's look ahead to Team USA.... Ryan Dungey is automatic, and it's looking more and more like Trey Canard should be out man on the 250F. But what about the third spot? Right now, Andrew Short has the most points and has been the most consistent, but what if Windham starts winning? Or even more interestingly, what is James Stewart comes back and starts winning? Roger DeCoster is going to have some tough/great choices to make!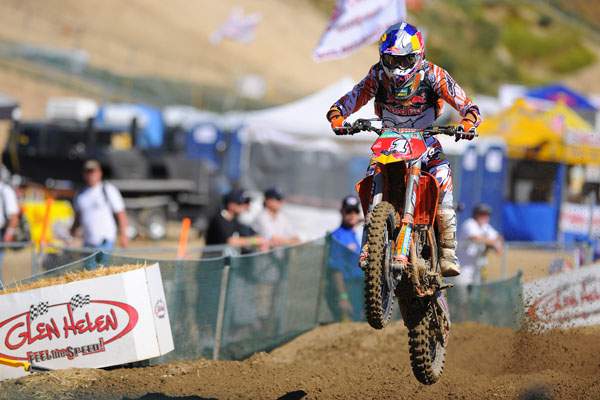 Marvin Musquin will be the latest in international arrivals in US Motocross.
Photo: Steve Cox
It's time the American motocross public start learning more about incoming French flyer Marvin Musquin. The superfast KTM rider who won the '09 Grand Prix title, the '09 MXoN in the MX2 class, the '10 USGP at Glen Helen, and is once again leading the world championship in Europe by nearly full two races, is set to ride for the French team at the 2010 Motocross of Nations at Thunder Valley, and then move here to take on the AMA Supercross and AMA Motocross Series. Marvin just developed his own website, and while it's all in French right now, the photos are epic. The site will have an English button soon so you can follow along as Marvin tries to ice another GP title, and then it's America-or bust for the Marv' Attack!
And speaking of Musquin, Sports Illustrated just ran a story on their site about the growing presence of top international riders on the AMA Motocross circuit. It's called "International riders add depth to AMA Motocross." Check it out here.
Here's a cool quote from the story, from Ben Townley: As a kid growing up, it was exposed so well on the TV and in the magazines,'' said Townley, who spent five years bouncing around Europe before arriving Stateside. "I was following my idols through TV and the magazines, and that's all I ever wanted to do.''
Here's a cool video of the new MSR gear, starring Kevin Windham.
Hans Stolk, our friend in The Netherlands, sent us a note about the big race/party known as Zwartecross:
Jeffrey Herlings won the Zwartecross 2010 after three heat wins. The 14th Annual Zwartecross in Lichtenvoorde, The Netherlands, had 148,000 spectators over three days. The event is the biggest outdoor music/cross event in the Europe and started as fun event organised by Gijs Jolink and Hendrik Jan Lovink from the band Jovink en de Voederbietels. Jeffrey got a special permission to enter this event from KTM Race director Stefan Everts. Second was the Dutchman Bart Conen on his Yamaha and third was William Saris. American privateer (and MXA editor) Dennis Stapleton, who rode on the Beursfoon Suzuki of Kevin Strijbos, finished sixth overall. New at this event was the Calimero classf of riders from 4-to-8 on 50cc bikes. Raivo Dankers won both heaths, with Dean Schellen second and Dani Lourenssen third. KTM factory rider Jeffrey Herlings started this class and and gave also out the trophies to the winners. Jeffrey also got on the main stage together with de Motorband for an epic burnout!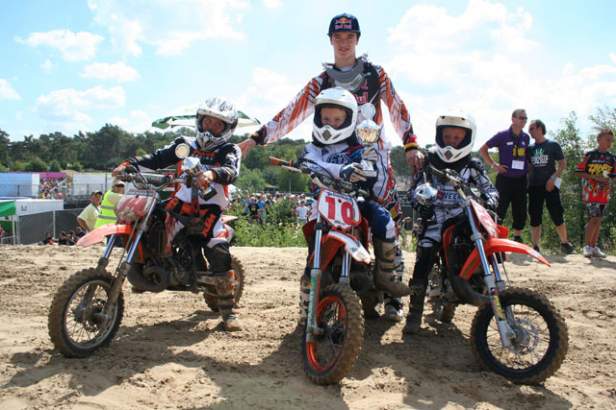 Jeff Herlings handed out the trophies in the 4-8 50cc class.
Ps: Take a look at www.hansstolk.com when you have time.
Okay, here's Ping:
I love the Millville facility. I think it is one of the coolest settings for a track and the crew there does an awesome job of prep and maintenance. But for as long as I can remember the course itself has been too narrow and the same problem still exists in some spots. There were places where the racing line was only a few feet wide. If they could widen the track up a bit and change the switchbacks in the back of the track it would improve passing by 1000%. And those are numbers even Trey Canard can't produce! Beyond that, it was a great weekend of racing.
Millville was hot. And humid. And I wasn't sure if it was just me at first. After walking up a couple of the hills to watch the motos I almost needed a ride to the Asterisk Medic Unit for an IV of Ringer's lactate. But then I saw Christophe Pourcel after the first moto and he was melting. He tore his gear and boots off right at the base of the podium and doused himself with water to cool down.
And in the second 450 moto I couldn't figure out what was going on with Josh Grant. He looked like he was goon riding the last lap and a half. His feet were flying off the pegs and he looked like he was going to crash off every jump and obstacle. He even careened off the track with just a couple turns to go and somehow navigated his way back to the finish line straightaway. I thought maybe he had a front flat or his shock was blown but that didn't explain his odd riding style. Then I saw him roll across the finish line and basically collapse. He was in bad shape after that moto. Josh is a tough bastard for gutting that moto out and I'm sure he's thankful for the help of Dr. Bodnar, Eddie and the rest of the Asterisk staff for everything they do.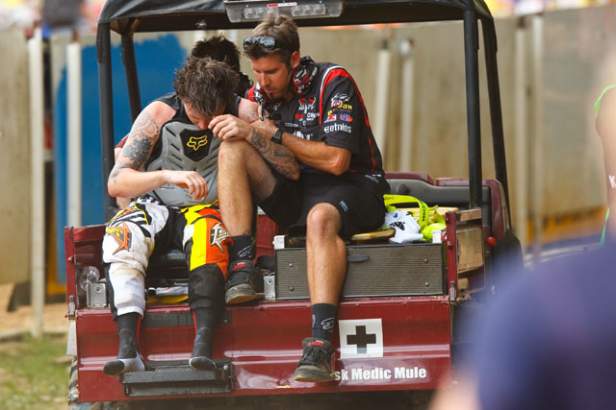 Josh Grant got a ride on the medic mule in Millville...
Photo: Simon Cudby
We almost didn't get to race on time in MN. Just prior to opening ceremonies the power was cut off. In fact, the entire power grid for the whole county was off. Apparently someone drove their car into a gas station, literally, and created a fireball that knocked power out for a while. Talk was circulating that opening ceremonies could be pushed back hours. But the power came back online just in time though and things went off without a hitch.
The rain came down for the second 250 moto but it could have been much worse. There were tornado warnings all across the county and I saw lighting on the way back to Minneapolis like I have never seen before in my life; it was incredible. Good thing that held off until the day was done.
Washougal is this weekend and if you haven't seen the video yet you'll notice that the start has been reworked. The old layout was far and away the most treacherous 180 corner on the whole tour. Every year since they put the start up there, riders have been getting piled up in turn one. The new layout looks like it will be much better and, most importantly, much safer. It's always good to get back up to the northwest.
Here's Weege:
Pretty crazy time in the sport right now, as news is coming from all angles. We of course have another great race scheduled this weekend at Washougal, but you also have X Games and the AMA Amateur Nationals at Loretta Lynn Ranch coming up over the next two weeks, silly season rumors heating up, and the pending return of as injured rider who won all 24 motos the last time he raced outdoors. That's a lot to digest. Let's focus on Washougal and five things to watch. Everything may be a lot different by the time we get to Unadilla in a few weeks.
5.) Will Dungey Ever Lose? It's not impossible now to imagine Ryan Dungey winning the final 11 races of the season. He's been challenged at times, but by about the halfway point of every second moto, he's usually clear and gone. Of course he could always run into some bad racing luck like a first-turn crash. And Washougal is usually smoother than the rough, sandy layouts like Millville and Red Bud, so that could neutralize his fitness. Still, he's firing on all cylinders right now, and has had great success at Washougal before.
4.) Will Canard Keep Winning? Two in a row for Trey, but more important is the way he won them. It's not like he holeshot four motos and lucked into it, he's came through the pack and earned it at Red Bud, then rode solid all weekend at Millville. He's always been fast and now he's putting it together. A lot of buzz about Canard at the moment, because most trackside observers know this isn't just a win streak, it's a breakthrough.
3.) Don't Forget About Dean: Christophe Pourcel is still the fastest rider in the 250 class-when he feels good, usually in practice and in the first moto—no one can beat him. But it's clear something is wrong with him by moto two, and Canard and Dean Wilson have been taking advantage. Canard is getting the hype, but Wilson is actually 12 points closer to CP in points, and has been thisclose to Trey on speed the last three races. The rookie is not out of it. Unless Pourcel gets his health in order. Then it's still clearly his title.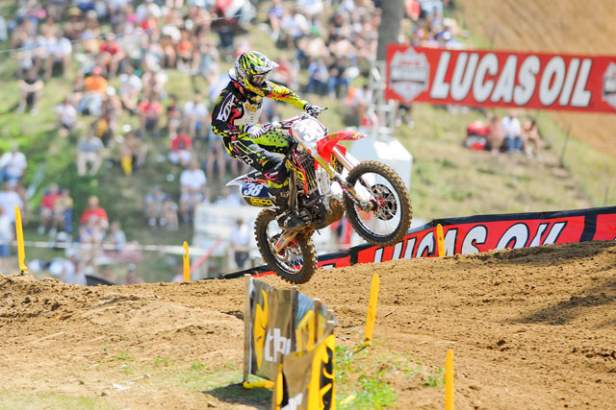 So, will Trey Canard keep winning?
Photo: Steve Cox
2.) Retro: Eastern fans got their retro weekend at Unadilla last year, Westerners get to play this year at Washougal. And I get to announce with Jeff Emig in the booth, and hey, it's always 1997 somewhere as long as Fro is by your side. Anyway, this race has been around for a long time so celebrate the past while the sport takes a big leap toward the future. Read on.
1.) Live! Live! Live! Live!This is the first weekend in this history of American motocross that all four motos can be seen live in your home—first two on Allisports.com and the second motos on SPEED starting at 7 EST. It's a massive moment for the spot, so save your summer activities until Sunday and enjoy the air conditioning.
Here's Cox:
Chad Reed is normally a tenacious racer, and he's the defending champ in the series; it's never good to lose the defending champ in any championship. When you're a guy like Chad Reed who is used to winning – or, at least, being in the hunt for wins – it's not easy to lose every weekend. I hope he gets it all figured out.
However, we do have Kevin Windham back out there, and if you remember his history, he flat-out hauls ass at Washougal. He always has. It's common logic to believe that he goes fast there because, even though the dirt looks loamy, it's quite slippery, and Windham has a ton of throttle control. But knowing the speed he had last weekend, if his blistered hands have healed, don't be surprised to see him win, or at least podium. Coming back to racing right now is perfect timing for Windham, as he gets to race Washougal and then Unadilla in consecutive races, and those are two of his best tracks, due to being hard-packed and slippery.
The only question with Windham is whether or not he's got the fitness to keep up with someone like Ryan Dungey late in the race. And I don't know what's going on with the weather this year, but it's slated to be in the mid to upper 90s at Washougal tomorrow. At least it doesn't tend to be super-humid there, but we sure have had a streak of hot weekends, haven't we? And Hangtown started out so mild...
A few weeks ago, at Colorado, we saw Trey Canard put together a good weekend with a 3-2 score and good starts. From there, he hasn't lost an overall yet. Sometimes, when racers are having a bit of a tough go, all they need is a couple good starts and good finishes, and things come around. Jake Weimer had a couple good finishes last weekend, and he may be this week's Canard, if the pattern holds true. He definitely hasn't been racing up to his potential thus far. And another guy who hasn't had the good finish yet, but who could get it this weekend, is Mike Alessi. If he can get a couple of starts, he could turn things around this weekend.... But this start is 320 feet like, which means he would almost out of cc's by the time he gets there. Just kidding.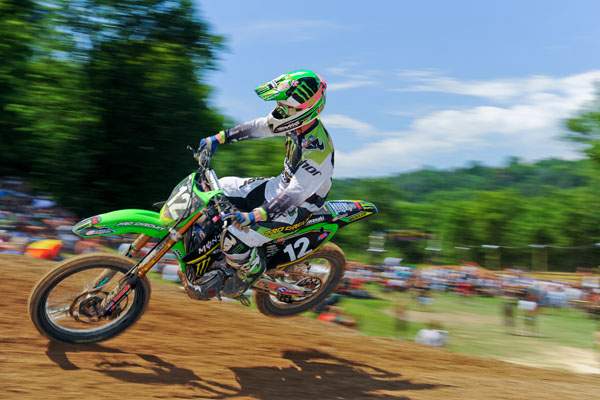 Jake Weimer just might be setting up to return to his usual form.
Photo: Steve Cox
In other news:
Our sister company, MX Sports Pro Racing, along with American American Honda, announced this week the introduction of the Honda CRF150 Cup. It sounds like a pretty cool deal for any young Supermini hotshoes that race Honda 150¹s, as the events are held in conjunction with the final two rounds of the Lucas Oil AMA Pro Motocross Championship at Steel City and Pala Raceways.
The races will be held the same day as both nationals and on the exact same track as the pros, are designed as a platform to showcase the next generation of motocross talent.
The rules governing the Honda CRF150 Cup stipulate that all competitors must adhere to AMA-sanctioned Supermini (12-16) provisions, and contains a special stipulation that allows girls ages 12-16 the ability to participate. All riders must be aboard 2007 or newer Honda CRF150R or CRF150RB models. Also in support of this exciting competition, American Honda has posted a significant contingency payout for each event, with over $11,000 in Honda Red Rider Rewards contingency up for grabs. Entries will be strictly limited to the first 30 riders who register.
For more information, including registration forms and the official rules, please visit this web page.
Here's an RC update from JH Leale...
After the Iowa truck race and another top 10 finish for RC he made his way back to Tallahassee for just a day before heading up to New Hampshire for a Rally school with Ken Block. The school was part of a new viral project DC Shoes is working on, stand by, more details to come. All we can say is that it is going to be really cool. Also look for Ken's latest "Jim Conner" video coming soon!
After the Rally school RC headed to his next truck race in St Louis, where he had a good race going that was unfortunately marred by a pit penalty that sent him from the top 10 back to the end of the line where he ended up getting taken out by a veteran driver. He is still strong in the points currently 11th.
After the race it was time to head north. RC had not been to Canada since his 2006 SX race and almost didn't get in! Apparently they aren't too fond of MXers up there since he was sent to the secondary immigration screening for over an hour! Once released the two-hour drive to Tillsonburg, Ontario started. It was all worth it when he arrived for the 5th round of the Canadian MX race at Gopher Dunes. RC's appearance was organized by Fox Racing Canada and the Canadian Monster Energy staff. The weather was great and the racing was just as good.
Ricky was impressed with Blackfoot's Colton Facciotti and the Medaglia brothers were impressive too. Privateer Kyle Keast also put on a great show for his local fans. RC signed for at least an hour 3 different times during the weekend and called the first 450 moto for the online listeners. He also spent some time catching up with one of his former riding partners Jean-Sebastian Roy.
Monday after the race RC held a riding school for 10 lucky winners of a West49 contest (West49 is like our PacSun). Three of those winners actually walked away with a brand new Suzuki Motorcycle! The track called it Ricky Carmichael Ride Day and hundreds of people turned out to ride the track the pros did the day before and all got a chance to hang out with RC for the day. All proceeds went to support the Canadian MX des Nations team. All in all it was a great couple of days for the sport of motocross and the fans were greatly appreciative of RC's visit.
"Had a great time in Canada this weekend. The fans were great and so was the track and racing. I have to say the sport of MX is doing great in Canada. They have some great riders and I was really impressed with the Gopher Dunes track. All the people were really nice and its great to have their support. The RC ride day was also a lot of fun and I can't thank the guys at Fox Racing, Monster Energy, Suzuki and West49 enough for putting it all together and making it a huge success!"
For a really cool photo report of the weekend click here.
More pics on the Gopher Dunes site here.
Gopher Dunes Facebook page here.
Here's Chris Jonnum:
While the motocross tour is in southern Washington state, the road race world is about miles in 750 miles south in Monterey, California, for the Red Bull U.S. Grand Prix--MotoGP's annual visit to Mazda Raceway Laguna Seca. Our crew from Road Racer X is on hand, and CJ stayed up late last night getting Road Racerhead turned in early. It's nearly 4,000 words of the latest pre-race info for one of the biggest road racing events of the year. Check it out here, and keep an eye out on www.roadracerx.com for the track iLap by Motorex, which will be going up later today.
Last week we threw out some trivia, asking you do identify the rider on the #111 Honda CR250. We didn't receive that many correct answers, but the first one was from Mark Borgen, who correctly ID'd the rider as Kevin Foley. Mark went on to add that the shot was from Gatorback (and DC, who took the photo, confirmed it was Ray from the 1990 Winter-Am Series at Gainesville). Thanks to all who participated, and your swag pack is in the mail, Mark.
Tweets you'd only read from a motocrosser:
@AshleyFiolek67: Supercross went well, felt really good. Doctor in bit.
Okay, last thing: I spotted Ryan Hughes this afternoon chatting with Vince Friese, and he told me to check my email for a big announcement. Here it is:
Ryan Hughes is launching his new Supplement Company, Ryno Power. He will be offering six new products: Protein, Carbo Fuel, Recovery, Motivation, Endurance and Electrolytes. Ryno Power Supplements are created with formulas primarily used by Tri Athletes and Marathon Runners. These athletes need the cleanest burning, finest quality supplements on the market and so does the Motocross Community. Ryno wanted to deliver it to them.
"I have always been all about health and nutrition, that's why I started an Organics company. Naturally I want people taking the cleanest, purest supplements I can make. You really feel a big difference when you take this stuff!"
You can order Ryno Power Supplements by visiting rynopower.com. Pre orders will be accepted Aug 1 for late August delivery. Ryan Hughes will be fielding a team of riders all across the country to help promote Ryno Power. Please email ridersupport@rynopower.com with your race resume.
That's it, but that's a lot! Thanks for reading Racerhead, and here's hoping you enjoy all of the live racing tomorrow on AlliSports.com and also SPEED TV. It's things like that which are going to grow the sport and make the riders and fans happy—I know that's what interested K-Dub about coming back, and I can promise you someone has been watching very closely down in Florida... Can't. Wait. For. 'Dilla!
See you at the races.