Thursday Rev Up: Washougal
Hello, everyone, and welcome to the Rev Up. The boys were back at it last weekend after a week off and there wasn't a whole lot that changed at the front of the pack. What did change was the vanishing of hope for Chad Reed's title defense, but in all reality, it was toast after High Point. This just appears to be Ryan Dungey's year, and there's no stopping what can't be stopped. On the other hand, the 250 class has some championship excitement mounting on the heels of another puzzling second-moto performance from Christophe Pourcel. I say "puzzling" because I can't figure out how the guy can seemingly toy with the entire pack in the first moto, then if he doesn't get the start the second time around he just kind of cruises. That said, he can cruise. He has 32 points on his teammate Dean Wilson and 44 points on the surging Trey Canard. Pourcel is doing it the way he wants to, but if he continues to lose 10 points at each round, things will get really exciting. Canard will likely click off three or four more wins as we close out the season. Maybe more...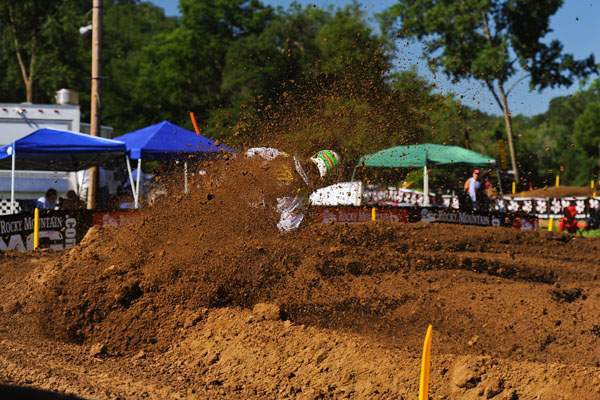 Chris Pourcel needs to sort out his second motos.
Photo: Steve Cox
On to Washougal...
It's going to be a retro theme this weekend, and I always like the old-school stuff. Washougal will celebrate 30 years of some of the best races the outdoor nationals have ever seen. Take some time and think about what those two-stroke 500cc and 125cc machines used to sound like going wide-open up horsepower hill. Some of my favorite memories of 'shougal are Robbie Reynard twisting his KX125 sideways off the drop-off, Doug Henry and Mike LaRocco rubbing elbows going fourth gear wide-open, and Jimmy Button winning his first outdoor national in the premier class. I'm sure a lot of you guys can go a lot further back than that, and please share some of your favorite old-school moments at the bottom. The table-top in the middle is called Chuck Sun Hill. I think it's because he got whiskey throttle on it back in the day and skied it out to the flats... Could be wrong, though.
Let's break down the two divisions and get this pig revved up, old-school style!
250
As mentioned, Christophe Pourcel has a commanding lead in series points, but he is being chased down by Wilson and Canard. All the same, I predict that the red-plated #377 will ride off with the opening-moto victory. He's done it at almost every round this year, and the slippery and inconsistent track will play into the vastly talented Frenchman's hand. For one moto, at least. The weatherman is calling for 96-degree temperatures on race day, and the overall will be won by the man that can keep swinging for both motos. Will it be Wilson or Canard? Tyla Rattray was on the gas again at Millville, but he's developed a crashing trend. If he can keep it on two wheels, he'll be vying for another O/A.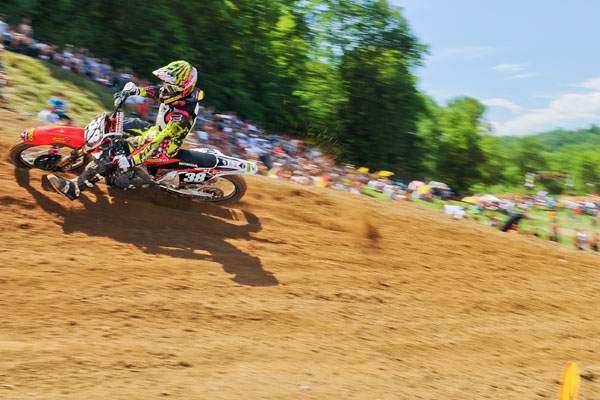 Trey Canard is going for his third straight at Washougal.
Photo: Steve Cox
Jake Weimer finally put together a good national, and with the track most likely being hard-packed, I'd look for #12 to be strong enough for his first podium of outdoor 2010. We've almost forgotten about Eli Tomac, but I think we'll see him gate well and show some of the speed we saw at Hangtown. As per the norm, the racing will be furious throughout the top 15.
450
Hey, I told you folks not to underestimate old man Windham. Matter of fact, I mentioned he could bang holy and lead laps, and damned if he didn't do just that! Talk about retro, K-dub's first trip to Washougal was in 1995, where he battled Steve Lamson. Nobody on that roster is even racing anymore, much less leading the kids around the track. His hands are smoked, but look for #14 to be standing tall at the front again. He'll run hard for as long as he can, I promise you that.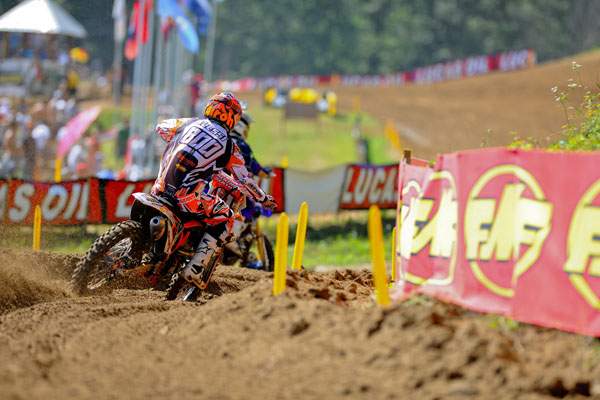 Mike Alessi needs a start. Can he get one on the new, level start at Washougal?
Photo: Steve Cox
Then, it gets weird. Kyle Regal is mega fast in the soft stuff, as he was brilliant at Texas and Millville, but we'll see if he can keep it rolling on the hard pan. Josh Grant hasn't ridden very well since his opening-moto demolition at Lakewood. There are some parallels between there and 'shougal, and I'd look for #33 to perhaps steal another moto victory. Andrew Short, the new holeshot machine, will put the twenty-nine up front and battle. Tommy Hahn just needs a start and he has the speed to win as well. My man needs a little luck, that's for sure.
What about Mike Alessi? He's at the lowest point in his career and just can't seem to race like he used to. These guys are all mental, and I think he just needs a good moto. Actually, just a holeshot. Maybe it's time for #800 to get it rolling again?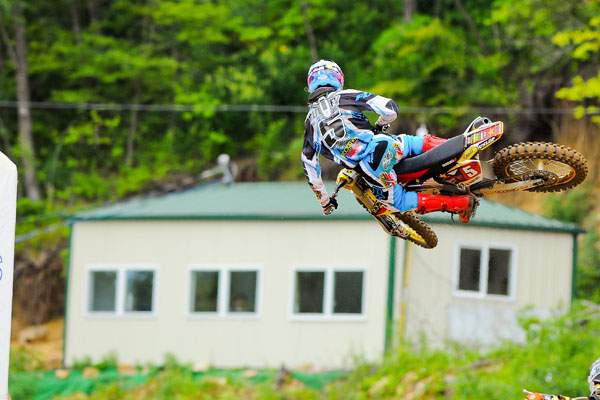 Ryan Dungey is killing it. That is all.
Photo: Steve Cox
Oh, yeah, Ryan Dungey. "He who makes a beast of himself, gets rid of the pain of being a man." He's an animal.
Time to go run with the bulls again, folks. Time to celebrate 30 years of motocross at one of the most beautiful tracks in the world. It's going to be a big one!
Thanks for reading, see you next week.