If you look hard enough, you can find patterns in almost anything. With the 250cc class this year outdoors, though, the pattern isn't very hard to spot. Through seven rounds, Chris Pourcel has only lost one first moto, and he has only won two second motos.
The one first moto that he lost came at High Point in the opening, muddy first moto that Justin Barcia won. However, when it was dryer, Pourcel came back to win the second moto while his teammate Tyla Rattray won the overall with a 2-2.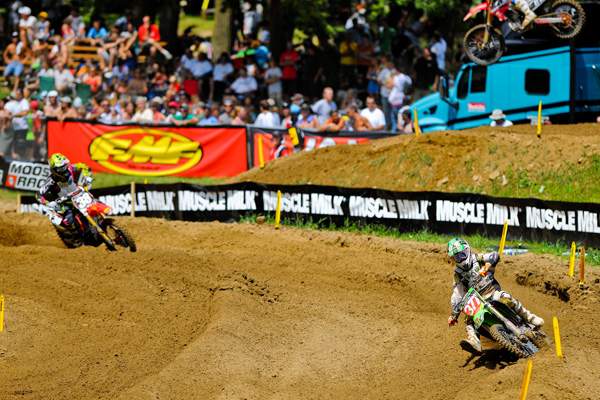 Chris Pourcel (377) leads Trey Canard (38)... In the first moto, anyway.
Photo: Steve Cox
The other second moto he won came in Colorado, where he scored his only 1-1 sweep of the season so far.
But at every other race, he won moto one and didn't do as hot in the second moto. Is he best on smooth tracks? Usually, smooth riders like him are good on rough tracks, because they can find the lines around the big bumps. Does it have to do with him being fresher earlier in the day? In other words, does he get a bit rundown by moto two?
It's hard to say, but at the last two races, his second-moto finishes are fifth and 10th. With 10 motos left to run, Pourcel leads Dean Wilson by 32 points, but maybe more significantly, considering the streak, he leads Trey Canard – winner of the last two events – by 44 points.
At this rate of points loss from the last two races, Pourcel will still win the title with a few points to spare, but if things continue this way, what Pourcel cannot afford is another unforeseen problem, such as his mechanical DNF at Southwick last year.
This championship may yet come down to the wire.