Monday Conversation: Trey Canard
GEICO Powersports Honda's Trey Canard is now officially on an AMA National win streak. After winning his first-ever moto and overall at RedBud – round six of the Lucas Oil AMA Pro Motocross Championships – he went out in even more convincing fashion to win round seven at Millville. We talked to him yesterday.
Racer X:
You had two weeks to really think about winning that race at Red Bud. Can you talk the readers through what those two weeks were like for you?
Trey Canard
: I kind of had some mixed emotions. I mean, on one hand I was really excited about winning and just overall excited that I was able to pull it off. On the other hand, I kind of felt a little bit of pressure to perform well again coming up at
Millville
and the rest of the races. I think, when you care about something a lot, you just think about everything. I just managed to get rid of the negative thoughts and had some really good preparation coming into
Millville
, so that was good. I think doing good at
RedBud
it was big, and overall I was excited leading to
Millville
.
You led moto one, but were passed by Chris Pourcel. But you hung strong and then passed him back later, which is difficult mentally. Tell us about what that meant to you going into the second moto, even though he still won.
Yeah, I mean, I was trying to conserve a little bit in the beginning [because of the heat]. I figured it was going to be a long day and the track was rough, and the whoops... A lot of things kind of come into play. He got around me. I was trying to follow him for a little bit but I noticed I thought he was dropping off a little bit [toward the end], so I put on a surge and tried to get around him quick. I tried to just kind of demoralize him a little bit, but that didn't work. He had a little more energy than I kind of expected. Overall, though, I was just excited to pass him because I know his first motos are always so strong. Just to be riding and racing with him, that was fun for me. I feel like a few weeks back, I was pretty far back, so it's a big step forward.
You also had top practice times in both practices this weekend...
Yeah, which was huge for me because I've had pole position one time, like, ever. Both practices were good; they were solid and the bike setup was good from when we started. The whole day was just the perfect day for me, and I was stoked.
You've done this now twice in a row, now, so if you even had that thought in the back of your mind that it was a fluke at RedBud, you've got to realize it wasn't by now, right?
Yeah, it's always good to have that confirmation and I've heard people say that the second win is almost just as hard to get as the first one. To have that and to know that it was the real deal was a good thing for me. I'm excited about it and I feel like it gives me a boost coming into these next five races.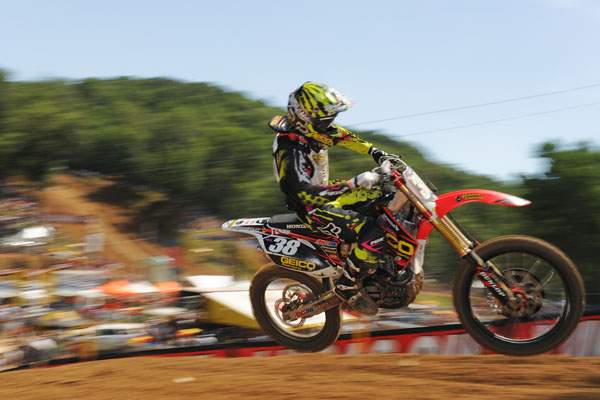 Trey Canard took his second-consecutive victory at Millville and moved into third in the points.
Photo: Steve Cox
Can you try to put it into words, the feeling at the end of the second moto? You knew you had the overall because a 2-1 wins anytime. Can you try and describe for the fans what it feels like?
It was pretty surreal. I mean, you'd think that the first win is the best or maybe the first Supercross win doesn't compare, but they never get old. That feeling never changes. It's always the same. It's what you always hope it would be. To cross that finish line, you just have so many different emotions going on. I wish I could freeze it and sell it, but I don't think that can happen. I guess that's why it's so rewarding.
You'd be a very rich man overnight if you could freeze that feeling and sell it to people...
Yeah, we'd have to sell it for a lot of money.
What about your family? What is it like to have them around for this? I saw your mom during the podium ceremony, and she looked very serious, so I asked what was wrong, and she smiled and just said, "I'm just trying to take it all in..."
It's so difficult to really take it in, because last night [Saturday night, after the race] I was already focused on what I need to do in
Washougal
. In a series, it's really hard to soak it in and enjoy it because you have to get ready for next weekend. That part is tough. Having my family there is big for me. My [older] brother [Aaron] works for the broadcasting team, and my little brother [Jackson] was there, and my mom, so that's pretty special for all of us, I think.
Speaking of Washougal, you've raced at Washougal once before, I think, but that's where you broke your femur in 2008. Are there any mixed feelings about that place?
I mean, there's always mixed feelings, but I feel pretty good about it. I feel like that will be a track that suits me. It's kind of like a throttle-control track, so I'm excited about that. I feel like going into it we've figured some stuff out with the bike and I was figuring some things out with myself. I feel good going in. Obviously, there's a little bit of mixed emotions at that place. I left there in not a good condition last time. I really enjoyed the whole time I was there other than that, though. It's just a cool place to go to, driving up in the mountains and everything, and the temperature is usually cooler... It's just a nice place to go to. I'm looking forward to it. I try to put that stuff [the past injuries] behind me. I never made it this far in the series with consistently finishing every race, so that's a positive thing. Hopefully, I can leave there safe and be in a good place.