Thursday Rev Up: Millville
Hello, everyone, and welcome to the Rev Up. Before I go any further, I'd like to congratulate all of the names on the 2010 Loretta Lynn's roster. If your name is on that list, you are a bad dude; bottom line.
After a one-week hiatus, we are set to begin the second half of the 2010 Lucas Oil AMA Pro Motocross Championships. As it stands, we have two runaways at the front of the 250cc and 450cc points standings, as Ryan Dungey and Christophe Pourcel have dominated. Now, it's time to see if they can finish the game.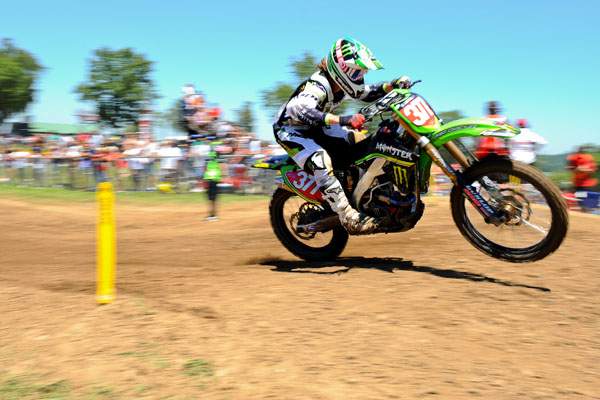 Christophe Pourcel is pulling away.
Photo: Steve Cox
We're going to take the charge to one of the toughest tracks on the tour in Millville, Minn. This track is a beast for many reasons, but mostly because of her back-to-back sections of high-speed sand whoops. "The Whoop Monster," as it's dubbed, is a primary passing point, as the rider with the heaviest set of stones can simply man up and hold it open to make moves. A couple of years ago, they had a radar gun shooting the riders, and some were carrying almost 50 mph across the top of the collarbone graveyard. That's about as nasty as it gets right there. That said, Millville is a fast course that gets rough and chopped up, and it favors racers that excel in soft terrain. They also do some interesting things with the track prep by grooming two lines around the wider and faster corners. They leave a little wake of dirt to separate the grooves, and last year it worked very well.
Let's take a look at the two divisions and get revved to the moon for the final quarter of the 2010 American motocross season.
250
My list of contenders begins with the sound and the fury of Justin Barcia. The ultra-aggressive Honda rider is the most daring berm rider in the field, and I don't see much slowing him down. He'll be carrying the mail through The Whoop Monster, and if No.17 can get a couple good starts, I think he can nail down his first overall of the series.
The biggest surprise of this bunch to me is Tyla Rattray. He was hunting down his second win at Red Bud when he decided to go bobbing for rocks on that downhill. Look for "Styla" to be at the front and hounding.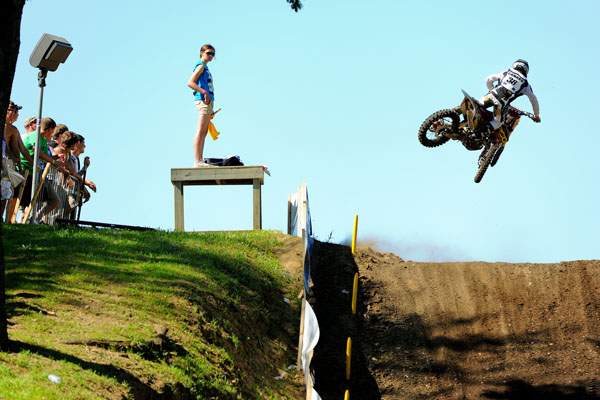 Trey Canard has momentum on his side right now.
Photo: Steve Cox
Then we have Trey Canard, who finally nailed down an O/A and won't be riding for anything less than wins from here till the end. Like Barcia, Trey can ride the soft stuff with the best of them, and he'll riding with mother momentum on his side.
What to say about Christophe Pourcel? He has a huge points lead, but I wouldn't call it insurmountable. He lost his title last year during this stretch, but barring a mechanical DNF, or two, I don't see him doing anything but winning a couple more overalls on his way to his first AMA outdoor championship.
Blake Wharton, Broc Tickle, and Max Anstie will have something to say. I'd also look for the embattled Jake Weimer to re-group and make some noise in the final six races.
Local hard charger Alex Martin will be taking a little extra around the track with him as well.
450
Homestate hero Ryan Dungey needs no accolade coming into the weekend. He made his pro debut at this track, and the most prolific rookie in premiere-class history will most likely hurt these guys bad. Ah, but huge points leads can be pesky. You don't have to take chances, but big crashes are the product of laziness. Do recall that Jeremy McGrath lost his 1996 championship at Millville when he broke his ankle. Hey, it happened. Anything can happen.
Chad Reed is more than aware of this. He is the worst rider to have behind you in series points. The Thunder will be on the podium for the remaining rounds and I have a feeling he'll be within striking distance when Pala gets here. Ben Townley is hungry and if he can keep it on two wheels, he can win. I'd like to see it, for sure!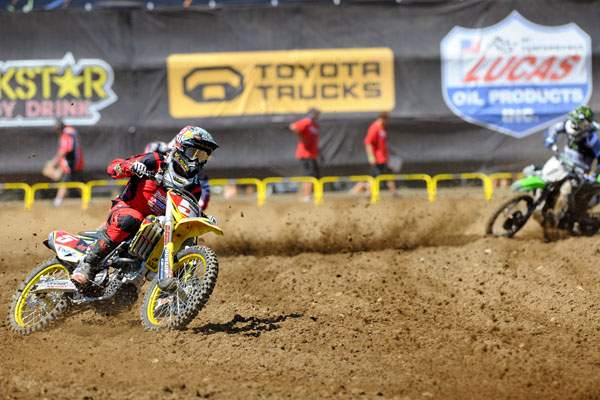 Ryan Dungey (5) has a strangle-hold, but Chad Reed (1) isn't the guy you want behind you.
Photo: Steve Cox
The 450cc class will get a shot in the arm as Kevin Windham and Ivan Tedesco will make their returns to the track. Don't underestimate Windham; he has the talent and experience to yank the holeshot and pull away. He won't have the stream for two motos, but he'll be very fast, while putting on a clinic through the whoops. However he does, he'll have the crowd on their feet and swinging their t-shirts every lap he's on the track. Go get'em, Kevin!
Ivan (and his super sweet One Industries riding gear) will be a force in the top ten; perhaps the top five. Tedesco will be using the final six races to market himself for 2011 and he'll be in the top three in a moto before it's over.
With that, it's time to return to the times of drama and high adventure. It's time to watch the boys explode out of the gate and hang off the back of their horses down the long start straightaway. Time to watch merciless berm annihilation, and see those tires slap across the tops of the nastiest whoop section in America.
Like I said last week, it's not "what if" as much as it's what's next? Millville's next, folks! Time to go back to work and finish the job.
Thanks for reading, see you next week.