Privateer Profile: Alex Martin
Alex Martin is the top privateer in the 250 class so far this year and last weekend he broke the top ten in the second moto at Red Bud. Alex is a true privateer pitting under the Warthog Racing awning and doing almost everything on his own. This coming weekend, he is really excited about racing, and to say Millville is his type of track is an understatement, because he actually lives at the track! After playing phone-tag for a week, we finally caught him when he wasn't training and asked him a few questions.
Racer X:
At the last race, at RedBud, you broke the top ten; talk about your weekend.
Alex Martin
:
RedBud
was a pretty good weekend for me, with my first top-ten this year in the second moto, and I was happy with that, but I'm also kind of bummed out that it's only one top-ten so far this year. I just need to get a better start and it will be easier to battle with the factory-supported guys.
In the 2009 outdoor season, you had a pretty solid season; did you think you would have got a little better support for 2010?
Well, last year I was a top-20 guy in the beginning of the season, but by the end of the season I improved to a top-15 guy. I would say that this year I'm ahead of where I was last year, and my goal was to improve, but it would have been nice to have a ride this year. I don't feel that I was as fast last year as I am this year, but I definitely think I will be ready for a ride next year!
Coming into the outdoors, what did you do to prepare for the season?
Actually, I spent the winter down in Texas at Kyle Regal's house and we did a lot of 30-minute motos in the Texas heat. I also do a lot of high-intensity core workouts along with running and biking. I actually missed Hangtown because I broke my wrist in Toronto, so I decide to skip Hangtown to have that extra couple weeks to prepare. I didn't want to come back until I felt like I could give 100 percent.
How do you get to the races?
Actually, I drove to Freestone and RedBud, and I'm going to walk to Millville! [Laughs] Most of the races, I just fly, but I have to pay for all my flights and traveling expenses.
So, how do you get your bike to the races that you fly to?
Wonder Warthog takes my race bike to the races for me, so that's very nice of them to do that for me. That makes it a lot easier for me because I can go home during the week and get my training done. Also, I am more rested when I don't have to drive and feel like I can perform better on the weekends. Warthog has been helping me since halfway through last year.
Do you have a mechanic? Or do you use one of Warthog's MMI interns each week?
I have a buddy of mine, Dave Wallace, out of Nebraska. He's my mechanic. He helped me out for Supercross and continued with me on the outdoors. He's a big help and we work good together.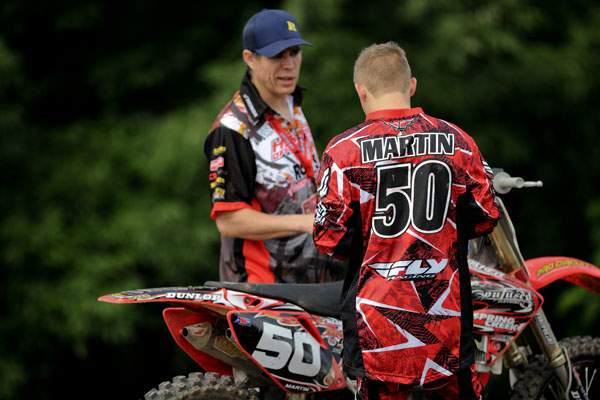 Martin and his mechanic, Dave Wallace, working out settings for the day at High Point.
Photo: Steve Cox
Does he go to all the races with you? Does he fly to the races? How does that work with him being in Nebraska?
Yeah, he flies into the same airport and we meet up on Friday mornings then head out to the track. We plan our schedules around each other and have good communication, which gets us to the track in time! [Laughs]
So, you broke your wrist and missed Hangtown, but how do you think your year has gone so far?
Well, I felt really prepared for Freestone, but had bad luck and blew my motor up halfway through the first moto. So it was kind of discouraging to not score any points after putting in so much training. But I got the ball rolling at High Point with 13-15 motos finishes for 15th overall. Pretty much every round, I've just been trying to improve and get a better result. That's what I like to see is improvement, because it proves my hard work is paying off. I'm improving every race and feel that the last rounds of the season I will be a consistent top-ten rider. Then I feel I will have earned a position for a ride next year and will be ready for it and have the experience to be a top 250 rider.
What is a normal weekday like for you?
In the morning, I get my motos done early and I like to do three 35-minute motos. Most of the time, I like to simulate race days when I practice. Then, after I ride, I head to the gym for an hour or two and do a lot of stretching and cardio. The way I train I like to be more tired when I'm practicing so its easier for me on race day.
Do you have a trainer that you work with?
Well, last year, when I was out in California for the West Coast, I was training with Ryan Hughes. So this year I took everything I learned from him and put together my program based off of things I have already learned in the past. I've taken all the skills I've gotten over the years and put together a program this year that works for me. I'm my own motivator but I don't have a problem putting in the work, because I want to succeed in motocross more than anything!
So you're a real, full-blown privateer. Do you get help with bikes, flights, or anything? Do you fund this all on your own or do you have support?
This year isn't as bad as last year, and I have an excellent sponsor, Dave Samani, who is actually an orthopedic surgeon. He's really helped me a lot this year with bikes, entry fees, and my mechanic. It's frustrating because a lot of the guys I'm beating are on big teams. Hopefully next year I won't have to stress out about that stuff and can concentrate on training and racing only.
How does that make you feel knowing that you are consistently beating guys that are on huge teams?
Well, this year, I'm really comfortable on my bikes. Sometimes, riders get lucky and receive great rides but aren't ready for them. Actually it wouldn't even be worth it for me to be a replacement/fill-in rider right now. At this point in the series it would take me a couple rounds just to get used to the bike and honestly, for me, it looks better if I can beat all those guys on my bike. If I can do it on my bike and get the experience, then when I do land I ride, I believe my results will only improve.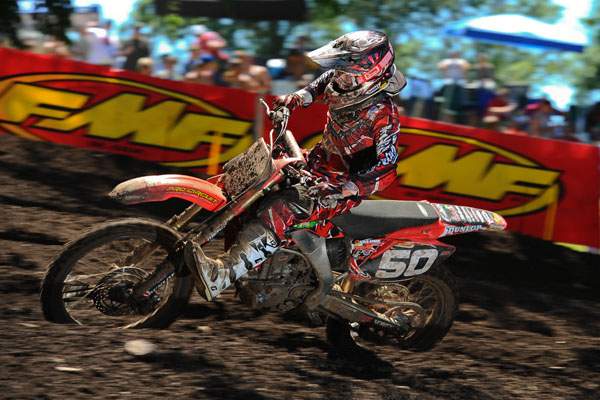 Alex Martin is hoping to improve on his results from RedBud at his home race this weekend.
Photo: Steve Cox
Kind of like Millville last year when you got to ride the GEICO Powersports Honda?
Yeah, because last year I was running top five up to the 20-minute mark on that bike. But also I want to be loyal to my sponsors and continue our relationships through the rest of the year. I just don't want a three-race deal and then have to jump back to my original sponsors again. I feel it's more important for me to stick out the season with the sponsors that I committed to at the beginning of the season. It was a great experience, though, and I would love to be able to race it every weekend! It was so fast and it's amazing how much money is involved in the team's racing effort. I feel like I'm ready for next year to step up to a big team and produce solid results.
So, what's the goal for the rest of the season?
I'm set to do the rest of the Nationals except for Pala. I'm actually doing a race in Sweden on the same date and I'm really excited about that! But, yeah, I just want to finish out the rest of the Nationals strong. I like the Nationals much more than Supercross and really love being there. The fans are great and it makes me feel good when I can interact with the fans in the pits.
What's the deal with your relationship with Millville?
It's actually in my backyard! Our house is at the end of the whoops! [Laughs] So, my parents bought it in 1988, and I've lived here my whole life and grew up racing here. I guess it's kind of hard not to be involved in motocross with a National track right outside of my bedroom window! [Laughs] I'm really looking forward to the National this weekend with all my friends and family coming to support me! It really does make you try harder when people are cheering for you. Hopefully, I can get a good start and run up front and a lot of people cheer for me!
Do you work at Millville during the week?
I do what I can after I'm done training, and lately my brother and I have been weed-whacking a lot to get the track ready for this weekend.
What are your expectations for this weekend?
Basically, to start off where I left off last weekend and be in the top ten. I feel like if I'm not in the top ten that my results will go unnoticed. You have to be in the top ten to attract sponsors and I feel that's where I should be.
Well, good luck at Millville this weekend. Where can the fans get a autograph this weekend?
I will be under the Wonder Warthog awning this weekend and I'd really love for the fans to come over and see me!
Well, thanks Alex, and good luck! Is there anyone you would like to thank?
Thanks Chris! I'd like to thank Spring Creek MX, Husker Off-Road, Wonder Warthog Racing, Merge Racing, TiLube, Pro Circuit, Fly Racing, Shoei, Dunlop, Vortex Sprockets, Renthal, Twin Air, Scott USA, Gaerne, UFO, DP Brakes, QTM, SDG, Leatt Brace, RK Excel, DeCal Works, and Works Connection. And a big thanks to the Regal family for helping me out this winter.