Who had a worse week -- Lindsay Lohan or Cleveland? Too close to call. But I do know that American motocross had an amazing week. It started with last Saturday's Rockstar Energy RedBud National, the crown jewel of the Lucas Oil AMA Pro Motocross Championship. Year-in, year-out, it's the biggest race on the calendar, held on an immaculate track, shown live on NBC (and the internet), and with a massive and enthusiastic crowd. They yell all weekend, and in return they get great racing and a fireworks display that can be seen and heard for miles.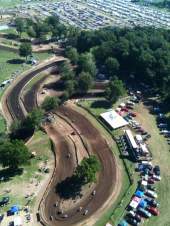 RedBud was packed for a great weekend of American motocross.
RedBud is the event every promoter—be it here in America or Canada or Europe or Australia—should strive to hold. The Ritchie family goes all-out on the preparation and presentation of the facility, and all of the riders and teams seem to really appreciate that effort, as well as the fans I spoke with.
Quote of the Week: "How bad are you wishing right now that NBC has shown that first moto instead of the second?" Ben Townley, reflecting on the amazing first 450 moto at RedBud, which featured a three-way battle between himself, Chad Reed, and eventual winner Ryan Dungey, aired live on www.allisports.com. The second moto, led almost the whole way by Dungey, aired live on network TV.
If you missed that first moto, you can watch it right now, as well as the first motos of all six rounds, on the Allisports.com Motocross Archive.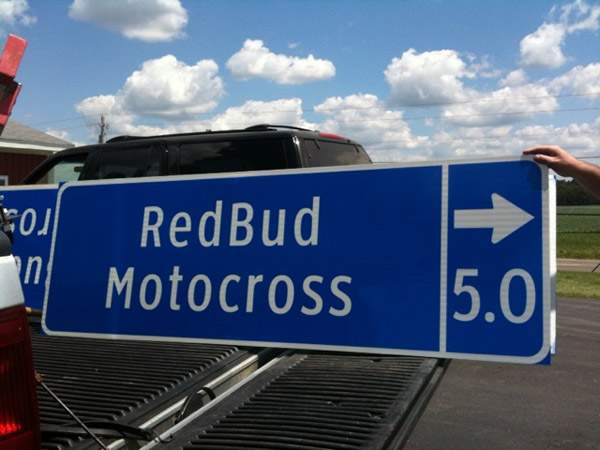 They fixed "MotorCross" after all!
Amy Ritchie told us last week about her RedBud highway signs being spelled wrong—this from a person involved in "motorcross" since the day she was born. She got help at the last second from a good samaritan at the Michigan DMV: "The guy in Lansing couldn't get anyone to fix our signs in time, so he brought them down and put them up himself! He stopped by the office Thursday to show me the replacement signs. Pretty cool of him!"
To learn more about what happened at RedBud, check this article out: Ten Things We Learned at Red Bud.
Unfortunately, the RedBud race weekend did have a couple of downs; the most startling was the automobile accident suffered by privateer Scott Champion and his girlfriend, Erin Normoyle, who is the pit reporter for the series. They were leaving the track late Saturday afternoon when a small animal darted out in front of them. Erin, the driver, swerved to miss it, which led them to briefly lose control of the car. It crossed the center lane and hit another car head-on. Tragically, the driver of the other car did not survive the accident.
Normoyle ended up with a compound fracture of her ankle, a cracked sternum, and other injuries. Champion was battered and bruised but was not admitted to the hospital. Erin remains at South Bend Memorial, having already undergone two surgeries.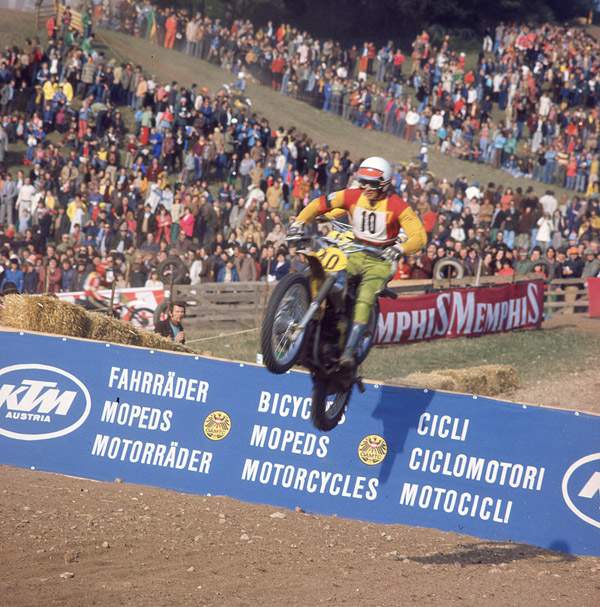 Adolf Weil at the 1974 Austrian Grand Prix at Sittendorf.
Photo: Dave Maltais

Another real downer was the near-carnage suffered by Dr. John Bodnar when he errantly rolled off one of the drop-away jumps just after the mechanics' area in the Asterisk Mobile Medics Mule. John was casing the track in between practices and found the medical access road blocked by his fellow watchman Eddie Casillas. As the doc rolled past (I was standing there with Ping talking about fire trucks, believe it or not), Eddie reminded him that a drop-away was ahead, but it John was looking much farther down the track. He rolled off the ledge, nose-dived into the ground, then rolled over on the roof. Thank goodness there was a roll bar on top, and he was wearing a seat belt. The Doc wasn't hurt, but he was obviously embarrassed.
So after Sarah Price hurt her wrist on the first lap of press day at Hangtown and Grant Langston accidentally rolled off a drop-away at Budds Creek and cartwheeled on the parade lap (plus a couple of other little mishaps), it's time to make sure everyone—riders, team members, track crew, medical staff—knows those drop-offs are there. We will be adding some signage and working on the height and pitch so that if someone does make a mistake and forgets they're there, the penalty won't be as severe. Drop-away jumps have been a part of motocross for a long time, though they only recently came back into play on the Lucas Oil AMA Pro Motocross tour. But as you can see from the photo above, a Dave Maltais masterpiece from the Dick Miller Collection, which graced the cover of the September '74 issue of Motocross Action, they've always been cool!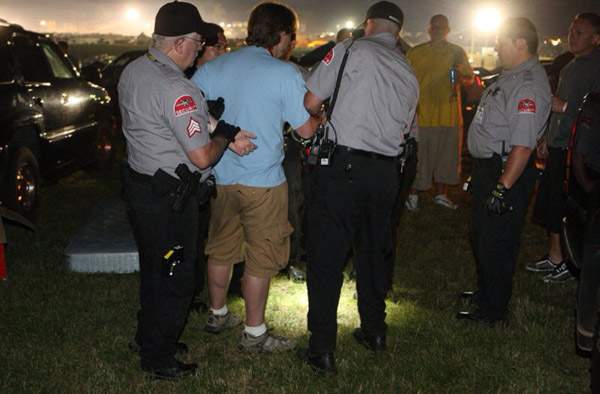 Our own Steve Cox gets a hero's welcome at RedBud! Just kidding.
Photo: GuyB

And remember what a big scandal it was two years ago when Jason Lawrence got arrested in the camping area in the wee hours of the morning? Same thing happened to Steve Cox—sans fighting—but no one really cared! In fact, when he called me at 3 in the morning to tell me he had been cuffed for not going back to his camper when ordered to, I asked him if a policeman dialed the phone for him. He said, "No, they already let me go." So I hung up.
Speaking of Jason Lawrence, sounds like he might finally be contemplating a comeback, maybe as soon as the X Games in a few weeks, then the last four rounds of the Lucas Oil AMA Motocross Championship. That sounds like a popular plan...
And of course next week at Millville, we will see the return of Kevin Windham to the series. K-Dub will be filling in for Davi Millsaps, who was injured at Budds Creek and may miss the rest of the season. Windham was recently out doing motos at Pala Raceway, the new home of the annual series finale, and Kirk Chandler shot a few photos (including this one) of K-Dub at work.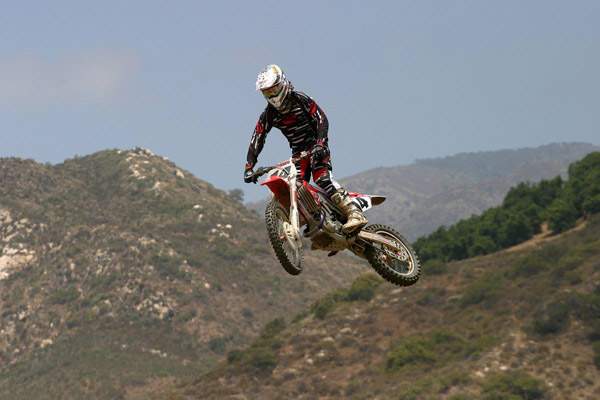 Kevin Windham will be riding Davi Millsaps' Honda Red Bull Racing bike from here on out.
Photo: Kirk Chandler

And speaking of Honda Red Bull riders, this is from RedBud winner Ashley Fiolek's team:
As the AMA Motocross Championship travels across America, news outlets have been quick to pick up Ashley Fiolek's inspirational story. Honda Red Bull Racing's PR manager, Stephanie Nutt, coordinated these two (here and here) recent interviews.Ashley was back to her winning ways in Michigan last weekend, dominating the National with wins in both motos. She will be in California through July for supercross training, attending the ESPN ESPYs, racing the X Games, speaking at the ASC 2010 Action Sports Conference, and being featured at the Teen Choice Awards.
Sounds like Travis Pastrana has something cool up for his sleeve for the X Games. He wants to compete in five different events, even though he's coming off a broken collarbone at the next-to-last Nitro Circus show down in Melbourne, Australia. Check it out here.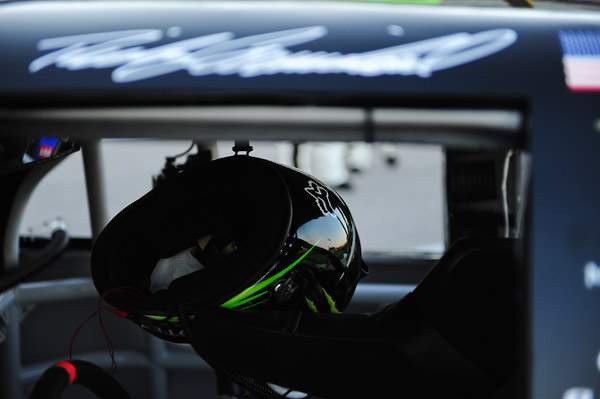 Ricky Carmichael needs your help!
Photo: Steve Cox

Here's a note from RC's camp:
Voting has started for NASCAR's Most Popular Driver award. This is a really big deal in NASCAR, and with everyone's help, we were able to win it last year! We are asking again for your support. All you have to do is go to the site click Ricky Carmichael, and then click submit. It just takes a few seconds. You can vote every day up until November 12th. Thanks again to everyone for your support!
Speaking of RC, he spent a day at his farm riding with Ryan Dungey and also doing a magazine photo shoot. This weekend RC is back in the Monster Energy truck in Iowa. You can watch the race on Sunday on Speed at 2 p.m. After that he heads to New Hampshire and will be attending a rally school with Ken Block and a few other DC Shoes athletes. From there he heads straight to St. Louis for his next truck race on Friday night, then on Saturday he heads to Canada for the MX race at Gopher Dunes and will be signing autographs for Fox Racing at the Monster Energy display on Sunday, and then going to the ride day on Monday!
Keep track of the GOAT right here: www.rickycarmichael.com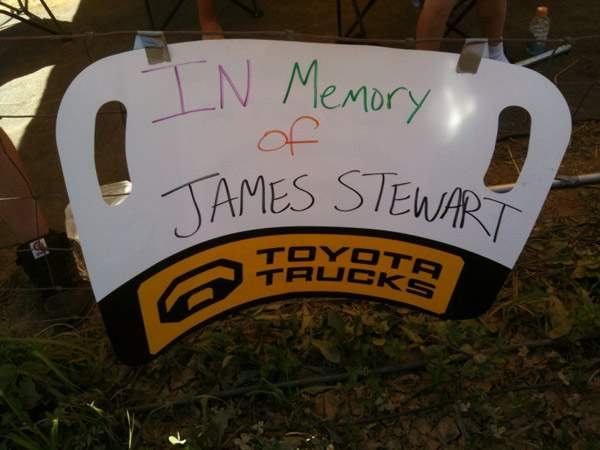 Is this because of that whole Red Bull Flugtag deal James is trying this weekend in Miami?
Before the outdoors started, Simon Cudby and I went down to Florida to visit with Chad Reed and do an interview for the magazine. Simon shot part of the video and posted some of it this afternoon. It may be a few weeks old, but what Chad says is very interesting. It also gives you a sense of his mindset as summer began. Check it out here.
Okay, here's Jason Weigandt:
Well, after much conjecture, I've made my "decision," and I'm going to bring my talents to Racerhead this week. Although really, I wrote most of what I had from RedBud in ReduX presented by Renthal on Tuesday.
It was cool to see some top Grand National Cross Country racers give MX a shot a RedBud, as GNCC XC1 points leader Josh Strang and XC2 points leader Kailub Russell took advantage of the off-road summer break. Strang took twentieth in moto 1 and started the first moto around fifteenth before catching his foot in a rut and twisting his ankle. Josh has another series lead to protect, so he pulled off and took twenty-eighth. But he scored a national point in the first one!
Russell had a rude reception to moto when he crashed on "Alessi Falls," that big ski jump where Mike ended his 2008 season. Kailub's bike rolled all the way to the bottom of the hill, riderless, and by the time he finally got to it the first practice session was just about over. He went out for session two but missed the cut. Kailub was riding an XC-F (off-road) 450 and said his suspension was way out of sorts. He also admitted that the moto guys are really fast, obviously. Better luck next time!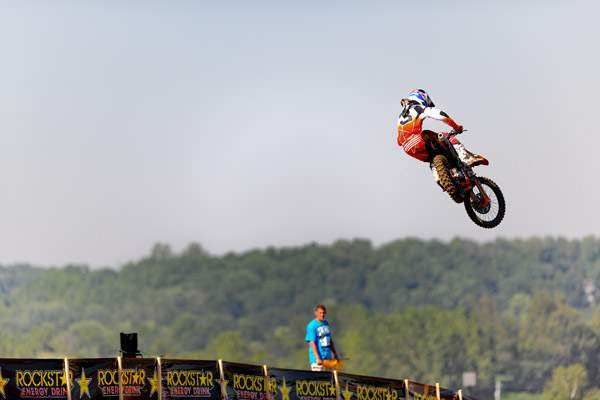 Flyin' Mike Brown was flying again at RedBud.
Photo: Steve Cox

And of course the off-road guys got representation from Mike Brown, although Brown is hardly a stranger to motocross. On Friday we were shooting the Racer X Motocross Show and Mike cruised past Grant Langston and me. I was waiting for some dirty looks, since Brownie and Langston had some huge battles and bad blood earlier this decade, but I guess that's all faded because they shook hands and started bench-racing! Brown took twelfth in the second 250 moto, which is pretty darned amazing. What a career that guy has built.
Finally, Ping and I have just finished up a new Racer X Podcast, where we chat with Christophe Pourcel's mechanic, Kyle Bentley, about maintaining race bikes throughout the season. What goes on between moto 2 at one race and moto 1 at the next? Kyle explains.
Kyle also let us know that CP put just over thirty hours on his KX250F practice bike last season. All last season. That's less than an hour a week! Chris doesn't pound out that many motos, and when he does, it's usually on a 450. Which gets me to thinking: Motocross of Nations is coming up, and France has a 250 candidate ready in MX2 GP points leader Marvin Musquin. How about putting CP on a 450 and seeing if he can do what Dungey did last year?
And here's Cuffless Cox:
It wasn't just cool to see Trey Canard finally win his first AMA National, but I almost think the coolest part was seeing him hop the fence and go high-five just about every fan at RedBud. He was down there forever, and every time another fan would stick their hand through and yell, "Trey!" he would stop, turn around, go back and shake their hand or high-five them.
How cool is that? When is the last time we saw a top factory guy do that? That fan appeal is a big deal in any sport.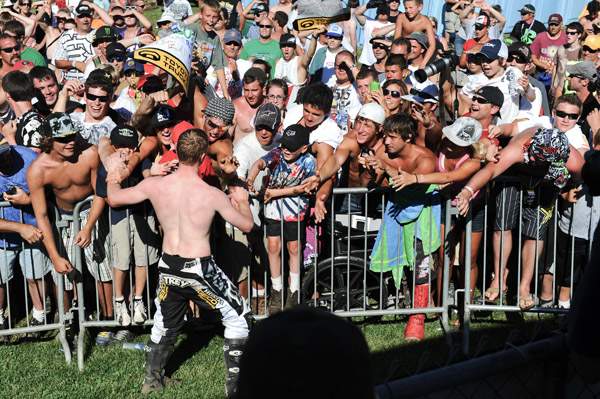 Trey Canard showing the love at RedBud.
Photo: Steve Cox
I've noticed a lot of anti-James-Stewart signs at the nationals, and many of them seem to suppose that Stewart is dead, such as the one above. Not in the literal sense, obviously, but that his time of dominance is over. Well, he's going to be at the Nationals this summer. Where do you think he will finish? I don't think there's any reason to believe he won't be at the front, at minimum battling it out for the win, and at maximum picking up where he left off in 2008. That's funny about this sport: You're only as good as your last race. Well, honestly, if you remember Stewart's last race, he tried everything he could to win despite having a broken wrist! How gnarly is that? Still, some people think you're not a "real racer" unless you race the nationals, so according to that logic, Jeremy McGrath wasn't a "real racer", nor is Kevin Windham (although he will be back here in a week or so). Does anybody buy that? What about the other way around? If Ben Townley isn't going to race supercross next year (he isn't) and concentrate only on the nationals, is he not a "real racer" either? Or does it only apply to the outdoors?
Just curious.
And speaking of real racers, our main American in the GPs, Zach Osborne, has quietly moved his way into the top five in the points standings despite a pretty troubled start to the year. He's a cool kid, and he says he is likely to race the Lites SX championship on one coast or the other next year (probably west). But the coolest thing is, Zach has a blog now, and you can follow what he's doing right here.
It's actually really well-written and entertaining, so my recommendation is to bookmark it like I have so you can get updated frequently.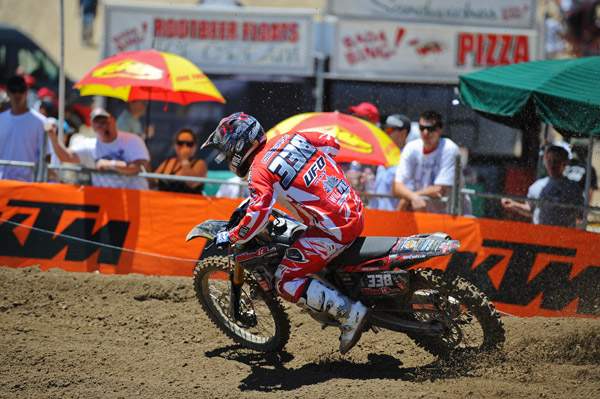 Zach Osborne at the US GP.
Photo: Steve Cox
And yes, I was arrested. Those cuffs kind of hurt. They're nothing like the furry ones I'm used to. In the end, it cost me 90 minutes or so of sleep, which in the end made it so that I damned near didn't make it to O'Hare for my flight early Sunday morning because I was falling asleep. And because I was dead-tired, I was second-guessing my own vision as a "VIP Cart" (a nearly broken-down golf cart inside the airport) pulled up with LeAnn Rimes on it. She is actually very pretty in person. It was funny as she stood at the doorway to pre-board before anyone else got to, since she's famous and all, because I was standing behind her watching, and I could tell she didn't want to look in either direction to see if anyone was staring at her. So I looked, and not a single person even noticed. They were all eating or reading or sleeping. Pretty funny.
But she ended up sitting next to Jeff Emig. I Tweeted something about her not wanting to say anything to Fro because she was probably star-struck, and when I got home I noticed that she replied to my Tweet (something about him being nice and sweet or some crap that's obviously not true). So there you go. I think I am officially the leader in the MX world for the most famous person replying to me via Twitter. Top that, Weigandt.
In other news:
We're sad to hear that Scrub Magazine is no more. We received this email from Shane Bennett earlier this week: "I just wanted to let you know I will no longer be publishing Scrub Magazine. Between writing articles, taking photos, and trying to sell ad space, the work load simply became too much for one person to handle."
We spotted this post over on PitRacer.com by Mark Shafer.
You may not know, but in addition to moto, I also love to ride my bicycle. Last year, I decided I would ride every day when there was a stage of the Tour de France. It was tough, especially when it was raining, but I accomplished my goal. So this year, I raised the bar; my goal is to ride every day there is a TDF stage, ride half the mileage and try to raise money for Road 2 Recovery. R2R has helped many professional riders that have had career-ending injuries. One such rider is from the central Ohio area.
But I need your help. If I can get to $9,000 in donations, I have a $1,000 performance grant. It would be very cool to give back to a foundation that helped someone we know. Click this link to find out more about R2R and if you make a donation, please put Shafer in the memo box. I'm thanking you in advance for your consideration and I'll post my mileage, trials and tribulations! If I can do this, I will ride over 1100 miles over the next 2 1/2 weeks. Today was day 4 of my Tour de Shaf. I rode 63 miles today for a total of 207 so far.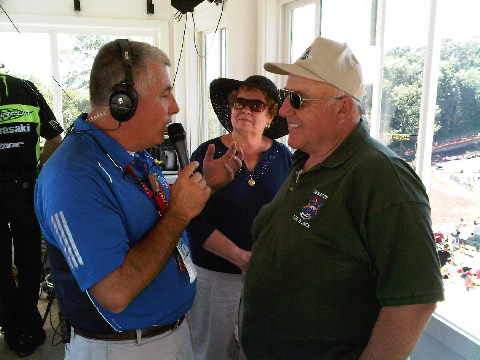 Tim Cotter catches up in the RedBud press box with Michigan State Senator Ron Jelinek from Michigan's 21st District. Cotter, representing MX Sports, and Sen. Jelinek teamed up with Hillsdale, Michigan-based Cobra Motorcycles' Sean Hilbert and Motorcycle Industry Council (MIC) representatives this past year in Washington D.C. to successfully argue against the CPSIA's (Consumer Product Safety Improvement Act) "Lead Law. The effort earned a stay of execution for motorcycle industry companies, such as Cobra, that manufacture dirt bikes and components for kids 12 and under.
Congrats to Nico Izzi and his girlfriend on the birth of their little girl, Mia, on July 6. She weighed in at a healthy 7 lbs, 8 oz.
Finally, a happy birthday to 500Guy, of 500Guy TV fame. He's celebrating his birthday with LeBron, Bosh, and D-Wade down in Miami, but he swears he's not going to sign with the Heat...
Thanks for reading Racerhead, see you at the races.