Thursday Rev Up: Cross Flags
Hello, everyone, and welcome to the Rev Up. First off, sorry for missing you guys last week. I flew down to Daytona to watch a little automobile event, and let's just say things move pretty fast in that arena. I really never had a chance to put down some ink. Fourth of July at RedBud needed no grand introduction or revving, anyway. Each year it brings the heat and boy did it ever last weekend.
Alas, we have entered the halfway point in the 2010 Lucas Oils AMA Pro Motocross Championships. I wanted to use this week's column to review the first six races and rap a little about how the top ten in points in both divisions came to be.
Ah, the air of uncertainty. The opening round of any supercross or outdoor national season rarely produces an indication of what may be. Hangtown was incredible with four different moto winners, and an ocean of new hope. Eli Tomac was so fast that there wasn't just talk of him winning more races, people were straight talking championship. Perhaps a little hasty...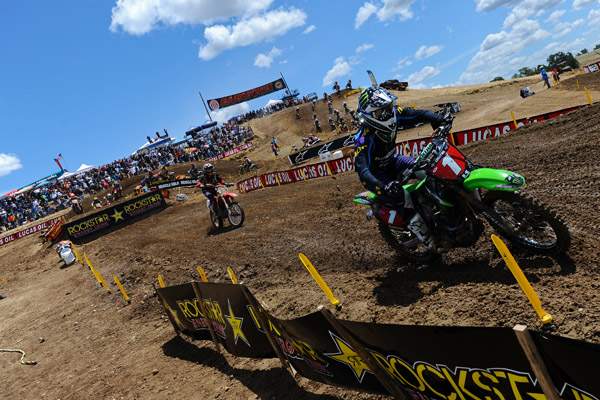 Chad Reed (1) won round one, and it looked like a sign of things to come for the defending champ.
Photo: Steve Cox
Chad Reed had been been written off and goes out and wins the overall after Mike Alessi won the second moto by a mile. Ryan Dungey barely made the top ten and he wasn't going to have the right stuff for his rookie season in the premiere class...
Winning in any sport requires confidence, and confidence produces momentum. The darlings of the opening round showed up ready to prove themselves again. Those first few laps that Eli Tomac put in were some of the fastest I have ever seen anyone ride a motorcycle. That includes JS7 and the GOAT. David Bailey and Weege were actually stuttering trying to explain the speed. Then the gail force wind that was shoving Tomac's sails subsided. Dean Wilson picked up his draft and it was going to be another shocking first-time winner, but he suffered a meltdown that he may never recover from...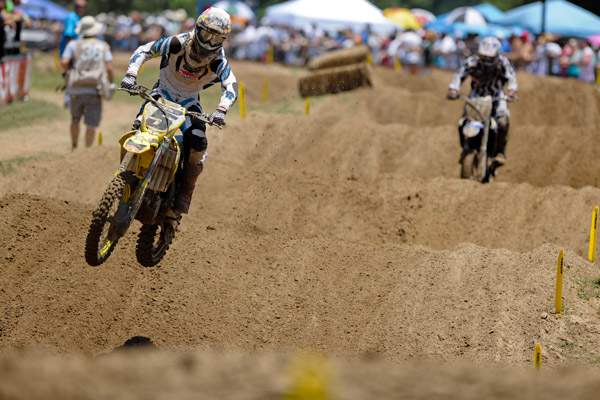 Ryan Dungey dominated in Texas, and it was a sign of things to come.
Photo: Steve Cox
Mike Alessi, on his KTM 350 SX/F was in the lead again and looking like he had everything figured out. Then he fell down in a lazy left-hand corner and for all intents and purposes his confidence and momentum was toast. He has yet to recover. Chad Reed on the other hand rode hard and came on strong late in both motos to maintain his points lead. Ryan Dungey kicked everyone's teeth in and maybe he was going to be ok after all?
We should start calling the place Turning Point, because every year we see the tide turn in Mt. Morris, PA. Chad Reed had the worst race of his career. He rode in with an 11-point advantage and flew back to Florida trailing by 31 in fifth place. Ouch. Meanwhile, Dungey won his fourth moto in a row and he was now unbeatable...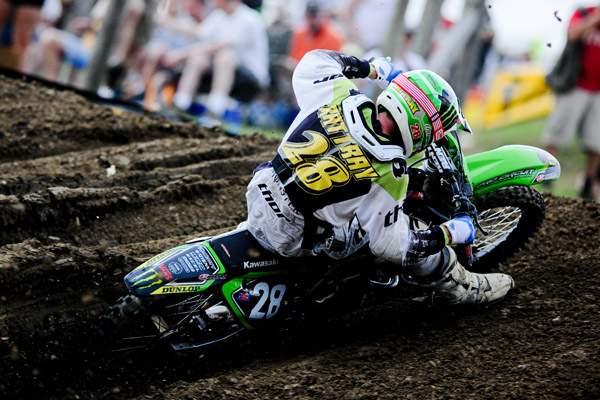 Tyla Rattray finally got his first national win, and he's now a title contender.
Photo: Steve Cox
The 250 class saw a complete change of scenery as the Monster Energy/Pro Circuit wolfpack was dominating. They didn't even need Christophe Pourcel to win, that honor belonged to new title contender Tyla Rattray. Barcia smoked 'em in the sloppy first moto and Blake Wharton finally had a good day.
Wait! Dungey can be beaten! Andrew Short won the opening 450 moto while Troy Lee's Ben Townley rode to a strong third place in moto two. Chad Reed put himself back on the podium, but lost more points to Dungey, who won even when he lost.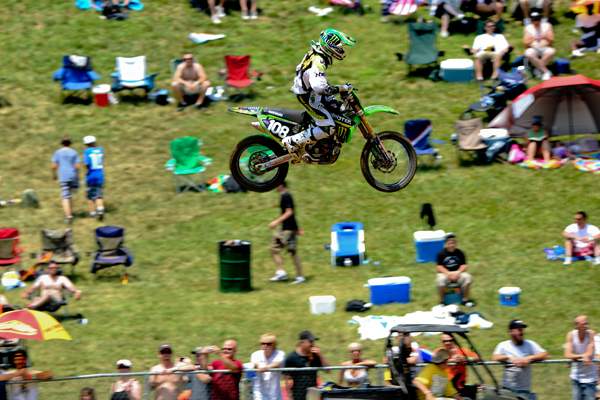 Dean Wilson recovered quickly from his Texas mess to win at Budds Creek.
Photo: Steve Cox
The real story was the return of Dean Wilson. He had his heart ripped out in Texas, but somehow I knew they wouldn't hold him back for long. Turns out, he only needed two weeks to earn back the victory he gave away. That was awesome.
Lakewood
Josh Grant almost blows the red number plate off of Dungey's Suzuki as he passes for the lead and checks out. Where the hell did that come from? Again, Dungey would win the overall and pull even further ahead in the points. The aforementioned Townley throws down his best ride of the season and places second overall.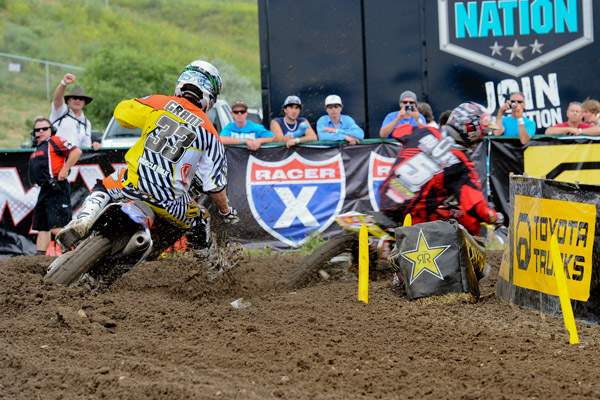 Josh Grant (33) blew by Dungey (5) in moto one, but then where'd he go?
Photo: Steve Cox
Pourcel finally put down a 1-1, but a fire was lit under the GEICO Honda crew...
The statement of the event? Dungey can be beaten... Well, once.
It took six rounds to happen, but the dance inside the six-sided ring of fire occurred at RedBud. Live on NBC. Ben Townley had been coming for a few rounds, and finally he was ready to tear those guys up. He came up short, but when those boys race like that, on L-I-V-E television, everyone in our sport wins. Bravo!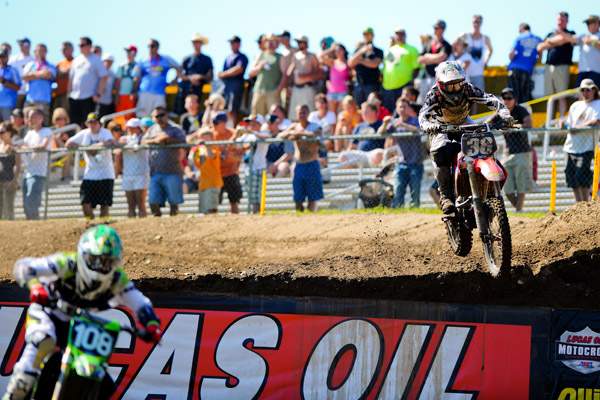 Trey Canard (38) won his first national at RedBud, passing Dean Wilson (108) aggressively to do so.
Photo: Steve Cox
And a true American hero showed up on the Fourth of July. Trey Canard and Justin Barcia collided so hard it bent Trey's clutch, but Ice Trey left it wide open off the ski jump and knocked it back up in the air, then completed the pass. That's a man on a mission. After a broken femur, a broken arm, and a frustrating first half of the 2010 outdoor season, it couldn't have been sweeter.
As it stands, Dungey has a 64-point lead, but look who is back in second place. Let's not think about "what if" let's talk about what's next?! The second half of the series could see overall wins by Grant, Townley, Metcalfe, and Short. We haven't had a real mud race either. Mark my words, the next six rounds of the 250 class is going to produce some of the best outdoor motocross ever. It already has!
And look at what's coming down the pike! The Monster at Millville, scenic 'shougal, Una'effing'dilla, The Wick, Steel City, then the championship finale at a brand-new facility. If RedBud proved anything, it's that each round gets hotter and hotter. Have a good off-week everyone, and I'll see you next Thursday.