Privateer Profile: Tyler Wharton
In motocross, things certainly don't always go according to plan. It was a couple years ago now when the (slightly) older Wharton brother, Tyler, made his pro debut in the 450 class. At that time, the KTM-mounted Texan was fresh off an amateur championship, and maybe not quite prepared to make his pro debut. Still, the now-20-year-old impressed many with his top-ten lap times. Unfortunately, after that, Tyler was not seen much due to injuries, illness, and lack of sponsorship. In his absence, younger brother Blake made a name for himself. But now, with the help of the TISCO Race Team, Tyler plans to regain his career in pro racing.
Racer X:
Tyler, it was just a few years ago when I met you at your pro debut, but have not seen you a whole lot since; what's been going on?
Tyler Wharton
: Yeah, at that race I was riding KTMs and I was a fresh amateur – I wasn't even planning on racing that event. I had actually just won my class at Loretta's and my dad and Sel [Narayana, KTM Management] said, "Let's go race next week." I was pretty young and didn't know any better, so I said, "Okay, I'll race it," but I wasn't ready. I went out in the first moto and hurt my shoulder – I didn't even finish that race, but I had earlier qualified ninth fastest. The rest of the year I raced as an amateur, with the plan to do the last four nationals. At
Millville
I took a ninth in one of the motos, but then got sick and didn't do any more nationals that year. Last year, I did supercross with Wonder Warthog, but struggled a bit. I did make all the mains but one, though. I got an eleventh, twelfth, and thirteenth – finishes like that. In the outdoors, I got hurt early on at
High Point
and didn't race any more the rest of the year. This year, I had a supercross deal lined up but a couple things fell through just a couple weeks before the series started, so I just thought that I would get ready for outdoors. So I had started riding outdoors when Tisco came along and needed a rider for supercross. So with about a week and a half of supercross practice I raced Dallas and got thirteenth – then broke a rib a couple days later. So my last few supercrosses of 2010 were not so good. Now I'm here.
What are you feeling about your motocross series so far?
Not really the best... I have had some problems with being sick and stuff like that, but I feel that I'm getting better. My laptimes have been improving, and I usually ride better during the race than qualifying, so I hope that's a good sign.
Just how important is it for you to have good qualifying laptimes?
Well, to me they are not that important; they don't really mean a whole lot – only for getting you a good gate pick. Of course, getting a good start is really important with these guys; because if you get a bad start you just won't ride as well as you can. You can get caught up behind people, or get caught up trying to do some sketchy stuff and riding over your head. I guess, though, that in some ways laptimes really decide how your day will be; they help you get a good gate pick. But I don't really feel that if you set the fastest time in qualifying that you will win the moto.
Do you and your brother practice a lot together?
Yeah. Actually, we live together, so we work out together in the mornings, ride together in the afternoons, and then eat dinner together – basically everything because we're roommates.
Blake's had some pretty good success. In spite of you being older than him can you learn much from him?
Oh yeah, we ride so much together that I can. He's on his 250 and I'm on my 450 so right now we are pretty close to the same speed – sometime I am faster than him, and other times he is faster. But when it comes down to the racing he's been getting it done. We base everything off of each other, and were very competitive. If I am out-lifting him, he's going to try to better me; same with our riding – we always try to better each other. It always gives us a lot of motivation. The worst thing in the world is to get beat by your brother!
Can you attain the success that your brother has had and get to that next level?
Well that is everyone's goal; to get on a factory team. For sure, I would want to be where my brother is one day – hopefully sooner than later. For now, I am just going to keep doing what I am doing – riding with my brother and having fun – then hopefully things will come together.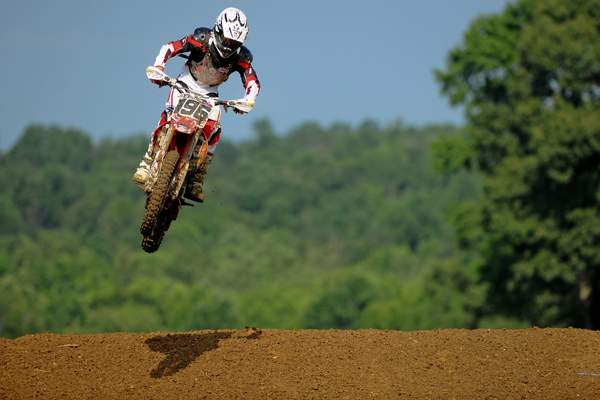 Tyler Wharton at Budds Creek.
Photo: Steve Cox
Tell us what your goals are for the outdoors this year?
During the first couple races, I didn't always finish both motos, so my points are probably down the drain, but position wise I know that I can get top-10 – I've done it before. If I go out there and ride like I know how to ride – be smooth and not make any mistakes – I'll be happy wherever I finish, because I know that will be good. Even if I get a terrible start, or get mixed up in the first turn, if I ride like I know how to ride, I will be fine with that, and things should turn out well. From a results standpoint, I would definitely like to be top-15 every round, and by the end take some top-10s. If I end up top ten in the final points standings, that's okay, and top fifteen would be okay.
What prevents you from riding like you know how to ride?
Maybe pressure. You try not to put pressure on yourself, but it's difficult not to. You want it as bad as everyone else. There are a lot of little mistakes you can make: You can get passed by a guy, take too long in passing them, make a bobble, or get arm-pump. There are just so many little things that you can do to mess up when you are out there that you just have to stay focused. You need to stay calm and race your own race. It's easy to get caught up in things and move backward. My goal is to race against the clock and keep the same consistent laps.
Okay, Tyler, last question: Who do you want to thank?
The Lord Jesus Christ most of all for keeping everyone safe out here; along with Team Tisco and Ronnie Dement, MSR, Honda West, Spy, Silkolene, Dr. D, De Cal Works, Oakley, Shoei, Cycra, TCX, Hyde Racing, and K&N.