Monday Conversation: Trey Canard
GEICO Powersports Honda's Trey Canard was touted to be a championship contender prior to the start of the 2010 AMA National Motocross Championships, but he has struggled. Coming into Colorado last week, he had one second-place moto finish (at round one at Hangtown), but hadn't seen the podium at all since. At Colorado, he started to turn things around with a 3-2 score for second overall, and this past weekend in RedBud, Canard took his first-ever moto win in the second moto, which also resulted in his first overall win. We caught up with the very happy racer after the race.
Racer X:
This has been a long season for you with a lot of ups and downs – a lot of downs, really. Talk about it, because you just won an AMA National.
Trey Canard
: It hadn't been a long season, it's been a long
few
seasons; a long few seasons of kind of sitting there. The beginning of this one has probably been the toughest one for me. I was struggling. I was struggling to even get up in the morning. I feel like I figured some things out this past couple weeks and I want to keep the ball rolling. Man, I'm so happy about that win. I didn't even know if I got the overall and I didn't really even care! I was just happy to win a moto. I was just stoked.
You didn't just win the moto. It's not like you got the holeshot and won the moto. You had to pass a bunch of top guys; guys that have won nationals already this. That's pretty gnarly.
Yeah, I was stoked. I've got to thank Justin Barcia, actually. We had some contact [when Barcia jumped across a couple lines on an off-camber and came into Canard] and it actually really fired me up. It upped my intensity. That was good. I just need to figure out how to do that every time. My starts have got to get better for sure because that's pretty tough to be in the back. My bike was great today, too. We made some changes and it was just awesome. I felt really good from second practice on, so I'm just stoked.
It seems like one advantage of coming from the back, though, is it forced you to pick other lines. In the second off-camber, where Barcia hit you, everyone was kind of hopping down into the inside rut and you were hitting that outside. It seemed a lot smoother and not really any slower.
Yeah, that was one thing being in the back helped a lot with; I felt like my lines were really good. For one, it saved energy, and for two, I think a lot of them were faster. Two laps to go, I'm like, "Man, is this really happening? Just hang on!"
Did you get nervous at all?
There was a point where I got a little negative, and I'm like, "Man, I'm probably going to crash or something." I just tried to stay positive and put in good, solid laps. I was stoked. I know I've said that a bunch, but... You don't know how good this is for me, to finally get this, after three years and some really tough outdoor seasons.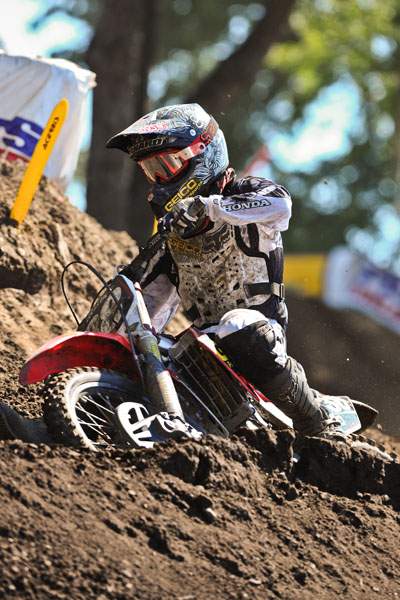 Trey Canard negotiates an off-camber on his way to his first-ever AMA National win.
Photo: Steve Cox
The weird thing is that you've always been fast outdoors. Your rookie season was a little rough at first, but then you started grabbing podiums, and second season you were going to win High Point before you crashed and broke your arm. You've always been fast, so it's kind of weird that it took this long.
I think that my fitness has always been good, but it's just that I haven't figured out how to train during the season to keep it good. I hadn't figured out how to come to the races fresh and still have confidence at the same time. I feel like I'm starting to find that balance, and Timmy Ferry has been huge in that. I know this isn't going to make it easier. Just because I won doesn't mean that the next races are going to be easier. Hopefully, I can go home and do some work these next couple weeks and have fun at Millville.
This is the first real break in the season, so how big is it to go into a break like this? If you lost or had a horrible day, you'd have a long time to think about it...
It's huge. For this, the spirit is high and the enthusiasm is good. It's important to put in the hard work and enjoy riding, but it's hard to enjoy riding when you're not doing good. Just simply enjoying riding is going to be a lot easier now.
When you passed Rattray for second, on that off-camber we talked about, he immediately jumped into your line. It seems like he realized you were going to the front, so he wanted to see what you were doing. He has won world championships and he's been around a long time, so that's kind of cool, isn't it?
I think people forget about Tyla Rattray. The guy is a world champion. It's cool to race with Tyla. He's a good guy; he's a good person. To have him hopping into one of my lines, that's kind of an honor in a way. It makes me feel better that I belong up there.
When you were finally pressuring Dean Wilson for the lead, it took you a few laps, because he wasn't going to give up easy. How did you do get it done?
I saw Wilson riding really hard; pushing really hard. I wasn't sure he could sustain that for the whole moto. I know he's capable of it because at Colorado I was kind thinking the same thing and he pushed all the way to the end. I kind of just tried to wait it out and I realized that he wasn't going to slow down, so when I saw an opportunity, I went for it. Actually, he got me back like right away because I kind of got hung up with a lapper. Then I passed him right back.
You don't get along with lappers, historically...
No, I don't. I've broken some stuff [like his femur at Washougal in 2008] over lappers. I passed him back and it was a little risky, but I knew if it was not now, it might not happen, so I just went for it and tried not to think about it and move forward.
Your team has been behind you a long time. How big was it for them, to have their investment in you pay off outdoors, like they knew it could?
Especially with this new bike, there's been a lot of doubt and a lot of things said about it. There were a lot of people not believing in it. We came out storming at Hangtown and then we had a couple rough ones. For the team, overall, I think it's a really good day. Blake rode really good and Justin rode really good. I think Eli is finally starting to come around from Texas – I know that was a big hit on him. Hopefully, we can keep going and build on some momentum and do some good by the end of the series.
You're obviously not really thinking about points, right?
Not really. I know [the championship] is pretty out of the question at this point in time. I just need to try to build myself up. That's my main thing. That's my goal right now: To come out of this having figured things out and also to have a head of steam going into next year.

Canard, eyes full of tears, celebrates his first-ever moto win.
Photo: Steve Cox
You were so pumped winning that thing that you jump over the fence and you had to high-five every single person in the crowd. What made you do that?
They're so stoked just to be here and I know I don't always have time to shake every hand or autograph everything, but when I do have time I try to use it. Hopefully, I can have an impact on people. That's one of my big goals, which is to have an impact on people, so hopefully I do that and hopefully I continue to build on things.