5 Minutes with Ivan Tedesco
On Saturday night, April 17, 2010, inside the Edward Jones Dome in St. Louis, Missouri, Valli Motorsports Yamaha rider
Ivan Tedesco
held down fourth place in the AMA Supercross main event. Then, on the white-flag lap, the veteran rider came up short on an unforgiving jump, was tossed like a ragdoll over the handlebars and hit the dirt in a heap. It was a frightening crash, and the former two-time AMA West Region Supercross Champion, AMA 250 Champion and multi-time Motocross of Nations winner was stretchered off the track with a collapsed lung, a number of broken ribs, and a broken collarbone. So severe were the injuries that, at one point, Tedesco actually wondered if he'd be able to keep his racing career alive. It was an awful blow to the New Mexican. Having joined the private start-up Valli Motorsports team on the eve of the 2010 Supercross Series, Tedesco had ridden well since Anaheim I, pulling two top-three finishes and six top-fives before the fateful round 14. In fact, before the St. Louis shunt, he was sixth in points and very much the strongest privateer in the classification. Fortunately, after a rough first month, Tedesco started feeling better and was keen to get back on the bike – and back to racing. It's now Fourth of July weekend and
Ivan Tedesco
is only two weeks away from returning to action in the Lucas Oil AMA Motocross Championship. We caught up with the congenial rider after he'd just returned from a training session with friend and coach Johnny O'Mara.
Ivan, so you're out in California now, correct?
Yeah, I'm out here and have just been riding the last couple of weeks and getting things going.
Did you ride today?
Yeah, I just got back a little bit ago. I went out to
Pala
.
After being out with your injuries for so long, I'd imagine it's nice for you to be back on the motorcycle.
Oh, yeah. It's good, man. I'm a little tired because Johnny [O'Mara] has been hammering on me. It's good. It's good to be back. I was getting really bored from sitting around.
You were off the bike for, what, eight weeks?
Yeah, I was off the bike for eight weeks.
After the injuries you suffered at St. Louis, Johnny O'Mara told me you couldn't do much of anything. Is that correct?
Yeah, the first month was rough, you know? I had to drive back from St. Louis because I couldn't fly because of my lung. That took a week. Then for the other three weeks I just kind of hung out and didn't do much and was in a lot of pain. Then about a month in I started doing some bicycling and running. I had a solid month of training before I got back on the bike, which really helped out a lot.
Johnny said when you guys started cycling he had to calm you down a bit. He told me he would have to say things like, "Take it easy, you don't want to blow that [lung] out!"
Yeah, I went out there a couple of times when I first started training and I think that competitiveness in me came out. I think I started pushing a little bit too hard with my lung and everything, but it was good. Once I started training, there were really no issues. And then once I got back on the motorcycle, my injuries were no problem. My ribs felt great. There was no pain whatsoever.
You've been at this sport for quite a while now and the injuries you suffered were pretty gnarly. Did the whole deal shake you up, both physically and mentally?
It did a little bit. Obviously, for four to six weeks it was pretty rough. It seemed like it improved really quick after that. Like I said, I got back on the bike after eight weeks and there was no pain at all. Things healed up really good. Nothing bothered me. But you know when it first happened and I was lying in the hospital, I was thinking, "Man, am I going to be able to come back from this one?" I feel like I still want to do this and I'm not scared or nothing. I want everybody to know that. I'm ready to go out there and lay it down.
You were the top privateer in the points, you were on the podium the Saturday before in Houston, and you were making a run at the top three in St. Louis. What a bad time to have things go sideways….
It was a pretty good year. I had some good races, but I had a stretch there that where I had a lot of bad races in a row, which kind of killed me in the points. It wasn't like I was riding bad, you know? It was just a bad set of circumstances. I was happy with how I was riding all year and that's all you can really do in the end. It was just some bad luck in a few races. So, yeah, I started getting the ball rolling there before I got injured. I started kind of figuring some stuff out. My speed was getting a little better. It sucks I got hurt. I felt like I could have challenged all the way to Vegas, and then outdoors. I felt like I was riding really well before I got hurt.
I was right there at the Yamaha track with Johnny when you, your manager Scott Taylor, and Valli Motorsports owner Chad Lanza and his crew were trying to pull this whole thing together a fortnight before the season started!
We got a late start, but by the time Anaheim came around my bike was good, I was in shape. We still had some growing pains, but the team… I thought it was awesome for a first-year team. I think that's a credit to having good people on the team that knew what they were doing. I'm happy with everything the team did this year. I'm looking to hopefully get back to racing soon and getting some good finishes outside. I thought it was a pretty good year. I think it was successful with the team. It showed we could be up there and consistent for some podiums and be a top-five guy every weekend. The team owner, Chad, he's really into it and wants to do things the right way. He's looking long-term, to be around for a while. I think to do that, you have to do things the right way, and hopefully we can keep this thing going.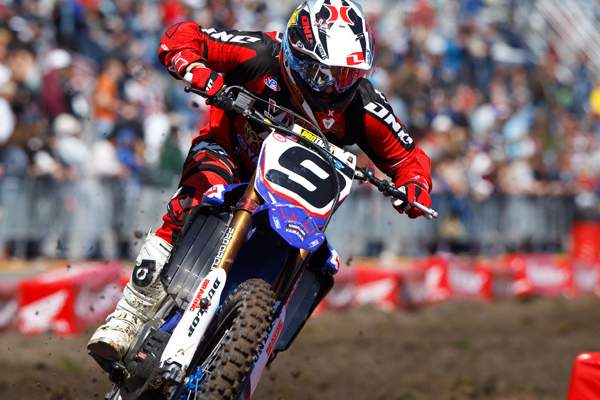 photo: Simon Cudby
Have you been watching the nationals, and if so, what do you think?
I haven't watched all of them on TV. I've watched a few of them. I went
Hangtown
. I went to the fist round and watched in person. The class is pretty deep and there are a lot of good guys, but it seems like nobody is really putting it together week in and week out, and moto after moto, other than Dungey. I think they're making it easy on him right now. Some guys have challenged him but have really been inconsistent. Different guys have challenged him and won some motos, but nobody has been able to give him a challenge week in and week out. He's kind of on cruise control right now.
Chad Reed came out swinging at the opener at Hangtown and has sort of let things get away from him. What's your take on that?
Yeah, at that first race, he looked like he was ready to go. In that first moto, he got the holeshot and was gone. It was easy for him. Since then, he hasn't really been the same guy. I don't know what's going on. I know he's got it in him. He's won plenty of championships. I'm sure he'll figure it out, hopefully sooner than later. The class has a lot of contenders in there, but like I said before, I just think nobody has been able to be a title contender other than Dungey, basically, and I think they are making it easy for him.
Yeah, that's the plan. That'll give me another two weeks on the bike. That's the plan as of now. As along as everything stays on schedule, I'm there. I feel like my riding is going really well and I feel like my fitness is coming back pretty quick.
Do you think you can run up front with the guys right away, or do you think you'll have to warm into it?
I think I can. I wouldn't race until I felt that I was ready to be a contender and be up front. I probably could have raced last week or even this weekend. I think this extra two weeks will help me out. I think by
Millville
, as long as everything stays on schedule, I should be ready to come out swinging and be a front runner.
If Millville falls into place, you'll be able to run six nationals. What are you goals for these races? Podiums?
Yeah, I mean, that's my goal. I would like to get up on the box my first race out. That's my goal first race out. I want to be up front, not midpack. I need to make things happen.