When the TLD/Lucas Oil Honda team let the news out that they had signed Ben Townley to take on the 450cc Nationals, a lot of people didn't know what to make of it. On hand, Ben Townley is Ben Townley. He's gnarly. He always has been, and he very likely always will be. On the other hand, though, he hadn't raced in two years, and very few people outside of Damon Bradshaw have taken a sabbatical like that and been able to win again. And on top of that, he was slated to be racing for the Troy Lee team, which would be making its debut in the 450cc class with Townley behind the throttle.
Combine the new 450cc team, new Honda 450 (for Townley), and two years out of competition, and there were bound to be some doubters. But most of them who were paying attention stopped doubting by the time the second moto finished at Hangtown.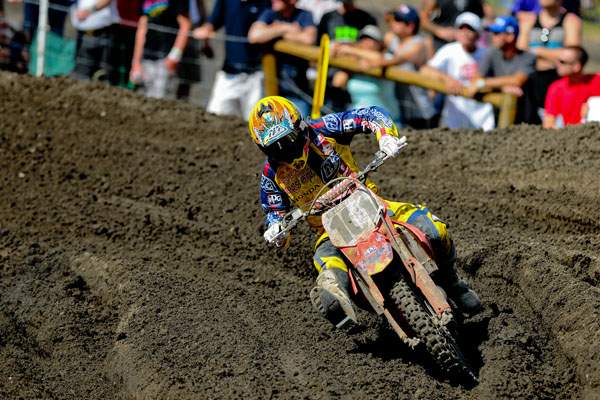 Ben Townley kills a rut on his way to second overall in Colorado.
Photo: Steve Cox
No, Townley didn't win at Hangtown. He didn't even get on the box. But what he did do was pass his way into the thick of the battle up front in both motos before falls knocked him back a bit. In the second moto, at one point, he ran second before he fell.
Who comes off the couch (almost literally in Townley's case, as he spent six of the nine weeks prior to Hangtown laid up with an internal injury) and lays the wood to the likes of Andrew Short, Chad Reed, Ryan Dungey, Davi Millsaps, Josh Grant and the rest of the AMA's top 450cc riders, even if it was sort of spoiled with falls?
Ben Townley does, that's who.
Doubters were silenced even a bit more at the Glen Helen US GP, where Townley absolutely dismantled the rest of the field in the second moto.
Townley's only Achilles Heel was that he wasn't quite in shape yet (refer back to the "off the couch" bit above), and he continued to make small, but costly, mistakes.
The mistakes continued in the first moto in Colorado, where Townley had not one but two falls, but still managed to grab sixth place. But in the second moto, Townley held it together, started third, then worked his way past former teammate Andrew Short and into second, where he stayed until the finish, with only current SX champ and outdoor points leader Ryan Dungey in front of him.
To top if off, the 6-2 score landed Townley second overall on the day – his first podium finish since his return to racing.
The last thing Townley needs to figure out is what happened with that Dungey kid since the last time they raced in 2007...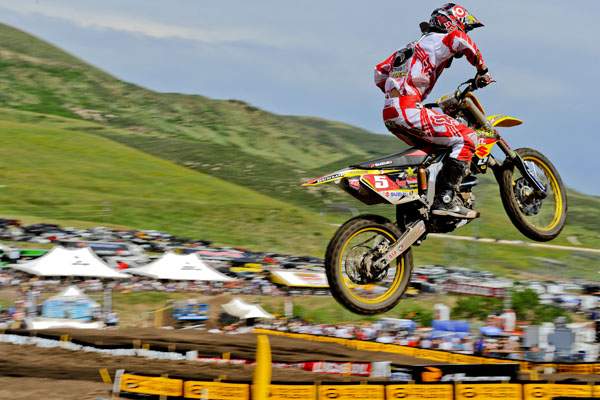 Ryan Dungey has been eating his Wheaties since the last time he raced Ben Townley outdoors.
Photo: Steve Cox