Privateer Profile: Weston Peick
Weston Peick, from Wildomar, California, took a different route to the AMA Pro ranks: Rather than race amateur for many years, Weston turned pro after only two years. He didn't sit around waiting for sponsors to come calling, the now-19-year-old and his dad, Louie, loaded up a bike and made his pro debut at Glen Helen 2009. Now in his second year as a pro, we recently caught up with the Rock River privateer to learn more about him.

Racer X:
Weston, I have to tell you that I didn't really hear of you until Glen Helen last year, where you turned pro...
Weston Peick
: Well, I didn't really have much of an amateur career – maybe only two or three years was the time that I spent there. So, my amateur career wasn't really big, but I was usually top five, and was on the podium a couple times. After Loretta's in 2008, where I won the 450 Intermediate class, I was expecting a little help or support, but I didn't get anything; especially a good ride for the following year, so my dad and I just sat down and talked about what we were going to do. I just said, "Let's go for it; let's go big time and hit the nationals." We skipped supercross, but showed up at
Glen Helen
as a privateer; actually with Wonder Warthog. We ended up top ten there with a ninth, which I was pretty happy about.
Your approach to the transition from amateur to pro was quite different than lots of kids moving up.
Yeah, a lot of amateur kids race their whole life, take a couple amateur championships, then get offered a factory ride in the 250 class. I just didn't have the money to wait around another year in the amateurs to see if I would get that kind of ride. I just came straight into the pros racing a 450 right away. It was hard, but then I started making some money, which has helped out.
Getting back to Glen Helen in 2009; did you expect to do that well?
Coming into my first national like that, I didn't really know what to expect – although it was my home track. But I did set my standards to take a top ten, and I did! I didn't put any pressure on myself and just went out and rode my own race and had fun.
Talk about the rest of the series.
After
Glen Helen
, I got picked up by Moto Concepts, which is a great team and was a great deal for me, but I had a lot of DNFs. Almost every weekend, or every other weekend, I had a DNF – where my bike broke – that put me way down in points. So after that, I just strove for a top ten, but just seemed to have problems. I think that I eventually ended up 20th or 21st in championship points, which I guess was somewhat decent.
Then how did things work out with Rock River for this year?
I actually rode for them a little during my amateur racing - in 2008, I rode for Rock River. Then one day they called me up a couple months before supercross started and told me that they wanted to start a pro team for Supercross and that if they had some money they would keep it going through the motocross series – which they have. It's been going pretty well, and next year should be even better.
I wasn't able to catch that many Supercrosses in 2010; how was the series for you?
Although I had never raced supercross before, and had some trouble getting bikes going into my first year of Supercross, I was definitely expecting it to be a little easier than it was. Toward the end of the series, I was getting better and better and making more mains, but it was tough – especially when you had never ridden it.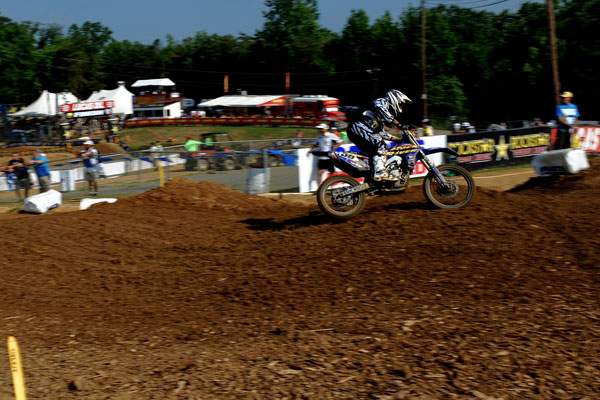 Weston Peick is looking for good things in the last seven rounds.
Photo: Steve Cox
How are you feeling about the motocross series so far?
Okay. Actually, at Hangtown and Freestone, I had some bad luck, though. But it started to get better at High Point.
I would imagine that anyone riding a Yamaha 450 has had to take some time to get the all-new 2010 bike dialed in.
Oh for sure, it was totally all new. But after you have ridden it for some time you get adapted to it – it really is an awesome bike; probably the best bike that I have ever ridden. It has taken a little time to get used to it and how the geometry works, but overall the bike is just great.
Where do you see yourself finishing in the upcoming rounds?
I'm definitely looking for some top tens, if not top fives, so I can get a good ride for next year. I've just got to keep my head straight, keep fighting, and moving forward in the races.
Before we finish Weston, who do you want to thank?
I definitely want to thank Rock River Powersports, my mom and dad, Fly Racing, Yamaha, FMF, Fox Suspension, List MX, and everyone else who has been helping me out here. I appreciate it.