For the first time maybe ever, but definitely in a long time, the Colorado National hosted a top hometown star in each class. Honda Red Bull Racing's Andrew Short is one of them, as is GEICO Powersports Honda's Eli Tomac. One would assume that the very unique traits of the National – the altitude's effects on horsepower and lung-power – would benefit riders from the area.
But did they?
450
Short's starts have been great most of the year now, and they were just as good up the start hill at Thunder Valley. In the first moto, he grabbed the holeshot, and points leader Ryan Dungey, of the Rockstar/Makita Suzuki squad, was quick to jump into second, but Short was doing his best to try and run and hide in the moto. However, on the fifth lap, by himself, Short went down and was unable to get his bike restarted quickly. That handed the lead to Dungey.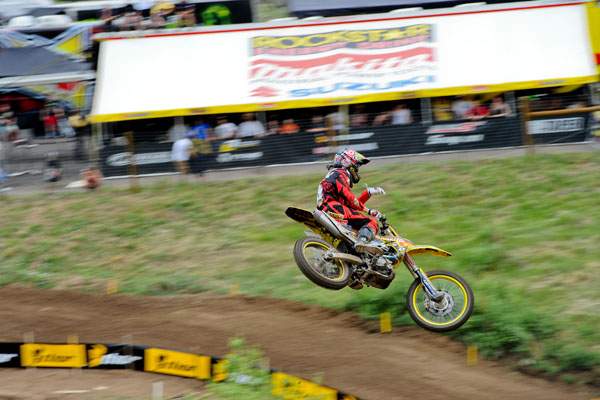 Ryan Dungey went 2-1 on the day to score his fourth overall of the season.
Photo: Steve Cox
However, while that has been more or less the end of most of the races this year, JGR/Muscle Milk/Toyota Yamaha's Josh Grant had other ideas. He was already putting pressure on Dungey before Short went down, and only two laps after Short's departure from the front of the pack, Grant made a pass stick on the points leader. While Dungey did put up a fight, he didn't have much to go after Grant with.
Behind them, TLD/Lucas Oil Honda's Ben Townley was having a great go of it, passing from 10th to fourth in only five laps before tipping over at the bottom of the start hill and falling back to sixth. He later fell a second time and was forced to settle for sixth place.
Rockstar Energy Suzuki's Tommy Hahn started the moto 11th and methodically worked his way up through the pack until he sat third on lap 11 of 16, passing GEICO Powersports Honda's Brett Metcalfe for the position.
At the finish, Grant held a comfortable lead over Dungey, followed by Hahn, and then Metcalfe, who barely held off Valli Motorsports Yamaha's Kyle Cunningham for fourth. Townley was sixth followed by MCRMX's Kyle Chisholm, Short (who got up in 12th), privateer (for now) Kyle Regal and then Monster Energy Kawasaki's defending series champion Chad Reed, who rounded lap one in 22nd place.
Budds Creek
), Jagermeister/FMF KTM's
Mike Alessi
went forward. Looking like a completely different rider than he has for the past few weekends, Alessi started near the tail end of the top 10, rounded lap one in seventh, and then charged forward, not only finishing fifth, but looking for a while like he was going to catch the trio of Metcalfe, Short and Townley.
Behind Alessi came Regal, Reed (who started 10th), Chisholm, Brayton and Josh Grant, who finished 10th after falling in the first turn and getting up dead last.
Hahn dropped out of the second moto with a reported twisted foot, but an updated on the injury wasn't available at the time of the writing of this race report.
Dungey took the overall with a 2-1 over Townley's 6-2, Metcalfe's 4-4, Grant's 1-10, Short's 8-3, Regal's 9-6, Chisholm's 7-8, Alessi's 12-5, Reed's 10-7, and Brayton's 13-9.
With seven rounds (14 motos) still left to run, Dungey now leads the championship by a massive 51 points (more than two motos' worth) over Metcalfe, 218 to 167. Third is Reed, then Alessi, Short, Grant, Townley, Chisholm, Hahn and Regal.
250
With the bikes being down on horsepower, the Crafty Frenchman, Christophe Pourcel, started in first gear on his Monster Energy/Pro Circuit Kawasaki KX250F, and it resulted in the first-moto holeshot over teammate Dean Wilson, GEICO Powersports Honda's Trey Canard, DNA Shred Stix/Star Racing Yamaha's Martin Davalos, Canard's teammate Blake Wharton, Pourcel's other teammate Rattray, Davalos' teammates Max Anstie and Broc Tockle, and the rest of the field.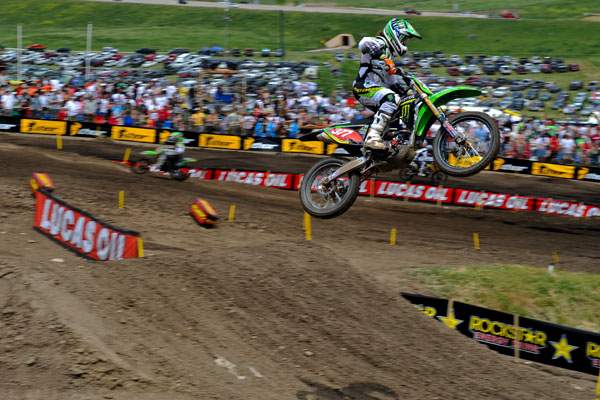 Christophe Pourcel had his first 1-1 score of the season at Lakewood.
Photo: Steve Cox
Pro Circuit's Jake Weimer and GEICO's Justin Barcia, along with about a half-dozen other riders, were down in the second turn and got up nearly last.
Pourcel didn't quite run away with it, because Wilson actually pressured him a couple times during the race, but Pourcel held strong for the moto win over Wilson, Canard, Rattray, Tickle, Wharton, Wharton's teammate Eli Tomac (who started the first lap in 14th), Davalos, TLD/Lucas Oil Honda's Cole Seely, and Weimer, who found his way back to the top 10.
In the second moto, Canard took the holeshot in front of his teammate Wharton, then Wilson, Rattray, Pourcel, MCRMX's Vince Friese, Weimer, Tomac, Barcia, Matt Lemoine, and the rest of the field.
On the second lap, Weimer was taken out by Friese for sixth place, after Weimer had passed him for the spot.

At the finish, it was Pourcel with his first 1-1 finish of the season, followed by Canard, Wilson, Rattray, Wharton, Tickle, Barcia, Davalos, Tomac, Darryn Durham from the Honda of Troy team, and then Friese, who dropped anchor to 11th after taking out Weimer for sixth.
Pourcel took the win with a 1-1 over Canard's 3-2 – a big improvement for the GEICO star – Wilson's 2-3, Rattray's 4-4 and Wharton's 6-5. Tickle was sixth over Davalos, Tomac, Seely and Barcia.
With 14 motos left to run, Pourcel leads the title chase by 34 points over teammates Wilson and Rattray. Canard is fourth in front of Tickle, Barcia, Tomac, Wharton, Davalos and Wil Hahn.
WMX
In the WMX event, Jessica Patterson again dominated both motos and remains perfect on the season with six moto wins, while defending champ Ashley Fiolek finished second overall with a 5-2. The fifth place for Fiolek came at the hand of Tarah Gieger, who knocked her down at the beginning of the race (along with herself). Fiolek was then hit by another rider before getting going again and passing her way back up to fifth, just behind Gieger. Third overall went to Sara Price with a 2-6 score.
Lucas Oil AMA Pro Motocross Championship
Toyota Trucks Thunder Valley National
Thunder Valley Motocross Park - Lakewood, Colo.
June 26, 2010
Round 5 of 12

450 Class (Moto Finish)
1. Ryan Dungey, Belle Plaine, Minn., Suzuki (2-1)
2. Ben Townley, New Zealand, Honda (6-2)
3. Brett Metcalfe, Australia, Honda (4-4)
4. Josh Grant, Riverside, Calif., Yamaha (1-10)
5. Andrew Short, Smithville, Texas, Honda (8-3)
6. Kyle Regal, Kemp, Texas, Honda (9-6)
7. Kyle Chisholm, Valrico, Fla., Yamaha (7-8)
8. Mike Alessi, Victorville, Calif., KTM (12-5)
9. Chad Reed, Australia, Kawasaki (10-7)
10. Justin Brayton, Fort Dodge, Iowa, Yamaha (13-9)

450 Class Championship Standings
1. Ryan Dungey, Belle Plaine, Minn., Suzuki, 218
2. Brett Metcalfe, Australia, Honda, 167
3. Chad Reed, Australia, Kawasaki, 160
4. Mike Alessi, Victorville, Calif., KTM, 154
5. Andrew Short, Smithville, Texas, Honda, 153
6. Josh Grant, Riverside, Calif., Yamaha, 152
7. Ben Townley, New Zealand, Honda, 151
8. Kyle Chisholm, Valrico, Fla., Yamaha, 108
9. Tommy Hahn, Decatur, Texas, Suzuki, 101
10. Kyle Regal, Kemp, Texas, Honda, 94

250 Class (Moto Finish)
1. Christophe Pourcel, France, Kawasaki (1-1)
2. Trey Canard, Shawnee, Okla., Honda (3-2)
3. Dean Wilson, Scotland, Kawasaki (2-3)
4. Tyla Rattray, South Africa, Kawasaki (4-4)
5. Blake Wharton, Pilot Point, Texas, Honda (6-5)
6. Broc Tickle, Holly, Mich., Yamaha (5-6)
7. Martin Davalos, Ecuador, Yamaha (8-8)
8. Eli Tomac, Cortez, Colo., Honda (7-9)
9. Cole Seely, Newbury Park, Calif., Honda (9-12)
10. Justin Barcia, Ochlocknee, Ga., Honda (16-7)

250 Class Championship Standings
1. Christophe Pourcel, France, Kawasaki, 219
2. Dean Wilson, Scotland, Kawasaki, 185
3. Tyla Rattray, South Africa, Kawasaki, 180
4. Trey Canard, Shawnee, Okla., Honda, 162
5. Broc Tickle, Holly, Mich., Yamaha, 151
6. Justin Barcia, Ochlocknee, Ga., Honda, 140
7. Eli Tomac, Cortez, Colo., Honda, 135
8. Blake Wharton, Pilot Point, Texas, Honda, 112
9. Martin Davalos, Ecuador, Yamaha, 108
10. Wil Hahn, Decatur, Texas, Honda, 106

WMX Class (Moto Finish)
1. Jessica Patterson, Tallahassee, Fla., Yamaha (1-1)
2. Ashley Fiolek, St. Augustine, Fla., Honda (5-2)
3. Sara Price, Canyon Lake, Calif., Kawasaki (2-6)
4. Jacqueline Strong, Sedona, Ariz., Yamaha, (3-5)
5. Sarah Whitmore, Cheboygan, Mich., KTM (6-4)
6. Vicki Golden, El Cajon, Calif., Yamaha (9-3)
7. Tarah Gieger, Winter Gardens, Fla., Honda (4-7)
8. Alexah Pearson, Rocklin, Calif., Yamaha (8-8)
9. Mariana Balbi, Brazil, Yamaha (7-13)
10. Erica Cook, Natalia, Texas, Yamaha (12-9)

WMX Class Championship Standings (After 3 of 8 Rounds)
1. Jessica Patterson, Tallahassee, Fla., Yamaha, 150
2. Ashley Fiolek, St. Augustine, Fla., Honda, 124
3. Tarah Gieger, Winter Gardens, Fla., Honda, 109
4. Vicki Golden, El Cajon, Calif., Yamaha, 97
5. Sara Price, Canyon Lake, Calif., Kawasaki, 88
6. Mariana Balbi, Brazil, Yamaha, 78
7. Sarah Whitmore, Cheboygan, Mich., KTM 72
8. Jacqueline Strong, Sedona, Ariz., Yamaha, 71
9. Alexah Pearson, Rocklin, Calif., Yamaha, 70
10. Tatum Sik, Temecula, Calif., Yamaha, 68