Hello, everyone, and welcome to the Rev Up. First off, let's hear it for Team USA winning yesterday in the FIFA World Cup! Motocross is widely considered the second most physically demanding sport in the world—second only to professional soccer. As we prepare for another awesome weekend of the 2010 Lucas Oil AMA Pro Motocross Championship, it's time to get patriotic about it! When I think about the Lakewood National, one of my all-time favorite songs, "Pound for Pound," screams in my head. Some of you gritty old-schoolers will remember this song from the opening scene in Fox Racing's Air Raid.

Well, okay! Let's get it out—enough with the small talk!

The hometown theme hits especially hard this weekend with Colorado-born riders Eli Tomac and Andrew Short ready to show up and blow up. Let's hear it for Short finally throwing one down last weekend! Does GEICO save you money on car insurance? Does Andrew Short ride a mean CRF450R? That's how you do it, son! Always one of the nicest and most down-to-earth riders in the pits, Andrew has been frustrating to cheer for. Racing is about winning, and winning in outdoor motocross is about the overall, but a moto win is huge. Very pretty work, #29.

We have another burly one closing in on us. The boys will ride into thin air in Colorado, and it's tough to simply walk the track at that altitude, let alone do thirty plus two. Twice. This also plays into the hometown boy's wheelhouse. Let's get "Pound for Pound" cranked up in the headphones and get revved the hell up for round five, baby!

250

Last year we saw an amazing eight-rider train in this division, and this will likely repeat. Christophe Pourcel now has some serious company by way of Tyla Rattray and Dean Wilson. I think Wilson has more speed then Tyla, but the 28 has more experience and late-moto steam. When you consider that Jake Weimer went 1-1 at Lakewood in 2009, it's hard to see him on the bottom of the Monster Energy totem pole, but he is. That's a stout a totem pole, though. Wilson is getting better every week and I'm super impressed.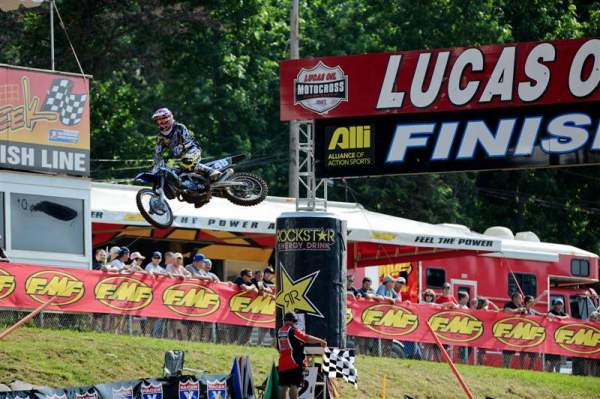 Max Anstie will be up front in Colorado.
photo: Steve Cox
What will the GEICO crew have to say about it? For starters, Trey Canard should be ready to unleash the fury and get back to winning form. He's having a really tough outdoor series, but at least he's staying healthy. Don't forget Trey broke his femur and his arm pushing the envelope outdoors. He's trying to find the formula, and he will soon. Justin Barcia has been inconsistent, but he has won and will win more motos before the summer is out.

Pourcel has everyone in the hurt locker right now and it's time for an American to step up and beat him. I just noticed something interesting that should fuel the Yanks. France vs. USA for five sets? And they're still playing as I write! If Eli Tomac can fight as hard as John Isner, he'll get another win in front of his hometown fans.

Major bummer about Blake Baggett. Get well soon!

450

I told you it was early to put the crown on Ryan Dungey's head. That no-goggle deal last week could have been the end of the championship for #5. If a rock can knock out your goggle lens, well, I don't even have to say it. Chasing a 450, er, 350 for a whole moto with no Oakleys is super sketchy. Somebody should have made the call to pit for goggles, because that could have cost the Rockstar/Makita Suzuki team the title—and RD5 a flippin' eye!

And we finally have a legitimate yell for Andrew Short to nail one of these down. He has all the momentum in the world heading into his home-state race. Shorty always gets good starts, and he just needs to grit his teeth and do it. I'm giving him the nod this time around. Chad Reed and Josh Grant will have something to say about the win, and then Mike Alessi and Ben Townley need to get themselves back on the podium.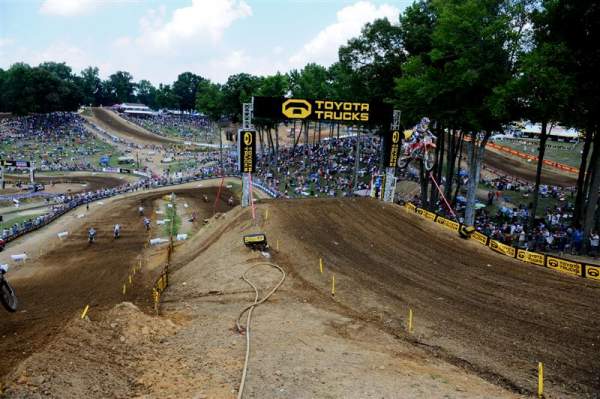 I'm betting Shorty takes his first O/A this weekend. Any takers?
photo: Steve Cox
It's going to be hot and the altitude will play a factor on the athletes and the machines. The fuel injection on the bikes is new technology, and it could be a pain, given the extreme heat and altitude. It's going to be tough. Lakewood is an awesome national. The track is as beautiful as it is challenging, and somehow everything looks more crisp at altitude. This time the Americans need to carry the flag and kick some ass. Pound for pound, let's hear it for the hometown!

Thanks for reading. See you next week.