Miss Supercross 2011 Announced
AURORA, Ill. – Feld Motor Sports announced today that Mercedes Terrell has been reappointed to the role of Miss Supercross for the 2011 Monster Energy AMA Supercross, an FIM World Championship, season.

"It feels amazing," said Terrell. "I was so lucky to have the chance this past season to represent the sport and the fact that I've been asked to do it again is such an honor. I'm really excited for the season to start! There are so many great storylines heading into next year with Ryan Dungey as the defending champion, and the return of Chad Reed and James Stewart."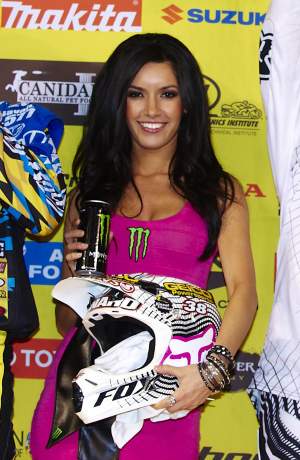 Mercedes Terrell will serve as Miss Supercross for the 2011 Monster Energy Supercross season. Click here for more photos.

Growing up around the sport of Supercross, Terrell was appointed to the role of Miss Supercross prior to the start of the 2010 season. She embraced the role, serving as a spokesmodel and pit reporter during the coast-to-coast tour that attracted more than three-quarters of a million fans in some of the nation's premier markets.

"There's so much I'm looking forward to for the upcoming season, traveling the country, being around an amazing group of people, getting to meet supercross fans around the world who attend the races, and watching one of the most intense sports first hand every weekend for a full season," added Terrell. "I've been to so many different events during my modeling career and none carry the excitement and enthusiasm quite as well as Supercross does. It's just a truly great sport and I'm so lucky to be a part of it all."

Terrell will serve as the face of Monster Energy Supercross at 17 races of the 2011 season, representing the sport through a variety of promotional opportunities as well as standing atop the podium to greet the world's fastest riders at the conclusion of each race. In addition, Terrell will conduct video interviews and more that will be available at www.SupercrossOnline.com.

For more information on the Monster Energy AMA Supercross, an FIM World Championship, please log on to www.SupercrossOnline.com.

For all media requests, please contact Denny Hartwig at dhartwig@feldinc.com or 630-566-6305.