No matter the obstacle, it seems Rockstar/Makita Suzuki's Ryan Dungey is able to ultimately clear it – or at minimum, give it his best effort. Such was the case in moto one at Budds Creek, when Dungey had a fall early in the moto. When he hit the ground, sweat from inside his goggles splashed onto the inside of his lens, so he had to jettison his goggles. He got up in fourth (was in second when he fell) and still ended up passing his way into third and then eating 350cc roost from Mike Alessi all the way to the finish while trying to pass the Jagermeister/FMF KTM rider. Many riders would back off with such an eyeful, but Dungey not only didn't back off, he continually tried to make a pass.
It's no wonder why he carries the red plate and a giant points lead only four rounds into the championship.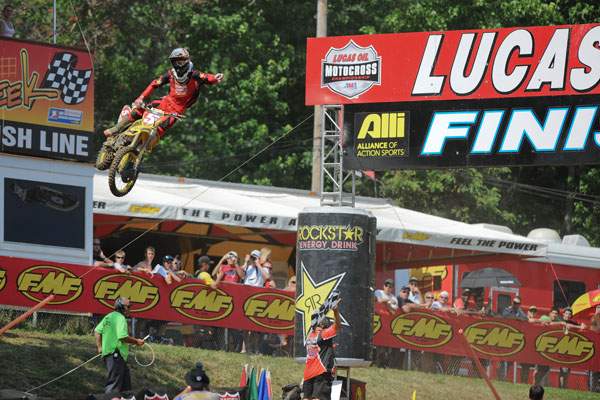 Ryan Dungey snatched his third overall win in a row at Budds Creek.
Photo: Steve Cox
450cc
GEICO Powersports Honda's Brett Metcalfe had another holeshot to match his two from Texas at the start of the first moto, but he was quickly passed by Honda Red Bull Racing's Andrew Short, who nearly won a moto at High Point. Short quickly began to pull away as Metcalfe tried to fight off a slew of riders behind him. The first one by was Dungey, followed by Alessi, and then Lucas Oil/TLD Honda's Ben Townley, but it wasn't long before Dungey had his fall and remounted fourth, had to pass Townley again, and then set out after Alessi.
All the while, Short was enjoying a comfortable lead.
Dungey never could make the pass, and although the Dungey/Alessi train closed on Short from time to time, they could never get close enough to the Honda rider to make a move. Townley ran fourth until lap 14, when he lost the spot to defending champ Chad Reed of the Monster Energy Kawasaki team, and it was soon after that Townley slowed with bike trouble of some sort and ended up 14th.
The top five in the moto were Short, Alessi, Dungey, Reed, and then Muscle Milk/Toyota/JGR's Josh Grant, who was the last of the riders to pass Metcalfe, who finished sixth.
Moto two saw Short grab the holeshot over Dungey, Reed, Metcalfe, Alessi, Townley, Grant and the rest of the field, but Alessi suffered a reported bent front-brake rotor in the first turn and he started getting passed right away, eventually finishing 12th in the moto.
Dungey followed Short for three laps before making his move to the lead, and at that point, Short also started to fall backward through the pack, as he was quickly swallowed up by Reed, Metcalfe, and then soon thereafter, Townley.
Reed raced the rest of the moto in second, but he could never bite into Dungey's lead, saying after the race that he probably over-trained in the Florida heat during the week and felt sort of listless on the track.
Townley held off Grant for third, while Short, Metcalfe, MCRMX's Ryan Sipes and Kyle Chisholm, Valli Motorsports Yamaha's Dan Reardon, and Grant's teammate Justin Brayton rounded out the top 10.
Overall, Dungey did it again over Short, Reed, Grant and Alessi. Dungey now holds a commanding 36-point lead in the series, although there are 16 motos left to run.
250cc
Monster Energy/Pro Circuit Kawasaki's Christophe Pourcel grabbed the first-moto holeshot over GEICO Powersports Honda's Eli Tomac, DNA Shred Stix/Star Racing Yamaha's Max Anstie, Tomac's teammate Justin Barcia, Pourcel's teammate Tyla Rattray, Anstie's teammate Martin Davalos, Pourcel's teammate Jake Weimer, TLD/Lucas Oil Honda's Wil Hahn and the rest of the field. Dean Wilson rounded lap one in 11th, just in front of Anstie's teammate Broc Tickle, and Trey Canard rounded lap one in 15th, just in front of Jake Weimer.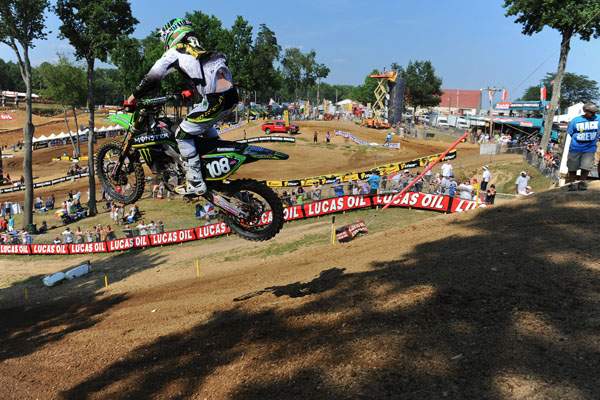 Dean Wilson made good on his Texas promise by winning the Budds Creek AMA National.
Photo: Steve Cox
Pourcel never pulled away all that much, but Tomac soon began to falter, letting Anstie by for second, then falling and moving backward later in the race to eventually finish 10th. Anstie never got close enough to Pourcel to pressure him, but never was too far back as he fought off the advances of Rattray and Barcia late in the race, but Anstie went down with less than four laps to go, handing second to Rattray and third to Barcia. Anstie remounted in fifth and then finished seventh. He was later docked a position to finish eighth for cutting the track somewhere. Weimer was also docked a spot, which dropped him from 20th (one point) to 21st (no points).
The second moto saw Hahn grab the holeshot, which lasted a couple of laps before Wilson made his way by. Barcia followed suit to move into second while Pourcel seemed to hover around in fourth place before losing that spot to Rattray. Rattray soon got by Hahn as well, and the top five looked pretty set. But then, late in the race, Rattray caught Barcia and knew that if he could pass Barcia, it could mean a second overall-win in a row. Before the white flag, Rattray almost had the pass made, but faltered and went off the track momentarily, and that was all Barcia – and Wilson – needed.
Wilson took the moto win, and the overall, over Barcia and Rattray, while Hahn finished fourth, and Pourcel fell on the last lap and lost a spot to finish sixth behind Tickle. Weimer was seventh and Canard was eighth. Then came Blake Wharton and Martin Davalos to round out the top 10.
With eight rounds left, Pourcel leads the points by exactly 25 points over teammate Rattray, with Wilson just one point farther behind.
Lucas Oil AMA Pro Motocross Championship
MotoTees.com Budds Creek National
Budds Creek Motocross Park - Mechanicsville, Md.
June 19, 2010
Round 4 of 12
450 Class (Moto Finish)
1. Ryan Dungey, Belle Plaine, Minn., Suzuki (3-1)
2. Andrew Short, Smithville, Texas, Honda (1-5)
3. Chad Reed, Australia, Kawasaki (4-2)
4. Josh Grant, Riverside, Calif., Yamaha (5-4)
5. Mike Alessi, Victorville, Calif., KTM (2-12)
6. Brett Metcalfe, Australia, Honda (6-6)
7. Ryan Sipes, Vine Grove, Ky., Yamaha (7-7)
8. Ben Townley, New Zealand, Honda (14-3)
9. Kyle Chisholm, Valrico, Fla., Yamaha (8-8)
10. Justin Brayton, Fort Dodge, Iowa, Yamaha (10-10)
450 Class Championship Standings
1. Ryan Dungey, Belle Plaine, Minn., Suzuki, 171
2. Chad Reed, Australia, Kawasaki, 135
3. Brett Metcalfe, Australia, Honda, 131
4. Mike Alessi, Victorville, Calif., KTM, 129
5. Andrew Short, Smithville, Texas, Honda, 120
6. Josh Grant, Riverside, Calif., Yamaha, 116
7. Ben Townley, New Zealand, Honda, 114
8. Ryan Sipes, Vine Grove, Ky., Yamaha, 81
9. Kyle Chisholm, Valrico, Fla., Yamaha, 81
10. Tommy Hahn, Decatur, Texas, Suzuki, 81
250 Class (Moto Finish)
1. Dean Wilson, Scotland, Kawasaki (4-1)
2. Justin Barcia, Ochlocknee, Ga., Honda (3-2)
3. Tyla Rattray, South Africa, Kawasaki (2-3)
4. Christophe Pourcel, France, Kawasaki (1-6)
5. Wil Hahn, Decatur, Texas, Honda (5-4)
6. Broc Tickle, Holly, Mich., Yamaha (6-5)
7. Trey Canard, Shawnee, Okla., Honda (7-8)
8. Martin Davalos, Ecuador, Yamaha (9-10)
9. Blake Wharton, Pilot Point, Texas, Honda (11-9)
10. Eli Tomac, Cortez, Colo., Honda (10-13)
250 Class Championship Standings
1. Christophe Pourcel, France, Kawasaki, 169
2. Tyla Rattray, South Africa, Kawasaki, 144
3. Dean Wilson, Scotland, Kawasaki, 143
4. Justin Barcia, Ochlocknee, Ga., Honda, 121
5. Broc Tickle, Holly, Mich., Yamaha, 120
6. Trey Canard, Shawnee, Okla., Honda, 120
7. Eli Tomac, Cortez, Colo., Honda, 109
8. Wil Hahn, Decatur, Texas, Honda, 106
9. Jake Weimer, Rupert, Idaho, Kawasaki, 94
10. Martin Davalos, Ecuador, Yamaha, 82