Another week down in 2010 and another Racerhead. Let's begin with good news, and then strange news. The good news is that there's a new Weigandt in the world! Jason Weigandt and his supercool wife Alisa are proud parents for the first time! Little Miss Lily Weigandt entered the world yesterday afternoon after a very long wait—like, really, long. But mama and baby are doing just fine.

Jason, on the other hand, is probably a mess. They did not check the status (boy or girl) and were extremely happy to have the stork deliver a girl. But the whole thing has the Weigandts +1 in serious need of some nesting time.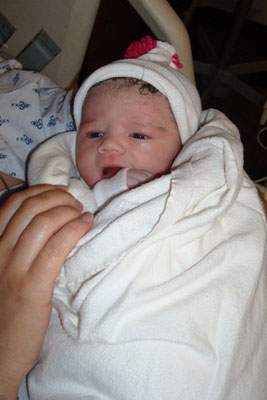 Lily Weigandt was born on Thursday June 17th, 2010.

Which brings us to the strange news....
I have been asked to (very) temporarily fill in for Jason in the Speed TV coverage of tomorrow's MotoTees.com
Budds Creek
National from Maryland! Yes, I am sitting in for the Weege, who was sitting in for Ralph Sheheen, who was sitting in for Art Eckman, who was sitting in for Larry Maiers, who was sitting in for Dave Despain.... I was in there before, but mostly as a pit reporter (then they decided to go with beauty and brains and I was out of work completely—thank God I had that magazine gig to fall back on). Anyway, I'm sure they exhausted the rolodex before I got call, and given the situation here in Morgantown with Weege and the girls, I am more than glad to be invited to bench race all afternoon with The Jeff Emig. Wish me luck, and watch with an open mind, please. Weege will be back for
Thunder Valley
next week, I promise!
You can watch the
Budds Creek
National tomorrow night with Speed's same-day coverage of the 2010 Lucas Oil AMA Motocross Championship. The 250 class airs at 8:00 p.m. Eastern, followed by the 450 class at 9:00 p.m.
And after hitting our own starting gate the first two times out, the live video feed on
www.allisports.com
worked exceptionally well last Saturday from
High Point
Raceway. Thanks to Doug Kirk, Will McDonough, and the entire Alli Sports crew for working through some very technical issues. Having said that, knock on wood and watch tomorrow's first motos live beginning at 1 p.m. ET from Maryland (and tune in a little early to hear me and Fro Daddy try to find our rhythm and cadence).
What happened to
Justin Barcia
in the second moto? The GEICO Powersports rider won the first moto going away. Turns out he had a problem with his pipe. Apparently, he tangled with KTM's
Tommy Searle
on the first lap of the second moto and it smashed in his pipe. That caused his bike to lose power, and although he soldiered on to the finish line, he could only muster a twenty-first-place finish—one spot out of the points!
"TheCynic82" posted the funniest motocross video since "Brandon's first race." It's an overly excited 65cc Italian rider who is either absolutely, over-the-top stoked about racing or the recent recipient of a supercross-sized portion on energy drinks. Check it out:
The
High Point
National was last weekend, of course, and we all got pretty damn lucky with the weather. It was gorgeous in the morning, then started raining at about 2 p.m. Then it stopped and was almost perfect for the second 450 moto at 3:15 p.m., which was the one that aired live on NBC (never going to get tired of typing that).
Ryan Dungey
and
Andrew Short
put on a great show in a methodical battle for the lead, where RD slowly but surely reeled in the Honda Red Bull Racing rider. It was good stuff and great TV.
In the 250 class, not a single person in the paddock was disappointed with the fact that
Tyla Rattray
won his first race while here in America. Just like Greg Albertyn and
Grant Langston
before him, Tyla is a world-class guy. He is as polite as he is fast and as funny in the pits as he is fierce on the track. He gave up a certain shot at more world titles in Europe, just as Langston and Ben Townley and
Christophe Pourcel
and a growing list of others have in order to come here and race in the deep end of the global talent pool. Last year was pretty much awful for Tyla, and he's yet to enter an AMA Supercross in two years here. But the win on Saturday may have been just the thing. He's second in points now, smack between his Monster Energy/Pro Circuit Kawasaki teammates Pourcel (France) and
Dean Wilson
(Canada), and he could get on a roll now. Remember, after a slow start, his last three motos have been 1-2-2.
Which raises the question: Where the hell are the Yanks? Besides
Eli Tomac
and the occasional glimpses of
Broc Tickle
,
Blake Wharton
,
Trey Canard
, and
Blake Baggett
(the last two of which both had fantastic come-from-behind rides), it seems like the foreign imports have the upper hand so far. Once
Tommy Searle
gets healthy again—and is joined next year by Marvin Musquin on those KTMs—our boys could have their hands full. Wait, they already do!
If you're at the races this weekend at
Budds Creek
, chances are you're going to see a lot of injured U.S. military veterans on hand. Promoter Jonathan Beasley has a huge heart for both motocross and those who serve, and with the Walter Reed Hospital system right up the road near Washington, D.C., Beasley always opens his gate for the men and women and their families who have given so much for so many others. So take a moment and thank one of those soldiers, and maybe even Jonathan Beasley.
Okay, I have to load up two kids and three suitcases into one small SUV and hit the road to
Budds Creek
.
Let me turn it over here to
Steve Cox
:
Almost everyone seemed puzzled after seeing
Ryan Dungey
's finish at the
Hangtown
National – even his competitors. And although almost everyone expected him to right the ship eventually, I don't think many people expected him to right the ship quite like he has. Somehow, in the two weeks between
Hangtown
and Texas,
Ryan Dungey
became
Ryan Dungey
again, all at once. He has dominated the last four motos, and the rest of the field is now scratching their heads for different reasons. This time, they're not wondering what's wrong with him; they're wondering how they can stop him.
Well,
Chad Reed
goes fast at
Budds Creek
, so he has to be one of the favorites to stop the Dungey juggernaut. We'll have to wait and see. It's going to be pretty warm and humid (about 90 degrees plus humidity), but it doesn't sound like it's going to be too bad.
And in the 250 class, while
Christophe Pourcel
and
Tyla Rattray
seem to be dominating right now (Pourcel with a massive points lead and Rattray with 1-2-2 scores in the last three motos), we've got at least a couple of wild cards that we should be paying attention to coming into
Budds Creek
. First, there's last year's winner,
Jake Weimer
. If he gets a couple of starts, he very well could win this weekend. And then there's his Lites West SX rival
Trey Canard
. Things were looking pretty bleak for Canard this season, as he has had some pretty miserable motos (and heat stroke in Texas), but sometimes you have to take a step back before you can take two steps forward, and that might be what has happened with Trey. He fell on the first lap in both motos at
High Point
(where he broke his arm while leading late in the moto in 2009), but it was the second-moto crash that maybe was his one step back. Canard got up way back in the pack, finished lap one in twenty-first place (and you know he passed a few guys prior to the end of that lap), and charged up to fourth! That's pretty amazing in a 250cc field like we see right now.
Essentially, Canard passed half the field – and it was the good half. The front half. It seems like something may have clicked for Canard, and if it did, watch out.

Between Weimer, Canard, Pourcel, Rattray,
Eli Tomac
,
Justin Barcia
,
Blake Baggett
,
Dean Wilson
,
Tommy Searle
,
Broc Tickle
, and the rest of the very stacked 250cc field, I don't know about you guys, but even though the 450cc guys get the big bucks, the premier class (as far as racing is concerned) is the 250cc class. I'm looking forward to seeing how this plays out.
In other news, Valli Motorsports Yamaha's
Michael Byrne
has had his bad luck continue, breaking a bone in his hand last weekend at
High Point
. He says he'll be healed in four weeks and should be back by
Millville
.
It was an interesting week at the Racer X Offices. For a few days we had the world's fastest parking lot, as GEICO Powersports Honda's Brett Metcalfe and current privateer Grant Langston (yes, he's a privateer, no matter how you look at it) parked together in the company lot. And staying off-site was another privateer, Scotty Champion, along with his girlfriend, Erin Normoyle. We even had the illustrious GuyB of VitalMX.com fame hanging out for a day before heading south with his Tacoma-and-camper mobile HQ. It was fun to hang out with all those guys and bench race. Metty is loving the 450, loving the fact the races are being shown live in Australia, and loving the fact that his beloved Los Angeles Lakers were in the NBA Finals (he even wore his Lakers jersey to Mario's Fishbowl to watch Game 6; can't imagine how happy he and Sheena were after they clinched it last night).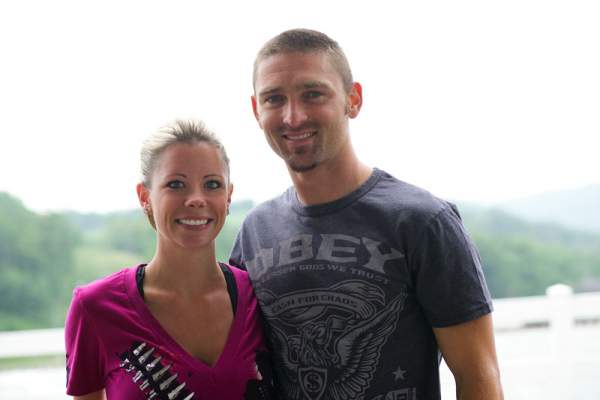 Sheena and Brett Metcalfe were around the Racer X office all week.
Photo: Fred

And here's a funny Langston story. Grant knows motocross very, very well. He went through my office spotting all kinds of old-school memorabilia and stickers and posters and trading cards. We started talking about the Motocross des Nations, where we first met in 2000, and he brought up the fact that the biggest disappointment in his young life was not getting to go to the '93 race in Schwanenstadt, Austria. "My dad was a mechanic for another rider and he got to go but he didn't have enough money for me to go, so I cried and cried," Langston admitted. "And when he got back, I was even more bummed because all I wanted was a poster or something from the event. All he brought back was a back of Hi-Flyers trading cards - no poster, no nothing...."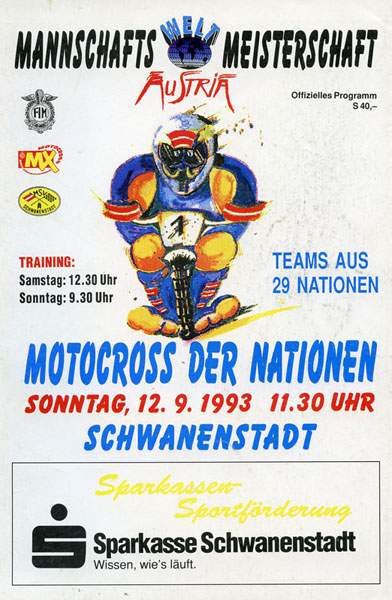 Turns out it was Grant's lucky day. That was also my first MXoN back in '93, and I just happened to have an extra event program from Schwanenstadt in my collection. When I gave it to GL, his eyes lit up like a 10-year-old's. He immediately wanted to call his dad. It was pretty cool. But if he rides for South Africa this year, I'd better be getting one of his jerseys!

To see a little of the MX memorabilia in our office, plus GL hanging out and taking it all in, check out GuyB's slideshow right here: http://www.vitalmx.com/news/news/Road-Tripping-Inside-Racer-Productions,3292


In other news:


Jeff Emig sent us this:

Check out this old MXdN footage that someone just put up. It's Australia 1992. The guy hit me up on Twitter and told me it was up. Hopefully, he will post the rest of the races.

Says Fro: "My interview after the race is SO bad."
http://vimeo.com/12582983
Thunder Valley
will be hosting Danny Walker's American Supercamp program. American Supercamp is uses Yamaha minibikes for what is essentially a learn-to-ride-a-dirt-bike program for kids. Walker is putting on the event in conjunction with event promoter David Clabaugh and Yamaha dealer Coyote Motorsports. This will be a great addition to this event.
Another cool thing to do while in Denver
/article/carlsbad-usgp-movie-premiere.asp


That's it for this week. See you at the races.