To say that Tyla Rattray was a sleeper coming into the 2010 Lucas Oil AMA Pro Motocross Championships is perhaps an understatement, but he isn't one anymore. After suffering injury after injury since coming to the USA, Rattray has recovered to finish 1-2-2 in the last three motos run and win the overall at Mt. Morris, moving himself into second overall in the points standings.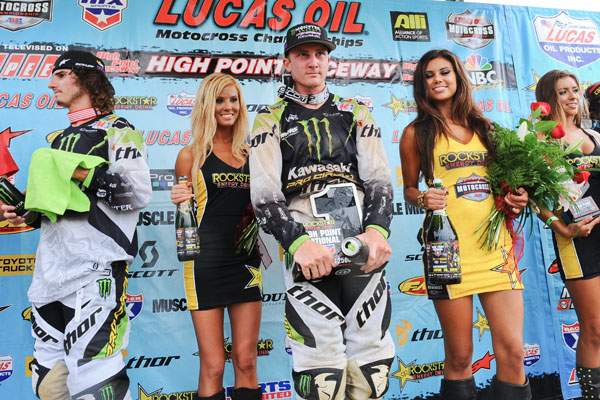 Tyla Rattray got the 1 there with two 2s. He's going to be a thorn in the side of this championship at the very least.
Photo: Steve Cox
And he has done so with brains, not brawn, as many people seem to think. Rattray has been racing professionally since he was 14, racing the European and German Championships in 2000, then moved to the GPs in 2001, and by 2002 he finished well up in the points standings and had a season-best second-overall. He now uses that experience against his competitors in the 250cc class.
For example, in Texas, when he was losing ground to Monster Energy/Pro Circuit Kawasaki teammate Dean Wilson and rookie phenom Eli Tomac early in the race, Rattray sat back with confidence, believing that the two rookies couldn't maintain the pace and would wear themselves out. They did. He won. And he did it not just by being tough, but by being smart.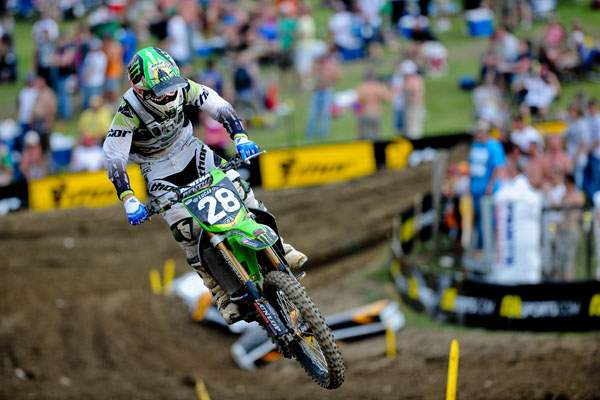 Rattray uses smoothness and consistency against the raw speed and aggression of his younger competition.
Photo: Steve Cox
The same thing happened at High Point, where Rattray rode consistently in the very slippery and muddy first moto to finish second, then did likewise in the much better conditions of moto two. At one point, he even caught teammate Christophe Pourcel out front, but knew he had the overall with second, so he let Pourcel have the moto.
They call Pourcel the "crafty Frenchman", but perhaps no one is paying attention to the brainy South African. They should be.