Privateer Profile - Heath Harrison
Heath Harrison shocked a lot of pros and fans alike with his consistent results in Texas, where his fifteenth overall (15-14) made him the second-place privateer in the 450 class. Harrison has some Loretta Lynn's and Ponca City titles in his background, but this is his first taste of professional success. We spoke with the young Alabamian this week.

Racer X: Heath, I admit I know nothing about you! Who are you and where did you come from?
Heath Harrison: My name is Heath Harrison and I'm 17 years old from Silverhill, Alabama.

What's your racing background?
I started riding when I was 3 years old, just doing local races. I made it to Loretta Lynn's in 2005 in the 85 7-11 class but just was never really into it until about two or three years ago, when I got on big bikes. Then I really started training and going to all the amateur nationals and getting top ten at most of them. Then last year at Ponca and Loretta's I really had a breakout year, winning the 450 B Stock at Ponca and getting third in the 450 B Modified and winning the Four-Stroke class at Loretta's.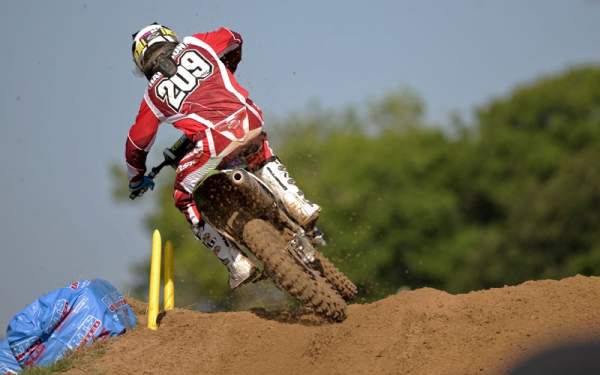 Heath Harrison at Freestone.
photo: Steve Cox
What have you been doing to get ready for the nationals?
After Loretta's, my confidence was through the roof and I just started training and riding harder than ever. Two months prior to Hangtown, I went to Texas and lived with my riding coach, Zak Mashburn. We started doing motos and running every day. How did Hangtown go for you? Hangtown did not go as planned from all the nerves I had from racing against the best in the world, but it was a good learning experience.

Going into Freestone, what was your plan? What did you do the with the week off to prepare?
I went back to Texas with Zak and just trained every day to get used to the heat. My goal going into Freestone was to get points in both motos, so to get top fifteen both motos was really great. Looking at the lap charts, you didn't have the best of starts coming from outside the top twenty. Yeah, my starts were not all there this weekend. First moto, I think I came around about twenty-eighth, and I just put my head down and charged the whole race. The second moto, I got tangled up in the first turn and just repeated the first moto, basically. Thanks to Zak, because all of our hard training is starting to pay off.


What's your plan for the rest of the series?
The plan is to do all of them and just keep learning and improving each week. Do you have a mechanic? What do you travel in? I travel to the races in a motor home. Zak wrenched for me at
Hangtown
and my brother helped me at
Freestone
. I don't have a full-time mechanic, but hopefully that will change.
Is that something you can afford being a "real" privateer?
Yes, I would love to have a full-time mechanic, but with traveling to the races on my own, I can't afford one.
So you drive to the races by yourself?
Are your parents involved in your racing?
My parents rotate out going to the races when they both cannot go. My whole family is behind me 110 percent. What are your goals for the rest of the series? I would really like to stay inside the top fifteen and just keep improving. I really want to get the experience and improve each weekend. I'm extremely focused and determined, which I believe will help me succeed in motocross.
What track do you expect to do best at this year and why?
Southwick
, for sure. I have a track at my house that is all sand, and that's what I grew up riding on.
Southwick is my home track, and the locals are tough. You think you'll have anything for them?
All I can do is try my hardest and hopefully everything will pay off!
Is there anyone you'd like to thank?
Yes, I definitely want to thank my family, Zak Mashburn, Todd Ballard, Joe Gibbs Racing, Roost MX, FMF, Smith Optics, TiLube, MSR, EVS, Pro Taper, and Got Gear Motorsports.