Monday Conversation: Tyla Rattray
Monster Energy/Pro Circuit Kawasaki's Tyla Rattray won a moto last week, when he stole the moto win on the last lap from Dean Wilson in Texas. This week, he didn't manage to win a moto, but he did manage to win the overall anyway! We caught up with the 24-year-old South African after the race at High Point.
Racer X
: You sat out supercross last year to be ready for the outdoors, and you did win a moto last year, but I'm sure you expected more. Then this year, you missed supercross again. But here we are outdoors, and you finally pulled off your first overall win. Did this take longer than you thought it would?
Tyla Rattray
: Yeah, definitely. I struggled a bit when I got here, especially with having only two 15-minute practices before it's time to go racing. In Europe, you have two 40-minute trainings [practice sessions], and then you have a qualifying race, and then a 20-minute warm-up the next morning before you go racing. So, coming into this series last year, I was struggling with learning the tracks so quick and then going out and racing. This year, coming into the races, I know a lot of the tracks – all of them besides two – and this year I've been working on my starts, and those have been really good. I mean, today I was second and third place out of the gate [in the two motos], so that makes a big difference also. I mean, you need to be in the front out of the gate and then pretty much go like hell in the beginning. That's something that they lack in Europe, I think because the races are so long – 35 minutes plus two laps, so it's basically a 40-minute moto...
So they pace themselves...
Yeah, they get the start, and there's not much passing and action going on, whereas here, there is so much passing and action going on in the first five or six laps – guys going forward and passing – that it's a little bit crazy. I definitely think that was tough for me, because I was in Europe for so long. I'm starting to learn – I guess you could say – the American way of riding now.
In Texas, you still had that late-moto charge, though...
Yeah, in the second race my start wasn't too bad – around fifth or so. That's not good, but for me, normally I'm in 15th place off the start, so fifth is not bad! Texas was just about surviving, though. That track was so gnarly, and it was so hot there; I think that's the hottest condition I've ever raced in!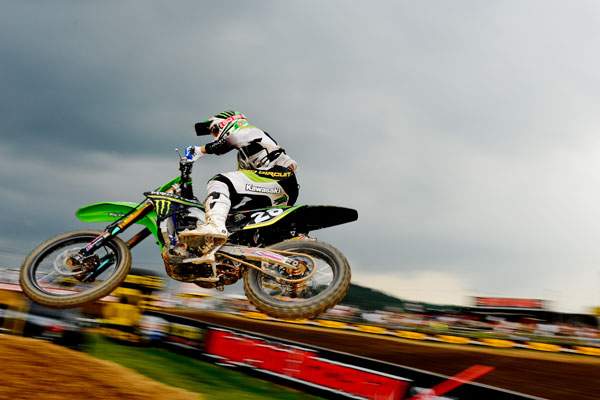 Tyla Rattray scored his first overall victory in America at High Point.
Photo: Steve Cox
And you're from South Africa, so it's not exactly cool there...
Yeah, where I'm from in Durban, it's really humid, so I knew what to expect in Texas. On a hot summer day in Durban, when I'm back home in November, December, January, we get some cooking days. Texas is pretty much like Durban. It just gets really hot there. I knew what to expect coming to Texas, and I'd ridden in those conditions and trained in those conditions, so I knew exactly what to expect. For me, in the beginning of that second moto, I didn't want to push too hard, because I knew after 20 minutes, your tongue would be in the wheel – and that's what happened to pretty much everyone except the guys who got into a nice rhythm and just rode all the way to the end just steady. To win that moto there was cool, and then to come here and to win the overall was just great.
That's got to be pretty hard to pace yourself when the guys in front of you are pulling away like that, isn't it? Isn't it hard to contain yourself?
I saw Dean [Wilson] and Eli [Tomac] were pushing, and honestly I knew deep down that they were going to get tired. I've got a lot of experience racing – I've raced in heat, I've ridden in South Africa, so I knew what to expect.
So, it turned into the classic youth vs. experience, huh?
Yeah, I just knew from experience not to ride over my head and just to do consistent laps. When you're doing consistent laps, you're going to win at the end, especially if your speed's pretty good. Going wide-open and then slowing down like six or seven seconds a lap when there is still like 10 minutes to go, you're going to get caught by a lot of people. My plan was just to stay calm. I saw them pulling away, and it didn't really fuss me. I managed to close in on Dean at the end and pass him and get the win. But you're right about the experience, because I've raced in Europe and in every type of condition – every sand track, every hard-pack track, every rocky track... I've raced everywhere, so I know what to expect. I just need to work on my qualifying, because that wasn't that great. I think today I was 17th in qualifying, and I came away with two solid motos. I was up front both motos all the way to the end.

And in varying conditions, too, because that first moto was a sloppy, slippery mess, and the second one was mostly pretty good, huh?
Yeah, so I need to work on the qualifying. I did have a good lap going in qualifying, but I went off the track. But I think I just need to work on my qualifying laps so that I can get better gate picks. I still managed two good starts here, but it would be better with better gate picks. I also want to work on some speed stuff, and I'll be doing that this week. I doubt I'll be doing any motos, though – that's not really necessary now, as that should've been done already back when we were getting ready for the motocross season. I'm just going to work on some speed stuff, take it easy this week, and I look forward to
Budds Creek
. I really enjoy that track.
Looking past this year, we still haven't really seen you in supercross, so how do you feel about that?
I feel good in supercross. I mean, I've been at the test track, and my teammates are winning every weekend, so they're good guys to judge against. Mitch [Payton] and everyone would come out to the track in the beginning to help me out, since it was so new to me and I didn't really know so much. [Ryan] Villopoto was helping me out a bit going through whoops, because I didn't really know how to do it, and I was kind of sketchy. But once I got that dialed, then I learned pretty quick, and my times have actually been pretty good at the test track, so I don't see why going to a race would be any different. I think if you can win outdoors, you can win supercross if you get starts, for sure.
Do you have another year on your deal with Pro Circuit?
No, I'm open for next year.
Do you think it's going to be a little bit of a stumbling block for contracts since you don't have any supercross results to speak of?
No, I mean, you can look at a guy like [James] Stewart or Villopoto, and those guys are racing for the win every weekend, and we counted like 17 guys that were injured this year in supercross, so I don't see a problem getting a deal. I know how to ride supercross, so it's not like I don't know how to ride a dirt bike, or I can't jump or something...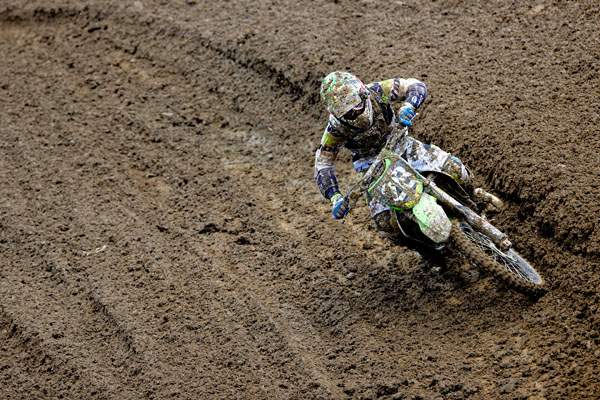 Rattray grabbed second in the muddy first moto (pictured) and in the much nicer second moto as well.
Photo: Steve Cox
A lot of people seem to think that, though – that it's so incredibly different that no one can possibly do it if they didn't start when they were 14...
Yeah, if you take someone that just likes to ride for fun, on a supercross track obviously he's going to kill himself [laughs], but I mean, when I crashed at the supercross track and got injured, it wasn't like I crashed in a big rhythm section; I crashed pretty much going down the straightaway! I slid out and took off on a jump sideways and landed on my shoulder. It was a double you could jump on a BMX – it's that small. It wasn't like I was trying to do something that I couldn't do, because I was doing everything anyway. It was just a little mistake, and it pretty much cost me my supercross season. But I've got faith in myself, and I know how to ride supercross now and I know what to expect coming into next year, so I've just got to get to the races healthy!