Privateer Profile: Hunter Clements
This past weekend at Freestone, pure privateer Hunter Clements raced his first pro national. Hunter didn't set the world on fire in the amateur ranks, but he did get a pro license, and he scored points at Freestone with an eighteenth in the first moto. He wasn't originally planning to race High Point this weekend, but things have changed.

Racer X: Hunter, we don't know much about you, so tell us who you are and where you're from.
Hunter Clements: Well, my name is Hunter Clements, I'm 16 years old, and I'm from a small town called Weston, Missouri. I started racing when I was 7 years old, and I've been hooked since then.

Not many fans, myself included, know your background. What did you do in amateurs?
Mostly Missouri state races. We did Ponca once on 60s and then again a couple of years ago. I qualified for Loretta's on 80s, and that's all the major races I've really done. We decided I should go ahead and get my pro license when they started talking about the new AMA age-limit rules.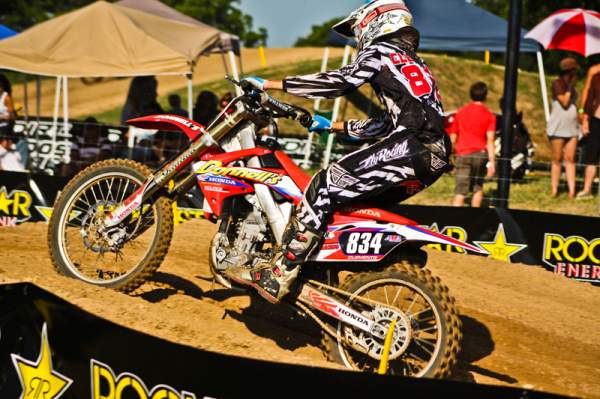 Tell me about your program and what you do during the week.
I try to make it to the gym as much as possible when I can't ride during the week. My cousin helps me out a bunch in there and basically tells me what I need to be doing. I do a 20-mile bike ride about twice a week and run a few miles on the other days. Besides all of that, I try to ride during the week every chance I get.

How do you get to the races?
My dad and I drive to most of the local ones and stay with friends, but for the nationals we have very gracious MX friends that have volunteered to take me for a small compromise [laughs].

So how will you be making it to High Point this weekend?
Well, we actually just got a call from a friend about two hours ago that volunteered to take me, so it's been a little chaotic around the house today trying to get things ready. But yes, we are going to make it.

So how did Freestone go?
Freestone went extremely well. I qualified thirty-first and went 18-21 for twenty-first overall. I was stoked to get three national points with the eighteenth.

What were your expectations going into the event?
Honestly, going into Freestone, all I wanted to do was qualify and learn as much as I could. When I finished eighteenth, the whole crew and I were ecstatic.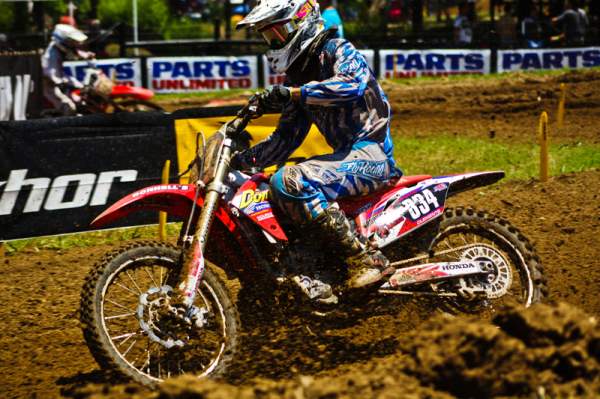 Now that you've proved you can score points, what's your goal for High Point?
To score as many points as possible and to keep learning. The nationals are completely different from any other race.
I talked to you yesterday and you weren't planning on going to High Point. How are you preparing for that?
In a hurry! I rode the road bike today and went to the gym. Tomorrow I'm heading up to Gary Shipp's house to ride for the next two days and then we're leaving from there for Mt. Morris.

Do you have a mechanic? Who is traveling with you?
Yes, I do. His name is Jordan Sitz, and so far he's planning on going to all the rounds with us.

So you're planning on doing all the nationals?
Not right now, but anything could pop up, just like today with the ride to Mt. Morris. We originally planned on going to Freestone, Lakewood, RedBud, and Millville.

Is this effort on your own dime? How do you get bikes and parts?
Oh, no, not at all. Our sponsors help out as much as possible, and without them we wouldn't be doing any nationals at all. But yes, we do pay for most of our expenses, and it's really tough.

Is there anyone you want to give a shout-out to?
I'd like to give a big thanks to all my sponsors: Donnell's Motorcycles, Vitamin Water, Source MX, Fly, Shoei, TCX Boots, Scott Goggles, Crower Performance, Yoshimura, Red Bull, Bike Works, Affordable Auto Glass, and JM Racing. Also a big thanks to my MX family - you know who you are, and you are the best.

Photographer Chris O'Neal owns and operates PrivateerMXTV.com – check out his list of "Real" Privateer Standings here.