It's frequently the people sitting on their couches (or at their computers) at home who say racers should "tough it out" and if they can't it's just "survival of the fittest!" That's easy to say from the comfort of your air-conditioned living room. On Saturday in Wortham, Texas, the heat index (a combination of humidity and actual temperature) hovered between 108 and 112 Fahrenheit, and that number can increase by up to 15 degrees in direct sunlight. Racers on Saturday (especially in the last Lites moto) may have been racing in temperatures that approached 125 degrees.

These riders are wearing a lot of clothing that prevents the evaporation of sweat. They're essentially covered from head to toe, which prevents the body from being cooled. It doesn't really matter how much water you drink or what kind of shape you're in; heat stroke is a possibility for literally anyone on the track.

People can and will die from heat exhaustion. The NFL implemented a strict policy of oversight after Minnesota Vikings lineman Kory Stringer died in the middle of a very hot practice in August 2001. Several colleges and universities have faced lawsuits over the deaths of athletes during practice and training sessions.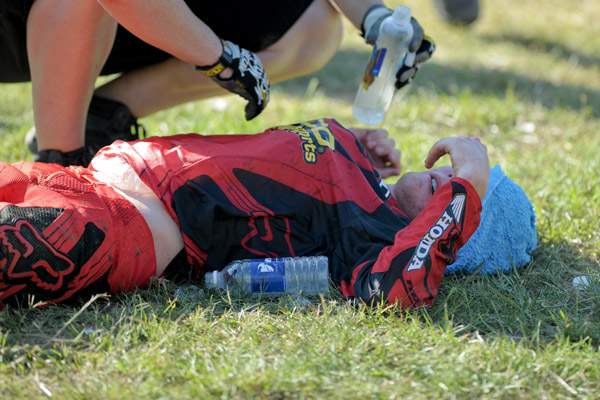 Trey Canard showed signs of heat exhaustion at Freestone after the 2nd moto.
Photo: Steve Cox


If we shortened the motos at Budds Creek last year when rain caused infield ponds to overflow - an extreme condition that threatened the safety of riders and fans alike - why wouldn't we shorten the motos last weekend at Freestone for heat that poses a similar threat?

At the end of the second 250-class moto, the area after the finish line looked like a triage encampment. It's not a matter of being tough at that point. Trey Canard is tough. Dean Wilson is tough. Eli Tomac must be tough. Everyone at that level is tough. But tough guys can die of heat stroke too. Those extra five minutes or two laps could make a difference if it ever gets that hot again - and it will.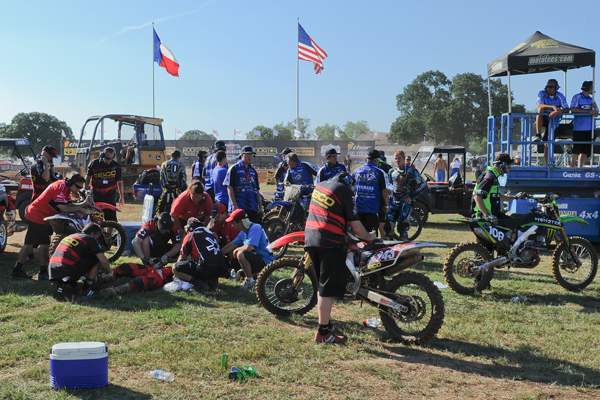 The area after the finish line looked like battlefield triage.
Photo: Steve Cox