Monday Conversation: Ryan Dungey
Rockstar/Makita Suzuki's Ryan Dungey went 10-6 at Hangtown, the opener of the 2010 Lucas Oil/AMA Pro Motocross Championships, after winning the AMA Supercross Championship in his rookie season. Fans, media, and industry folks in general were left wondering what happened to the guy who won the Las Vegas Supercross, the 2009 250cc outdoor title, and the overall on a 450 at the 2009 MXdN in Italy. Well, he showed back up in Texas, where he dominated both motos, winning by a sizable margin. We caught up with him after the race to get his take on the day.
Racer X:
You dominated today. That was more like what a lot of us expected to see at Hangtown, but that wasn't what we got there...
Ryan Dungey: Hangtown, it was just one of those days. You can't really look into it too deep. Sometimes you have a bad day and you just have to let it go and leave it in the past. You know, we tried to learn from it. There were a couple errors we made and I just went home, got to work – got to the basics – and overall just went back to Florida and got more comfortable on my bike – got time on the bike – and made adjustments. Coming here this weekend, I was really looking forward to moving on from it, and that's what I wanted to do. It was tough. Leaving Hangtown, it hurt. You don't like leaving like that and I'm not a guy that really enjoys battling for fifth and sixth place. I like being in the lead – that's the goal and that's what I expect of myself, too. So I think today is what we were looking for, and I just got off to good starts and was able to go 1-1 on the day.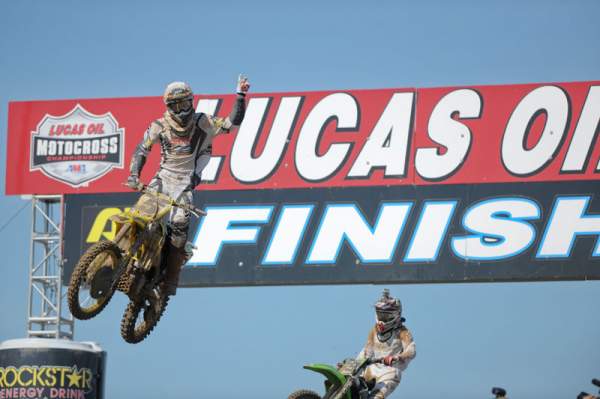 Photo: Steve Cox
Not only 1-1, but 1-1 by a ways. You killed them.
Yeah, I felt really good today. Fitnesswise, I felt strong and I guess it just kind of goes back to putting in your work and doing your time. I think that really helps out when you get to days like this – it's hot. Being in Tallahassee, it's hot there, too. It's about 100 everyday when we're out there – it's between 95 and 105, so it's not like I wasn't used to it – so that does help big time. That's kind of what I enjoy about being out in Florida.
The real point about Hangtown I wanted to get at is that you leave with a 10-6, and that was like your first race after winning a Supercross Championship – and winning the last supercross, too. It almost seemed like supercross is all bitchin' – everything is good – and then the outdoors all of a sudden it all comes apart. That's what it looked like, judging off of the one race.
Yeah, Supercross was awesome to be able to get the championship. It definitely was a big step in the right direction. Coming into outdoors, I kind of just fought it a little bit. It didn't come to me as easy as I thought it would and I really had to work for it. You know, it was the first race. I think overall I'm really looking forward to the opportunity of the 450 outdoors. I love riding the bike and all the team does a great job and I really look forward to the races to come. I really don't have much to say about Hangtown. I'm not going to make excuses about this and that. I've got to take it like it is, and that just happens sometimes.
Chad Reed actually paid you a compliment after that race. He said he thought it was really smart because sometimes it's just not your day and you didn't try and force anything. A lot of rookies might try and force something and then they crash or something happens.
Yeah, I think I could have forced the issue and done something. To be honest, it's a day that I would like to forget...
So, we're just going to keep talking about it, and you don't want to talk about it...
[Laughs] Yeah, let's just not talk about it.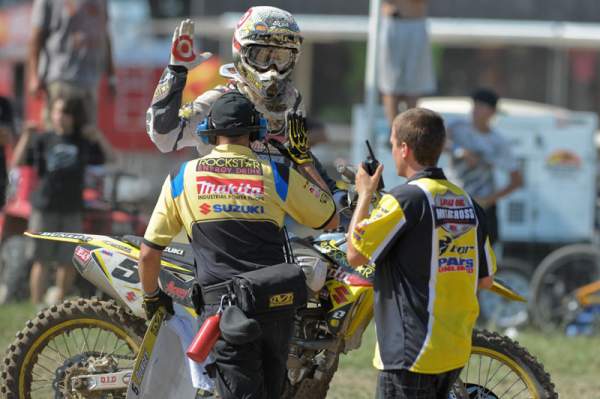 Photo: Steve Cox
All right... Obviously, this has to change your outlook a little bit on the series, right?
Yeah, I think we definitely made some improvements with the bike and the setup and we're going to try to continue that. I think through every track, setup changes a little bit here and there, so we just try to find the adjustment with the bike and put ourselves in the best position possible. The 1-1 for sure today was what I was really looking for – to try to carry the momentum from here on out and do our best.
Now, I haven't seen it, but I heard you were in Us Magazine or something... Is that true?
Star Magazine. It pretty much got blown way out of proportion. Jamie Lynn Spears, Britney's sister, was actually in Vegas [for the race] and she came to the championship party. It's those gossip magazines. I get a phone call and I'm like, "What are you talking about, dude? I wasn't cuddling with her..." It's just what it is. It got to that level. I guess, in a sense, it's good for our sport.
It's kind of weird, though, isn't it? Because you just want to race dirt bikes, and now all of a sudden you're in gossip rags, and people are all up in your personal stuff...
Yeah, and if I'm all up in those, then that means I'm probably running around not doing the right things, so we'll try and keep ourselves on a straight line.
You've done well at High Point before. What are you looking for there?
The same thing... I think from here on out we just want to try to win as many races as we can, but at the same time enjoy it. I'm looking forward to it. There are a lot of good contenders out there and the field is deep, so it raises my game for me and I've got to step up to that level and be there and really be consistent. We've got to put in our time and work and enjoy it, but try to keep winning these races from here on out. Keep the hammer down.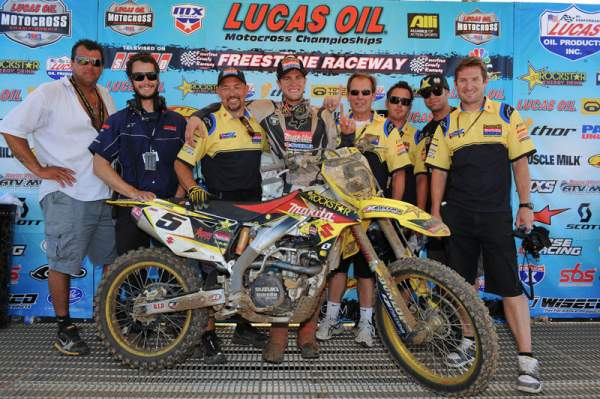 Photo Steve Cox