Texas Heat
The Freestone MX National is becoming notorious for races like today's. The heat and humidity makes it really tough on the riders, and to go two motos of 30 minutes plus two laps each takes an almost Herculean effort. Heck, just to wrench, or shoot photos, or even flag in conditions like today's takes some serious preparation and hydration.
450
As has been the case for television's sake, the 450cc class went first in Texas, and in the first moto it was GEICO Powersports Honda's Brett Metcalfe with the holeshot, and he led the first six laps of the race, fighting off the advances of 2010 AMA Supercross Champion Ryan Dungey until Dungey took over on the seventh lap. It wasn't too long after that when Metcalfe started to drop anchor, succumbing to the heat. If you remember, Metcalfe suffered heat exhaustion at this same race in 2007, when riding for Pro Circuit.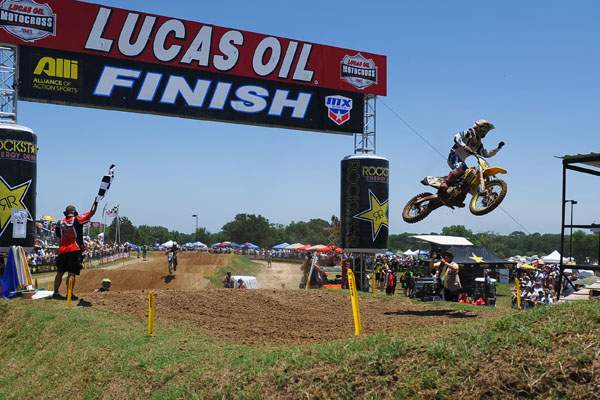 The real Ryan Dungey showed up at Freestone, winning both motos going away.
Steve Cox Photo
It wasn't long after Metcalfe went into second that he was relegated to third by TLD/Lucas Oil Honda's Ben Townley, then to fourth by Chad Reed, and then Tommy Hahn went by. Eventually, Metcalfe faded back to seventh, while Reed was the guy on the move, grabbing second place with three laps to go behind Dungey, who had a quite sizable lead.
The moto rundown was Dungey, Reed, Townley, Hahn, Josh Grant, privateer Kyle Regal, Michael Byrne, Kyle Chisholm and Davi Millsaps.
Mike Alessi
, who struggled to 12th in the first moto. Eventually, Alessi found his way by, but Dungey was soon to follow, and it didn't take him long to get bay Alessi, too, and begin to pull away. Alessi fell out of second place, handing it back to Metcalfe over
Andrew Short
, Regal, Reed and Alessi.
Just past the halfway point, Regal began putting on some moves. He passed Reed back again, then got Alessi and Short on consecutive laps before setting out after Metcalfe. Eventually he got Metcalfe, too, and ended up finishing second in the moto and third overall behind Dungey and Reed.
It was easily the best ride of Regal's short career so far, but Dungey was the man of the hour, winning both motos going away. Reed's 2-3 scores were good for second and Regal's 6-2 landed him third.
250
Round-one winner Eli Tomac, of the GEICO Powersports Honda team, grabbed the opening 250cc holeshot, and he pulled away well before new rival Christophe Pourcel of the Monster Energy/Pro Circuit Kawasaki team got into second. At one point, Pourcel got close to Tomac, but then went off the track and hit a fence. Still, he got going again and, over the course of the next lap and a half made up eight seconds on Tomac to take over the lead, then put that many on Tomac over the following lap and a half.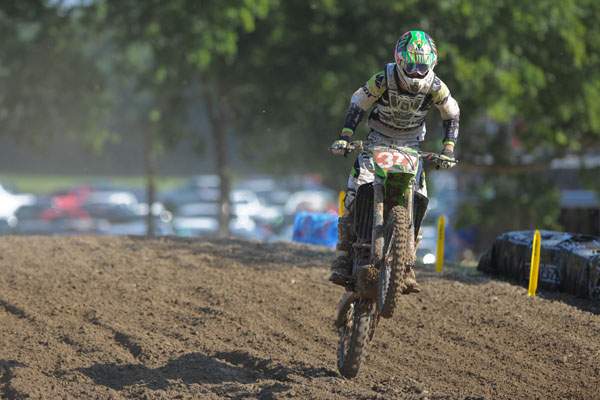 Christophe Pourcel went 1-5 for the 250cc overall.
Steve Cox Photo
Tomac hung on for second, although he was suffering from some effects of the heat. Then came Pourcel's teammate Dean Wilson and Tomac's teammate Trey Canard, just in front of Pourcel and Wilson's teammate Jake Weimer.
Tomac again grabbed the holeshot to start moto two – making it a four-moto holeshot sweep for the GEICO Powersports Honda team, not including the WMX class, as the team doesn't field a rider in that class.
Behind Tomac came Wilson this time, and before halfway, Wilson found his way by the rookie, who was clearly fading in the heat. Not long after that, Tomac began to drop anchor due to the effects of the heat, and then he fell after 11 laps, handing second to Tyla Rattray over Broc Tickle, Max Anstie, Tomac, Trey Canard, Wil Hahn and Pourcel. Pourcel was almost 10th after 10 places, but he began chopping into that lead late in the race, but he didn't have time.
Martin Davalos
.
If Wilson would've held onto first OR second in the moto, he would've won his first overall, but because Tickle zapped him at the line, the final overall finishing order is Pourcel, Rattray, Wilson – yet another podium sweep for Mitch Payton's squad.
When they crossed the line, many of the riders almost immediately collapsed just after the finish line on the infield. One of the riders who did was Canard, who essentially passed out after the race on the ground and was later taken to the medic to get rehydrated.
WMX
In WMX news, DNA Shred Stix/Star Racing Yamaha's Jessica Patterson continued her winning ways with a 1-1 score over Ashley Fiolek, while third place once again went to Tarah Gieger.
450 Class (Moto Finish)
1. Ryan Dungey, Belle Plaine, Minn., Suzuki (1-1)
2. Chad Reed, Australia, Kawasaki (2-3)
3. Kyle Regal, Kemp, Texas, Honda (6-2)
4. Brett Metcalfe, Australia, Honda (7-4)
5. Josh Grant, Riverside, Calif., Yamaha (5-10)
6. Tommy Hahn, Decatur, Texas, Suzuki (4-12)
7. Mike Alessi, Victorville, Calif., KTM (12-5)
8. Ben Townley, New Zealand, Honda (3-16)
9. Kyle Chisholm, Valrico, Fla., Yamaha (9-9)
10. Michael Byrne, Newnan, Ga., Yamaha (8-11)
450 Class Championship Standings
1. Chad Reed, Australia, Kawasaki, 87
2. Ryan Dungey, Belle Plaine, Minn., Suzuki, 76
3. Mike Alessi, Victorville, Calif., KTM, 68
4. Brett Metcalfe, Australia, Honda, 66
5. Josh Grant, Riverside, Calif., Yamaha, 60
6. Davi Millsaps, Murrieta, Calif., Honda, 55
7. Ben Townley, New Zealand, Honda, 54
8. Kyle Regal, Kemp, Texas, Honda, 51
9. Tommy Hahn, Decatur, Texas, Suzuki, 43
10. Andrew Short, Smithville, Texas, Honda, 37
250 Class (Moto Finish)
1. Christophe Pourcel, France, Kawasaki (1-5)
2. Tyla Rattray, South Africa, Kawasaki (6-1)
3. Dean Wilson, Canada, Kawasaki (3-3)
4. Broc Tickle, Holly, Mich., Yamaha (8-2)
5. Trey Canard, Shawnee, Okla., Honda (4-7)
6. Eli Tomac, Cortez, Colo., Honda (2-11)
7. Wil Hahn, Decatur, Texas, Honda (9-6)
8. Jake Weimer, Rupert, Idaho, Kawasaki (5-12)
9. Max Anstie, England, Yamaha (15-4)
10. Justin Barcia, Ochlocknee, Ga., Honda (10-8)
250 Class Championship Standings
1. Christophe Pourcel, France, Kawasaki, 86
2. Eli Tomac, Cortez, Colo., Honda, 77
3. Dean Wilson, Canada, Kawasaki, 69
4. Trey Canard, Shawnee, Okla., Honda, 68
5. Broc Tickle, Holly, Mich., Yamaha, 61
6. Tyla Rattray, South Africa, Kawasaki, 58
7. Jake Weimer, Rupert, Idaho, Kawasaki, 56
8. Justin Barcia, Ochlocknee, Ga., Honda, 54
9. Wil Hahn, Decatur, Texas, Honda, 50
10. Max Anstie, England, Yamaha, 40

WMX Class (Moto Finish)
1. Jessica Patterson, Tallahassee, Fla., Yamaha (1-1)
2. Ashley Fiolek, St. Augustine, Fla., Honda (2-2)
3. Tarah Gieger, Winter Gardens, Fla., Honda (3-3)
4. Vicki Golden, El Cajon, Calif., Yamaha (4-4)
5. Sara Price, Canyon Lake, Calif., Kawasaki (5-5)
6. Erica Cook, Natalia, Texas, Yamaha (7-10)
7. Mariana Balbi, Brazil, Yamaha (10-8)
8. Tatum Sik, Temecula, Calif., Yamaha (8-11)
9. Sarah Whitmore, Cheboygan, Mich., KTM (12-9)
10. Shelbie Brittain, Rockwall, Texas, Kawasaki (11-12)