If you pay attention, sometimes things seem so poetic that you would think they only happen in movies – fictional movies. But when the Red Bull arch fell on top of Yamaha-Gariboldi Monster Energy's Harri Kullas a little over 20 minutes into the MX2 second moto, it was really as if some clever Hollywood writer came up with it.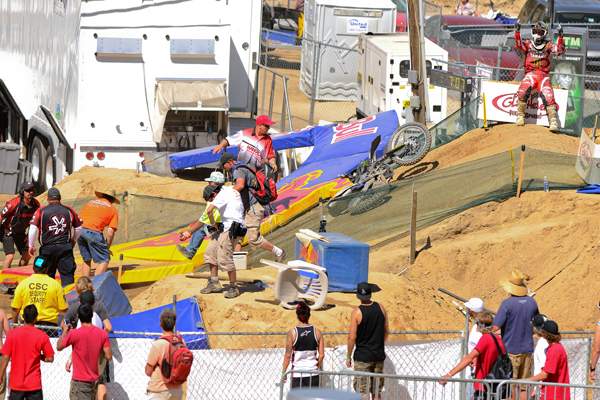 Harri Bird?: Harri Kullas tells somebody how he feels about the Red Bull arch falling on his head.
Steve Cox Photo
The first reason? It had just been announced days before the event that Monster Energy was taking over as title sponsor of the series from Red Bull. Was Red Bull trying to get Monster Energy back, one rider at a time?
The second reason? The first of a contracted five Glen Helen USGPs had already been almost disastrous up until that point in the day: The weekend's on-track activities had already been put on hold on Saturday for most of the day because of wind, and on Sunday the wind was less constant but still did a great job of helping to turn the track into dust, which was all too easy to kick up and send into the wind; there were almost no fans at the track on Saturday, and on Sunday the attendance couldn't have been more than about 5000 people, when the Glen Helen National normally got about five times that number; and on the track, especially in the MX2 class, the races were yawners as soon-to-be AMA racer Marvin Musquin led every single foot of both motos, stretching out to massive leads immediately in both motos.
All things considered, the Red Bull Arch failure seemed like an appropriate icing on the cake.

This is Marvin Musquin's lead after the first lap of the first moto. No kidding.
Steve Cox Photo