Privateer Profile: Travis Baker
There is no such thing as a "privateer" in the GPs, but at the US GP there were a couple. Travis Baker rides for the Motoconcepts Yamaha team, but that is not a factory effort. He is in his rookie year, and as a rookie and a privateer of sorts, he went out and nearly not only grabbed a top-five, but top American in the first MX2 moto this weekend at the US GP. While pressuring fellow American Zach Osborne for fourth, his clutch gave way and he ended up finishing sixth – still quite an accomplishment for the likeable teenager, as he beat such GP stars as Shaun Simpson, Jeffrey Herlings and more. We caught up with him after the race to get his take on it.
Racer X:
This is your rookie season, right?
Travis Baker
: Yep! My first race was Anaheim 1!
You've had great style all year, and good speed, but it always seems like something happens – falls, bad starts, things like that.
Yeah, maybe that's that rookie thing... I've had some great motos this year, and I've had some bad ones, but I guess you just learn from that and get stronger.
Talk about that first moto here at the US GP. That didn't look like the Travis Baker that showed up at Hangtown...
The first moto, I felt really good, but I didn't get the greatest start because yesterday I got a flat in the qualifier. I just had some bad luck there, and that put me all the way on the outside on the start line. I came through the pack, though, and got a sixth, so I was pumped about that. But then the second moto I had another bad start, then had a few problems, and this whole week before the race, I've been trying to fight off the stomach flu, so I'm going to go to the doctor tomorrow and figure all of that out.
You were chasing down Zach Osborne in the first moto to maybe be the top American out there...
I caught up to him from pretty far back, but with about three laps to go, my clutch went out... I was just trying to feather it too much up those big hills and stuff, and in the turns, and I just burned it up. But I felt good the first moto, for sure.
You looked good. There were a lot of Euro journalists and stuff who were asking, "Who's this Baker guy?" And as the race went on, I was just saying, "I guess you're about to find out!"
[Laughs] It's pretty cool to come out here on a completely different stage like this and show everyone what I can do. I was pumped on that. It's nice when everything comes together and you can show people how you do it like that.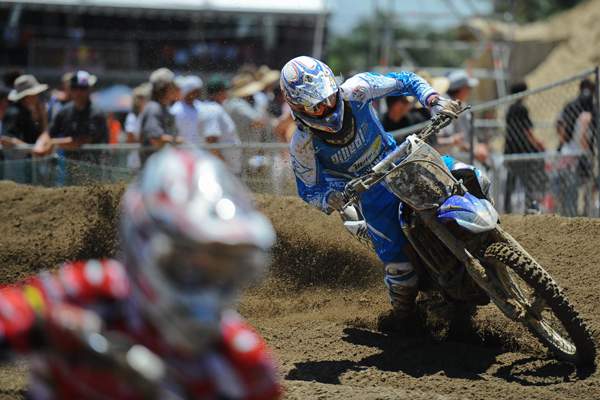 Travis Baker turned some heads at the US GP.
Steve Cox Photo
You didn't get any actual money, though, so...
No, I didn't, but I just need some racing experience right now, so it's good for me.
Does this help your confidence for the coming weeks?
Yeah, definitely. I think it even helped just for endurance – just putting some motos in – because I haven't gotten to do that many 30+2 races with guys. I mean, I do it all the time by myself, but it's totally different to be racing. It was good to go out there and just race and get some actual racing motos in.
Racing, where there are people around you the whole time like that!
Yeah, yeah, exactly.
Nice ride, Travis.
Thanks!