Mac211 Race Report: Raymond Terrace
Billy Mackenzie has clawed back more points in the championship as the series heads into the four week break. The weekend had more of a home feel to it with Billy's cousin Bryan making as guest appearance for the weekends race, along with friend and rival, Brad Anderson.

While Billy was not able to walk away with the win from the weekend, he was able to make up solid points on series leader Jay Marmont and is now only 26 point off the red plate.

The added dynamic of Brad Anderson's guest appearance, as well as a lack of riding due to injury, did take it's toll on the former MX1 GP winner, though.

"I'm happy with the points I made up in the championship, I also felt much stronger on the bike than the previous round in Toowoomba with the extra riding I have done this week.

Although my bike fitness improved I struggled with bike set up and line choice, but worked hard at it with the team and managed to feel comfortable and be closer to brad by the last moto."

"I enjoyed racing with brad again and would loved to have been able to beat him, but he was the better man on the day. After going down in the first race trying to close the door on him, I decided not to take too many risks unless I felt comfortable with the speed he was going. Obviously with the championship in sight, Brad didn't want to interfere either, so we made a little plan that if he was hounding me, to give me a little shout and I'd give him space for the pass.

After all he was riding faster than me this weekend, and I was happy to see him win and take that confidence back to the UK. It shows we are both maturing in the way we race and ride and I really enjoy that.

Our next race at Manjimup is this weekend though, so with no championship points up for grabs, I'll be rising to his challenge and hopefully have a good old scrap like old times!"

Brad Anderson was also had the same feelings when it come to their on track rivalry.

"At the end of the day I didn't come here to do any damage to Billy's championship. Me and Billy are friends and we have been for a long while and coming out here was such a good thing. I didn't expect to come here and do what I did but it went really well and I think I have made a bit of an impression on the industry and hopefully I can come out here in the future.

We have the race in Manjimup this weekend and me and Billy can go at it for the win with just pride on the line and I am really looking forward to battling hard with him this weekend!"

Billy is spending a couple of days in Sydney before he heads over to Western Australian for the Manjimup 1500 while the MX Nationals is in it's break.

As always fans can expect another episode of Mac211 TV that will be online by Wednesday.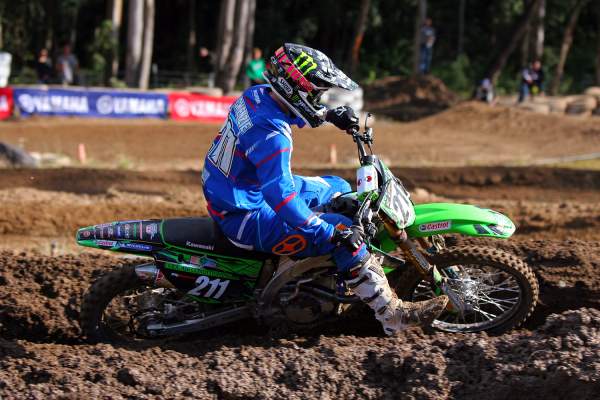 Photo: Kajax Communications