The beginning of a new season is always surrounded with questions, and there were some big ones at the start of the MotorcycleUSA.com Women's Motocross Championship. The big strides the WMX has been taking lately have resulted in a new trend of satellite teams adding female riders to their rosters, and race fans were anxious to see how riders like DNA/Shred Stix/Division 7 Yamaha's Jessica Patterson, TLD/Lucas Oil's Tarah Gieger, and others would stack up against Honda Red Bull Racing's Ashley Fiolek, who has been the dominant force of the series for the last two years.
When the first WMX gate dropped at the Rockstar Energy Drink
Hangtown
Motocross Classic, it was Fiolek with the holeshot, followed by Patterson, Sara Price, and Gieger. Patterson immediately started applying pressure on Fiolek, and the two quickly started gapping the field. Meanwhile, Gieger was chasing down Price and was able to completely close up on her when Price had trouble on an uphill double. Back at the front, the Fiolek-Patterson battle was raging until Fiolek went down while attempting a pass. She remounted just as Gieger went by, and the two went at it for several laps. Fiolek applied major pressure to Gieger, but Tarah held her ground and refused to crack. When it was over, Patterson took the moto win by nearly twelve seconds, followed by Gieger, Fiolek, Vicki Golden, and Alexah Pearson.
Patterson was even more dominant in the second moto, taking the holeshot and completely checking out. Fiolek did her best to stay with Patterson in the early stages of the moto, but Patterson was absolutely on fire, leading every lap en route to a perfect 1-1 finish on the day.
"I got good starts this year," Patterson said. "I'm on an awesome bike with an awesome team, and they've really helped out a lot. It gave me a bunch of confidence, and obviously, it showed. I felt like I rode pretty good, so it worked out."
"JP was just riding really good," Fiolek said in a post-race press conference. "I made some mistakes. I should have been more focused and rode better. I look forward to the next round. The track was really good here. I had fun - I just couldn't get it done this time."
After taking second in the first moto, Gieger had a shot at an overall win but was forced to work through the pack after she tangled with Sarah Whitmore and went down. Gieger ended up in sixth, which was good for a third overall.
Another great ride came from Mariana Balbi. After finishing ninth in the first moto, the Brazilian got a great start in the second and finished third, good enough for fourth overall. Pearson rounded out the top five with a pair of fifth-place finishes.
The next round of the MotorcycleUSA.com Women's Motocross Championship will be held at
Freestone
Raceway in Wortham, Texas, on June 5. If
Hangtown
is any gauge, Patterson, Fiolek, Gieger, and the rest of the WMX crew will be putting on another great show. If you can't make it to the race, check out
MXSports.com
for a complete list of results.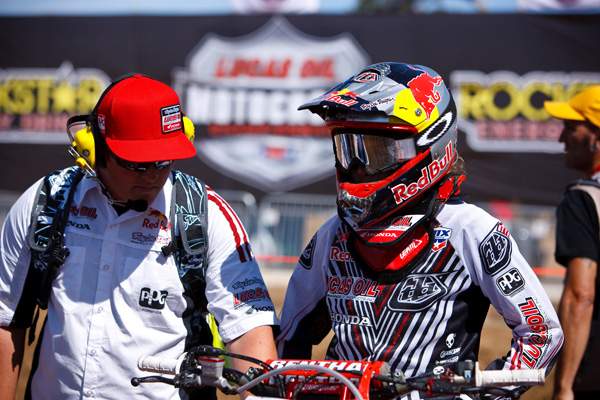 Tarah finished third overall.